If there's one industry where you need way too many tools to work correctly, then that's HVAC. That's why the best HVAC installer tool belt is such an essential piece of gear to have. Whether you're a technician or a helping hand, having one of these is necessary to keep the workspace fresh while working. Otherwise, you may end up with tools in places they shouldn't be.
After reading this guide, however, you'll be ready to tackle even the most complicated jobs without a single problem with your tools. We're going over everything from materials to design, fit, and more. If you want to learn about the best HVAC tool belts, then you'll want to read further.
Product Comparison of Best HVAC Tool Belts
Table could not be displayed.
7 Best HVAC Tool Belt Reviews
We decided to bring only the best tool belts on the market – so we chose 7 models that were worth considering. Here's what we found about each:
01. Bucket Boss Airlift Tool Belt for HVAC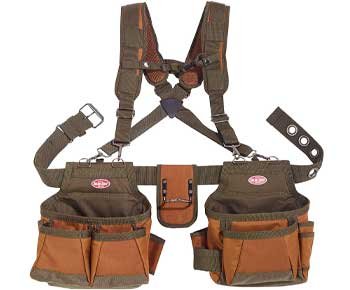 The first model on our list comes from Bucket Boss, one of the best brands in the market. This pick called the Airlift Tool Belt, focuses on providing practical reach to your tools in a secure and comfy way. And for us, it is the best you'll find.
Highly Resilient
As soon as you put it on, you'll notice this is not just a belt to carry your tools around – it is a genuinely resilient one.
Made with 600D polyester rip-stop fabric, it manages to withstand all kinds of situations with ease. It won't rip easily, and it will also stay together for years to come thanks to the thick steel grommets and hooks that keep it together.
Even the straps that go across your torso will ensure that you get several years of use before it starts wearing off. And there's a huge chance you'll replace it with a newer model before that happens.
Convenient and Reliable Pouches
You can place all kinds of HVAC tools and hardware on the pouches. There's enough space to store your entire list of equipment with this belt.
It all comes down to the barrel-bottom design on the two pouches. They allow maximum storage without wasting a single inch of space. And considering the 4 pockets on each pouch – then it gets even better.
This also matches well with the hammer holder and the loops on the pouches' side. You can bring everything from screwdrivers to small hammers, scissors, and whatnot with total ease.
The pouches are so convenient that you can even detach them and change their place. That's how practical this whole belt is.
Adjustable and Comfy Design
Despite its durability, convenience, and overall space capacity – the belt stands out for the main reason that it has a super comfy design.
The suspender system makes it possible to attach the entire belt comfortably to your torso, so you can carry as many tools as you need without feeling a single pinch of discomfort.
Add the 52-inches of adjustable waist size so you can fit it perfectly no matter your body type.
Pros
Durable polyester build
Best HVAC tool belt for installation work
Adjustable pouches and rig system positions
Super-spacious pouches with pockets and loops
Ultra-comfy design with padded suspenders
Totally adaptable to fit on different waists and torsos
Easy to put on and put off when necessary
Cons
There's no way of securing tools to the pouches/loops/hooks
Verdict
It won't solve all your tools' management problems when working with an HVAC system – but it will surely make the whole experience a lot better. The Bucket Boss Airlift Tool Belt is designed for the convenience-seeker in mind.
[wpsm_button color="main" size="big" link="https://amzn.to/2J2ZSge" icon="none" class="" border_radius="50px" rel="nofollow"]Check on Amazon[/wpsm_button]
02. DEWALT DG5617 Pro Combo High-End HVAC Tool Belt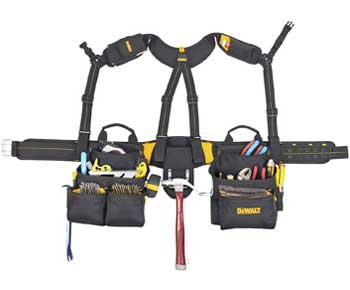 We love DeWalt products, and the DG5617 Pro Framer's Combo Tool Belt is not an exception. Despite its high price for the size – this alternative makes it a total pleasure to spend a few more bucks on a quality product.
Super Handy Pouches
Wearing a tool belt is all about convenience – so you need something with practical pockets to enjoy.
Luckily, DeWalt knows precisely how to provide that.
Starting with 9 main pockets, you can place anything you want in the 2 gusset-style pouches. Yet, you get 20 additional sub-pockets to store the smallest parts – from nails to screws, pencils, and more.
There's even a hammer hook so you can bring your hammer around with total ease.
And adding the zippered pouch for cell phones and other valuables, then it gets even better.
Ultra-Comfortable Design
DeWalt doesn't let comfort behind them. You get a tool belt with suspenders that you can adjust to the max. With padding on the straps, it gets rid of discomfort in its entirety.
To adjust, you just need to use the double-tongue roller buckle, so you can put it on tightly or loosely depending on how you prefer it. And it will stay stable on your body.
The main advantage is the Dri-Lex material. It is a breathable fabric that lets air go through but also offers decent padding so you can use it comfortably.
Lastly, you can adjust it to your waist, going from 29-inches up to 46-inches – so it fits a wide array of people.
Ultra-Resilient Construction
The most exciting part of the whole belt is the material. Yes, because it uses Dri-Lex on almost all the straps and critical components of its design – you can expect a durable product overall.
It has several advantages to consider – such as the capacity to release moisture and prevent a sweaty belt. Apart from that, it is totally abrasion-resistant and boasts a soft-enough texture that doesn't scratch your skin.
Considering it is super sturdy and capable of handling sun rays, water, and constant wear – this is a belt that won't let you down.
Pros
Highly convenient pouches with tons of pockets
Up to 20 storage options
Best high-end HVAC installer tool belt
Unique Velcro pocket for valuables
Highly adjustable design with versatile waist
Super-comfortable with excellent padding
Next-level construction with Dri-Lex
Cons
An awkward suspender design can be challenging to put on
Verdict
Considering how expensive it is, you're getting a well-made and decently comfortable model all around. If you want to be sure that you're getting a quality product in its entirety, the DeWalt DG5617 is the way to go.
[wpsm_button color="main" size="big" link="https://amzn.to/33CE58n" icon="none" class="" border_radius="50px" rel="nofollow"]Check on Amazon[/wpsm_button]
03. Jackson Palmer Comfort-Rig Tool Belt for HVAC Works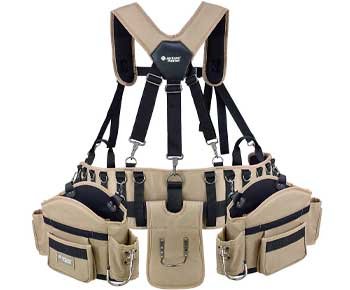 A cheap model can always be enticing, especially when it comes to a decent brand like Jackson Palmer. The Comfort-Rig tool belt offers precisely that – a durable and reliable belt you won't have to empty your bank account for.
Tough Materials and Build
Despite being one of the cheapest models in the market, you can still expect a decently resilient product.
It boasts a nylon blend in its fabric, perfectly stitched with reinforcements to prevent the belt from falling apart.
You also get iron buckles to hold the bags and the suspenders, adding the extra sturdiness you need to work under challenging situations.
Placed in the most common stress points, you can be sure that it will never let your tools hang. You can carry everything freely and reliably for years.
Super Convenient Design
One thing that Jackson Palmer did super well with this Comfort-Rig belt was taking into account adjustability and storage capacity.
As soon as you look at it, you'll realize it offers wide and large pouches so you can place all kinds of stuff.
You will get a hammer holder, 2 detachable pouches with tons of built-in pockets you can adjust wherever you want, and 2 power tool hooks.
And it gets even better with the weight-distribution system that lets you hold everything with ease.
Next-Level Comfort
Having the chance to adjust from 30-inches to 50-inches in the waist feels superb. And when you can also adjust the shoulder straps, then it gets even better.
The best of all comes from the 5-point connection system. You won't have to carry all the weight from one side, but instead, enjoy an even distribution, so your entire body works to prevent back pain and neck discomfort.
Let's not forget all the straps are padded and they feel super soft even when in direct contact with the skin. You won't feel uncomfortable even after years of use.
Pros
Top-notch padding on straps for comfort
Excellent waist size options
Best budget HVAC tool belt for installation work
Unique 5-point weight-distribution system
Huge pouches with adjustable position
Decently durable with nylon blend
Iron reinforcements ensure strength
Cons
Hammer and power tool hooks are too flimsy
Verdict
If you're on a low budget and need a decent tool belt that will handle any job with no issues – then the Comfort-Rig from Jackson Palmer will work wonders. For the price, you can't simply beat this one.
[wpsm_button color="main" size="big" link="https://amzn.to/2U8i0eX" icon="none" class="" border_radius="50px" rel="nofollow"]Check on Amazon[/wpsm_button]
04. Gatorback Contractor Pro B145 Heavy Duty HVAC Tool Belt
If we had to pick the highest-quality model on the whole list – we wouldn't think twice before choosing the Gatorbac Contractor Pro. As a heavy-duty belt, it boasts almost every feature a contractor, plumber, or HVAC expert needs.
Exceptional Fit and Comfort
The first thing you'll notice when taking a look at this model is the wide array of sizes available. You get a Small, Medium, Large, XL, 2XL, and 3XL option – so you can fit it according to your specific needs.
Lastly, you get air channels for ventilation with the breathable Lycra fabric, to keep you fresh while working.
Top-Notch Support
What stands out is that every size comes with comfort support and a design to prevent back pain and keep the belt tight to your body.
This fits amazingly well with the memory foam pad for your back, perfectly shaped to adjust to your body and avoid even the slightest pinch of discomfort.
Toughest Build in the Market
Not only is this belt super comfy, but it also stands out for its sturdiness. You get a 1250 Duratek Nylon construction all around, keeping the entire piece together for years.
But there's also another advantage: you get bar-back stitching on typical stress points and metal-rivet reinforcements. This goes well with the nylon webbing on the pouches, adding wear resistance to the whole piece.
And to make it even better, it boasts nickel-plated steel rings that keep the suspenders attached for a long. So even after several years of use, this belt will feel and look neat.
Unique Pouch Design
What truly sets this belt apart is not the comfort level or its sturdiness, but the fantastic pouch design that handles space and convenience so well.
A box-shaped design ensures you can keep everything at fast-hand reach. And sure enough, they won't sag at the bottom, making them unreachable.
Enough Storage for Any Activity
You get 7 pocket pouches for fasteners, a speed square slot, a single pouch for big tools and hammer holsters, a tape holder, and a carpenter's tool belt pouch with several pockets. That's enough to tackle even the trickiest endeavor.
Pros
Fantastic DuraTek build for resilience
Tough with stitching and reinforcements
Unique memory foam back pad
Multiple size choices are available
A decent number of pockets for convenience
Superb holders, hooks, and holsters
Cons
Lacks tool loops for handiness
Verdict
You won't get a better model when it comes to overall resilience and convenience than the Gatorback Contractor Pro. And when you consider its unique support on the back, then it becomes a must-have tool belt.
[wpsm_button color="main" size="big" link="https://amzn.to/33AeywM" icon="none" class="" border_radius="50px" rel="nofollow"]Check on Amazon[/wpsm_button]
05. Dickies Work Gear 57023 4-Piece Tool Belt for HVAC Technician
Not the most expensive, not the cheapest, and decent overall – the Carpenter's Rig Tool Belt from Dickies Work Gear will surpass almost all your expectations. And sure enough, it will work wonders for your HVAC needs.
Extra-Comfy Padding
At first wear, you'll realize this belt is among the most comfortable you can pick. With padded suspenders with gel cushions, it manages to feel utterly soft on your body.
The suspenders are also adjustable and come with a 5-inch moisture-wicking build, managing to increase overall breathability and prevent the awful sweaty feel.
Excellent Adjustability
Considering its padding quality, you can also add the adjustability of the straps. You can set them from 32 to 50 inches on your waist. This matches well with the double roller buckle for extra adjustments.
Whatever your body type or shape, this belt will manage to fit you like no other.
Stable and Convenient
You can wear this belt without making much of an effort – and still secure your tools.
Thanks to a steel buckle design and a pad on the waist strap, you can fit it tightly to your body and enjoy a balanced piece overall.
Loose-fitting belts and hanging wearables will be a thing of the past once you try this one.
Made to Last
It is comfortable and highly adjustable, but the real benefit comes from its super-tough construction.
Made with heavy-duty canvas, it manages to withstand several years of use without a single rip or worn-off part.
This goes well with the treated leather, the reinforced pockets and loops, and the heavy-webbed handles. It is simply designed to last for several years without fault.
Top-Notch Storage
Last but not least, you can be sure this belt will work wonders for your HVAC needs (or other endeavors).
What makes it so useful is the superb set of storage pockets, going with 6 pockets on the left side with 2 tool loops, and 7 pockets on the right side – with a steel-loop hammer in the middle.
You even get an elastic pocket for phones and other devices, as well as a 2-inch outer accessory belt – making it super convenient overall.
Pros
Exceptional padding and supports
Fits neatly with its adjustable features
Prevents instability and loose-fitting belts
Comes with tons of pockets, loops, and hooks
Lets you store phones and valuable devices
Long-lasting canvas construction
Cons
Tends to fall off if it is too heavy
Verdict
Considering the decent cost and the overall quality it offers, you're not likely to find such excellent options out there. With so many pockets, a durable build, and a tight-fitting design – it will feel like an excellent choice for many.
[wpsm_button color="main" size="big" link="https://amzn.to/2J30jXU" icon="none" class="" border_radius="50px" rel="nofollow"]Check on Amazon[/wpsm_button]
06. Gatorback Combo Deluxe with HVAC Tool Belt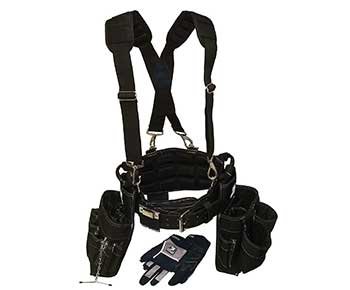 Coming back to Gatorback, it is time to meet the Electricians Combo Deluxe. This set includes a high-quality tool belt, a fingerless set of gloves, a tight-fitting buckle system, and excellent pouches all around.
Strong and Resilient Build
The entire Gatorback Contractor Pro series of tool belts and accessories have one common feature that keeps them all in the same bag: they're super durable and sturdy with their DuraTek 1250 fabric build.
Every item on this combo ensures an excellent experience free of rips, wear, or even scratches.
It all comes down thanks to the tar-tack stitching that keeps it together for a long, and the metal rivets of stress points that withstand all kinds of uses.
Outstanding Padding and Support
One feature you can't forget about is the padding and support on this belt.
Boasting the unique back support, any pain, and/or discomfort in this area will be eliminated. Whether you feel a rash or simple pressure when wearing tool belts, this one won't have any of that.
Don't forget about the padding on the suspenders and straps that make it even more comfortable. Your body will love this padded belt.
Fantastic Ventilation
Despite its sturdiness and overall comfort level, the belt manages to be breathable and fresh.
The mesh-like material lets enough air in to prevent moisture from depositing on the fabric while allowing enough air to go in.
This will happen all around the belt, from the support to the padded straps – you'll sweat way less than with any other belt out there.
Practical Organization System
We can't leave the pouch design out – especially when this belt is so convenient that it leaves nothing to be desired.
You get a total of 18 pockets on the right side, and 9 pockets on the left side, plus a tape chain for extra handiness. Keeping your tools at hand's reach will be a piece of cake.
Superb Work Gloves in Addition
As if having a top-notch belt wasn't enough, there's also a set of gloves to enjoy.
You get the DuraGrip fingerless set of work gloves, ideal for protecting your hands while working and grabbing things with ease thanks to the EZ-grabbing system.
Pros
Unbeatable padding and back support
Highly ventilated fabric for less sweating
Super-resilient build with DuraTek nylon
27 pockets in total for easy organization
Tight-fitting and adjustable design
Practical set of work gloves
Cons
Weak Velcro doesn't close well every time
Verdict
If it came to convenience, we would give the best tool belt trophy to the top-notch electrician tool belt combo without a doubt. With such a level of design and construction, plus a unique organizational system and the pair of gloves – it is on a whole new level from the competition.
[wpsm_button color="main" size="big" link="https://amzn.to/2U7qMtE" icon="none" class="" border_radius="50px" rel="nofollow"]Check on Amazon[/wpsm_button]
07. CLC Custom LeatherCraft Pro HVAC Tool Belt Review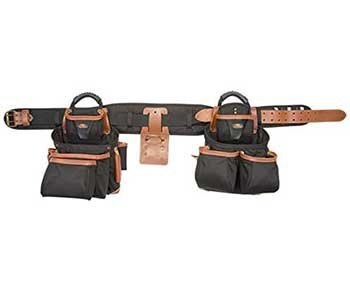 As the last model on our list, we had to make it superb – so we chose the CLC Custome LeatherCraft Pro Framer's Tool Belt. While not precisely directed towards the HVAC professional – it still works wonders with its durable, comfortable, and practical design.
Next-Level Fabric and Leather
If there's something this tool belt stands out for, that would be its construction.
Using 1680D ballistic fabric with a double layer all across the belt – you can be sure it will surpass all your expectations in resilience. It won't scratch, rip, or wear off as other fabrics will.
Apart from that, it boasts top-grain leather trimming, perfect for keeping together even more strongly. Considering the belt and buckle plus the hammer hook made of leather, it is set to last a lifetime.
Extra-Padded for Comfort
There's nothing more enticing about a quality belt than being comfortable. And that's why you have to love this model – especially with its 5-inches padding fabric.
Not only does it feel soft on your skin when wearing, but it also manages to prevent common pressure points on the hips and waist.
Maximum Adjustability
Apart from its padding, you also get the chance to adjust it perfectly to your waist.
Boasting a double-tongue steel roller buckle, you can adjust it from 29-inches up to 46-inches in total size. That's enough to fit the thinnest people as well as the widest ones.
Huge and Practical Pockets
At first glance, you'll see how large the pockets on this belt are. They are big enough to handle all kinds of tools – going from pliers to scissors, screwdrivers, measuring tape, and much more.
You get a total of 27 pockets – 17 small ones, 8 reversed pockets for nails and screws, and 2 tool loops and hooks.
Convenience at Its Best
Adding up to the pockets and the overall adjustability, there's also a set of handles you can use to bring the belt around with ease.
And when taking it off, these handles help to do it gently and in an organized way. You won't have to spill everything around anymore.
Pros
Hyper-comfy 5-inches padded belt
Superb Polyester and leather build
Gigantic pouches with tons of pockets
Practical handles ensure easy carrying
Prevents scratches and pressure points
Decently adjustable design for all users
Cons
Large design makes it hard for small people to wear
Verdict
Apart from the slightly elevated cost and its hefty design, there's nothing about the Pro Framer's Tool Belt from CLC Custom to complain about. If you want a more-than-decent tool belt for your HVAC needs – this one will surpass your expectations.
[wpsm_button color="main" size="big" link="https://amzn.to/3aeend8″ icon="none" class="" border_radius="50px" rel="nofollow"]Check on Amazon[/wpsm_button]
What is an HVAC Tool Belt?
HVAC tool belts are some handy tool carriers that can keep your HVAC tools properly arranged. Whether you are a professional or a newbie in the HVAC world, you will need the help of a tool organizer on any given day.
That is where the HVAC tool belt comes into play. There are multiple HVAC tools that you may need on the job site. If those are nicely arranged and easily carryable, then your job becomes very easy and comfortable.
An HVAC tool belt does that specific job for you. A good HVAC tool belt with lightweight material can help to perform well. There are many types of tool belts for HVAC workers. You can choose your desired ones according to your preference.
How Does an HVAC Tool Belt Work?
Every HVAC tool belt has multiple pockets and compartments to store different dimensions and sizes of tools. You can carry different gears and gadgets too in your tool belt. Just be careful not to overload it with excessive tools as that will cause strain and pain on your shoulder and hand.
So, you pick your tool belts for your HVAC works as you like. Then, you choose the tools for yourself. after that, you place the tools in the tool belt where they fit properly. Small tools should be kept in the small pockets and big tools should be placed in the big and deeper compartments.
You can then take that with you wherever you go with minimum effort. When you are working keeping the tool belt hanging on your back, you can do your work and take tools from the belt as you need. That is how it helps to perform better and save time by providing you with the tools you need.
Types of HVAC Tool Belts
A normal HVAC tool belt is wrapped around the waist of an HVAC technician that has many pockets to store the tools he needs. That is the most common type of HVAC tool belt. But, there are some classifications too. The most common types of HVAC tool belts are:
Suspender HVAC Tool Belt
A suspender HVAC tool belt is that one which hangs from the shoulder with the help of two straps. These harness-like materials help the person to carry the too belt with minimum effort and without any hassle.
You will be saved from lower back injuries as they are not hanging around your waist. Weight balancing is optimum through this tool belt type.
Holster HVAC Tool Belt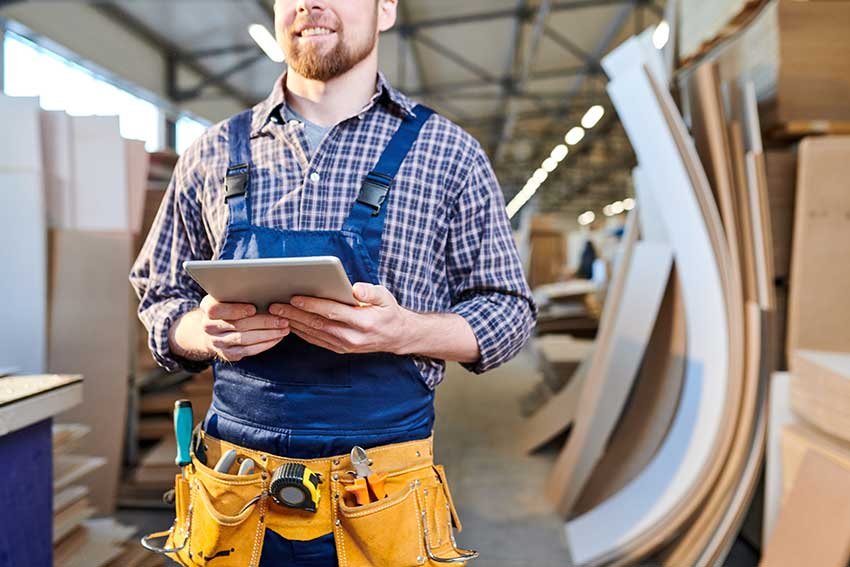 These tool belts are very handy to work freely and the person can bend over to do the job easily. You will not feel any hip pain because of that.
The only problem is that; you can't carry many tools with you in this tool belt. So, in small work where you won't be needing too many tools, this can be the perfect one.
Apron Type HVAC Tool Belt
This HVAC tool belt type is perfect for you if you are working on a very big project where you need lots of tools with you. It will keep all of your tools properly arranged and can be sorted very easily.
They are made of canvas materials or sometimes rubber. Also, they are very light because of the necessity to carry more tools.
Why Do You Need an HVAC Tool Belt?
Being an HVAC technician, you must carry some tools with you on your job. So, where do you carry them with you? that is why an HVAC tool belt is a must for you when doing important HVAC work.
A tool belt provides you with the availability of any tool when you need them. You can carry them and work simultaneously. No disruption of your work and no extra weight to carry with you.
A quality tool belt helps you with your work greatly. Your performance gets a boost and you can enjoy your HVAC work.
What to Look for Before Buying an HVAC Installer Tool Belt?
We know you want the best tool belt for HVAC in the market. But you won't be able to do that without knowing what to look for.
Here are some factors you need to think about before making your final choice:
Build and Materials
The first and most crucial factor to consider will be the construction and the materials used on the belt.
For the materials, for example, you will find plenty of different options like polyester (various levels), nylon (different levels), canvas, and leather.
We recommend Polyester if you want a sweat-proof belt that doesn't get too moist when used. Nylon offers a similar experience, yet it doesn't provide as much durability.
For canvas, you can get pretty decent strength and resilience over time. Yet, it is not the most rip-resistant, especially if you're expecting it to hold the extra weight.
And for a quality leather tool belt, it works wonders alongside other materials to keep it together and add extra durability.
Apart from the materials, make sure you get something that is put together nicely. Reinforcements, well-made stitching, straps, Velcro, and thickness – they're all important when looking for a resilient belt.
Remember, you're using something that will handle several pounds of weight every time you use it – so it needs to be sturdy enough. Focus on the best material possible alongside proper construction methods – and you'll receive a top-notch product for sure.
Storage and Pockets
There are tons of different storage options in tool belts – so you need to consider as many of them as possible.
The first type of storage option would be the pouch. This is where most other pockets and loops are attached, so it is the primary type of storage to think about. We recommend the largest, widest, and most spacious pockets you can get.
Be sure they have zippers, Velcro, or any other reliable closing system to keep your tools and other devices secure.
As for pockets, we recommend no less than 5 pockets per pouch. That will be enough to handle both small and large tools with ease. Yet, consider their overall design. Some are deep and flat-bottomed. Others focus on being thinner and easier to reach – but with less space for large tools.
Similarly, be sure to get a belt with tools and hooks you can use to place hammers, screwdrivers, pliers, measuring tapes, and so on.
The more compartments, the bigger and the handier they are – the better the whole belt will be. You can have a top-notch HVAC tool bag if you need more storage options.
Comfort and Breathability
Wearing a tool belt is usually pretty uncomfortable and tricky. But it doesn't have to be that way as long as you pick a comfortable enough model.
That's why we recommend models with sufficient padding all around. Those belts with 5-inches fabric straps and suspenders can be super cozy for a roofing quality tool belt.
Also, belts with supports and extra padding can always add an extra layer of comfort, especially when they prevent common pressure points.
Similarly, we recommend belts with breathable and ventilated fabrics. You want something that doesn't produce too much sweat or feels super hot. So, go for those with fresh materials but also vent holes for extra breathability like the tool belts from Gatorback.
Size and Fit
Just like getting something decently-padded and with a breathable-enough build helps with feeling comfortable, you also need to consider the overall waist size, adjustment settings, and the weight of the belt.
For us, the best models are the ones that come with pre-set sizes you can pick before even getting them. These will be ideal for working on specific body types and shapes so users can feel utterly comfortable when using them.
Otherwise, they must allow maximum adjustability – going from at least 30-inches to 42-inches for the waist. Size consideration would also be important when it comes to tool belts for kids or women tool belts.
At the same time, the belt needs to be easy to wear, fit tightly, and don't fall off easily. For that, start by wearing a belt that doesn't weigh too much – up to 20 pounds of total capacity will be enough for most HVAC jobs.
Design and Colors
While not necessary in most cases, you may still want a piece that looks neat – or at least comes with a proper design so you won't feel awkward wearing it.
When we mean design, we refer to whether it is a waist-only belt or a full-torso belt.
As you can see from the belts above, some of them fit only on your waist and hips – so you can be free on your torso. This is super helpful when you're in places that demand more freedom of movement or are just too hot to wear additional straps.
But you can always go for belts with harnesses or suspenders. These can be extra helpful for carrying more weight and feeling extra comfortable. You won't have to leave the whole load to your hips and lower back to handle.
Also, you may want something good-looking enough. So be sure to get a nice-looking model with the proper materials and colors. While this won't change the experience much, you may still care about looking neat when wearing the belt – so get something that matches your usual attire.
Care and Maintenance of HVAC Tool Belts
Taking care of your tool belt won't be easy – especially if you want it to last a lifetime. But don't worry, we know exactly how to make it possible. Here are a few tips you can follow:
Clean the belt every time after using it. Get rid of any dust, dirt, liquid stain, or any other residue on the belt. This will prevent wear and keep it looking neat.
Check that every harness or strap, pouch, loop, hook, zipper, or Velcro works. Fix accordingly if needed.
Do not overstuff the belt. Make sure to follow the maximum weight guidelines to prevent overstuffing and then damaging the belt by mistake. Most belts can handle between 15 and 25 pounds.
Don't leave the belt with stuff inside when not using it. Try to get the most cumbersome things off and only leave small hardware like nails or screws.
Always adjust the belt tightly to your body when using it. This will prevent some sides from falling off or hanging, which may rip the fabric over time.
Keep the belt away from rain, most liquids, and chemicals. Especially if you're working alongside corrosive materials, make sure the belt stays away from them as possible.
This set of tips should be enough to keep the tool belt working for a long.
Benefits of HVAC Tool Belt
While setting up your tools for the installation of a new air conditioner, you realize how many tools you'll need to get the job done. But you also find how little storage space you have. What's the solution? Easy – you get an HVAC tool belt.
Here are a few extra benefits to consider:
· Tools at Hand's Reach
Having all your tools at hand to reach for whenever you're working is something you don't get with other types of gear. Even the most practical bag or box won't get the convenience of an HVAC belt.
Some tools will be close to your waist. Others may go a little higher on your chest, and others will leave your entire hips covered. When reaching them, you'll have direct and effortless access to each.
· Carrying Tools with Ease
Thanks to the belt-like design that fits most people's bodies, an HVAC tool belt offers the portability that no other pieces of gear offer.
You can move around with total freedom, bring all your tools along, and still enjoy a comfy way to hold them without putting your safety at risk.
Frequently Asked Questions on HVAC Tool Belts
We wanted to make sure that after reading this piece, you were totally aware of all the most important things related to HVAC tool belts. So, apart from our reviews, buying guide, and maintenance tips – we bring common questions most people have about these belts, each one with its corresponding answer:
1. How to wash an HVAC tool belt?
Washing a tool belt is not too hard. You just need to know whether it is made of nylon, leather, Polyester, or canvas. Then, you need to proceed accordingly – following the cleaning guide that usually comes with the piece. Otherwise, look for ways to clean each material accordingly to prevent damage.
2. Are HVAC tool belts waterproof?
Most tool belts are totally waterproof and resilient to most liquids. Yet, we recommend keeping them away from moisture as much as you can. And when possible, dry sweats away and clean them. Even with the right materials, water can be a corrosive component that wears belts out rapidly.
3. How to organize an HVAC tool belt?
Organizing an HVAC tool belt is all about your needs and convenience. But we recommend always placing the most useful tool for your HVAC work on your dominant-hand side, and the rest of the tools and hardware on the other side. This will let you reach tools faster and more comfortably.
4. Are HVAC tool belts comfortable?
Yes, as long as you get a decently-padded belt with proper adjustability features and a breathable build – then you're likely getting a comfortable model.
5. Can an HVAC tool belt cause damage?
Not directly, but they can. If you wear a tool belt that's too heavy for your body, then you may produce lower-back pain and lumbar issues. At the same time, a belt that fits too tightly may also cause rashes and scratches on your skin. So, wear something comfy but also wear it right to prevent issues.
Final Words on Selecting the Best HVAC Installer Tool Belt
Now, you reached the end of the article – so it means you're genuinely excited to pick one of these tool belts for your HVAC endeavors.
Well, here's everything you need in this article – so there's no need to keep wasting time. Follow our advice, use our buying guide and reviews, and learn as much as possible before making your final choice.
Then, you can pick the best HVAC tool belt that fits your needs and doesn't disappoint. Hopefully, you will get a very good HVAC tool belt and enjoy your work!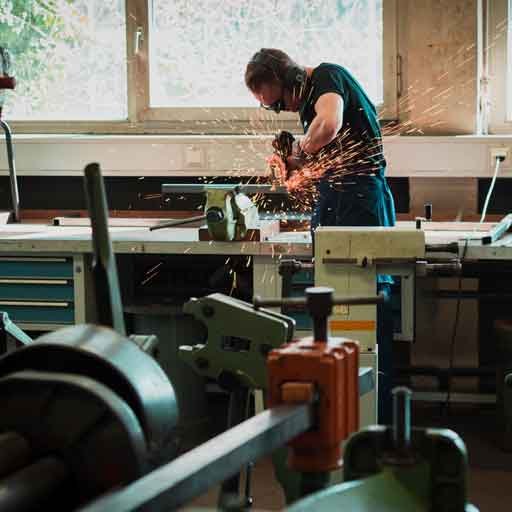 Adam is a tool geek who just loves making and breaking things. Doing the home improvements works and repairing things with his tools is his favorite past time. He loves to keep his tools arranged and sorted. On this blog, he shares his experience and knowledge.