Last Updated on November 7, 2022
Electricians need limitless tools for doing their work. As a newcomer electrician, you may not have a clear idea regarding the electrician tools list. All the electrician tools kit is not equally important for all types of tasks. When you are going to organize or wear the tool belt and bag with important tools for electrical purposes, you need to be choosy and wise.
So, you have to learn about different tools for electricians first that suit the tool belt and bag. The objective of this article is to introduce you to versatile electrician tools. Let's know the electrical maintenance tools list!
List of Tools for Electrician Tool Belts & Bags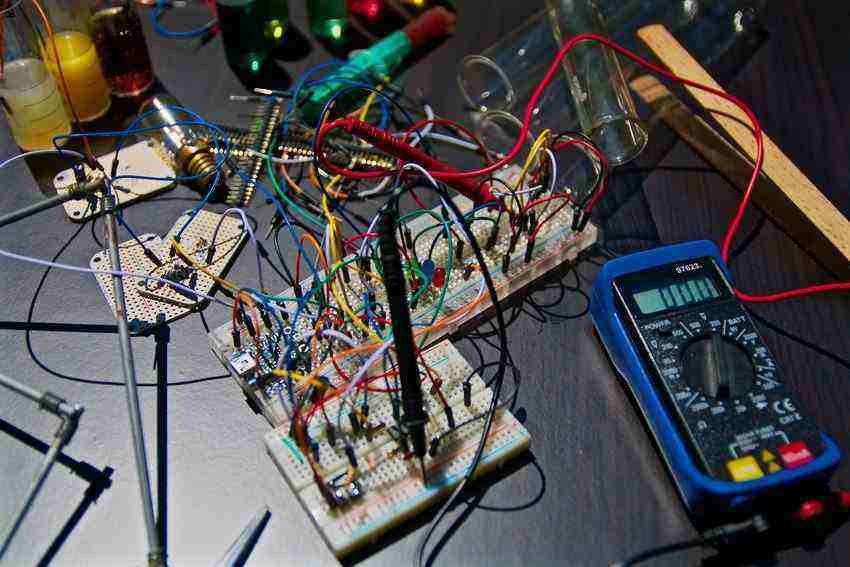 Electrician's tool belts and bags allow for storing various electrical tools, safety tools, high-tech tools, and much more. Depending upon the tools' function, electricians' skills, and safety facts we can categorize electricians' tools that fit the tool belt and bag. All of them are discussed briefly.
List of Tools for Electrician Tool Belt and Bag Based on Tools Function
According to the tools function, we can classify electricians' tools in two sections. They are hand tools and power tools. Below are a few of them of each type.
Electrical Hand Tools Lists
Electricians need some basic hand tools. These tools are needed for almost all electrical jobs. These tools don't need any motor power source. Manufacturers made these tools ergonomically for maximum performance and the ability to fit in the tool belt and bag. They are:
Voltage Tester
Electricians often use a variety of voltage testers to check electrical functions in electrical wiring. A non-contact electrical tester is a simpler and quicker way to check any circuit's current.  Some testers can check the voltage in AC and DC circuits. Before buying this, you need to check whether the indicator sign is easily visible or not.
Pliers
Pliers come in different styles, and electricians need a few of them. A good pair of nose pliers and side pliers are the two most common tools for the electricians' tool belt and bag. They are also found in many types and sizes but you need to choose the right size to perform your task.
Nose pliers usually have built-in cutters and sometimes there are stripping holes for wires. The side-cutting pliers are used for cutting wires, staples, nails, MC cables, or other tough materials. You need to make sure the jaws are toughened enough for durability.
Screwdrivers and Other Drivers
As an electrician, you need various screwdrivers for loosening and fastening electrical hardware. Now, these drivers are found in adaptable and interchangeable bits so that you can perform dissimilar electrical tasks. Taking this type of combo set you can save money and your bag will be lighter.
For example, a 10-in-1 multi-bit screwdriver or nut driver is a good choice for electricians. It includes 5/16-inch and 1/4-inch nut drivers, 1 and 2 Phillips, 1/4-inch and 3/16-inch slotted, 1 and 2 square-recess bits, T10 and T15 TORX.
You may wonder, what size screwdrivers electricians need. Basically, the right size depends on your work type.
Wire Strippers
Another necessary electrician tool kit is a good pair of wire cutters. They are handy for wiring purposes tasks. Wire strippers are used for removing insulation materials from cables. They are also capable of stripping the electrical wire's end portions for connecting them with another wire terminal.
Some of these can crimp wires and strip the cables. Taking a quality wire stripper is a good investment for electricians.
Fish Tapes and Poles
The fish tape is also known as draw wire or draw tape or electrician snakes sometimes. They are used to push or pull wiring through the metal, walls, PVC, and electrical conduit. We always recommend wide steel fish tape with a glow that assists in guiding the tape through narrow spaces. For instance, a 15 ft with glow work across thick surfaces, and glow is visible in dim work areas.
Tape Measure
This is another important tool for an electrician's tool belt-bag set. You need to measure the heights of lights, mounting boxes, laying conduit runs and bends, and many more fields where measuring is necessary. Most of the tool belts have dedicated tape holders. Usually, a double-sided 25-ft tape is perfect for electricians, because you can measure long distances with this.
Torpedo Level
A small leveling machine is the Torpedo level that fits your tool pouch. It is only small, just 6 to 12 inches long. When you work in a tight space this will help you a lot. This tool assists you to level, plumping, and sometimes angling during electrical works. The magnetic side makes the device hands-free and won't drop easily.
Pipe Reamer
Pipe reamers are de-burring tools used for cutting conduit steel pipes. This reaming process needs lees to work for faster results of pipe de-burring. Running through this conduit, your wires will be protected. Most of the pipe reamers are used manually with the T-shaped angle or can be mounted onto a drill for long reams.
Labeling Machine
Cable leveling saves your time and hassle greatly. It also helps you to make the additional change later on. The labeling machine works fast and makes sort lists by printing barcode graphics. This handheld labeling tool has a keyboard with it, that can easily make a marking tough and arched surface. The PC-compatible one will be more versatile.
Voltmeter or Multimeter
A voltmeter can read the voltage level of circuits and verify whether the circuits are alive or dead.  But, multimeters are more than that. They can read voltage levels with the current rating, resistance, DC voltage with current, and much more. Multimeters are essential for professional electricians not for DIYers.
Wire Crimpers
Cable crimpers are simply hand tools used for wire crimping or assembling cable connectors securely. These tools are not often used for regular circuit repair, but they are needed when working with electronics and appliances. If you work on appliances daily, then a wire crimper is a must for you.
Allen Wrench Set
They are used to tighten or loosen hex-head screws which are often found in light fixtures, ceiling fans, and fasteners. A set of Allen wrenches included a versatile wrench. We recommend you to take the necessary dimensions. But purchase a set having both standard and metric sizes.
Utility Knife
A razor-sharp knife is a nice tool for electricians. This is helpful for striping large gauge wire, cardboard, drywall, or opening boxes. But the knife may dull soon, so you should take an ultra-sharp one.
Hammer
They are especially essential for construction zone electricians. Claw hammers are good for removing nails and wood pieces. If you work in an industrial area, they might not typically a priority.
Hacksaw
This is handy for cutting PVC and metal pipes in a pinch. You need to set the hacksaw blade in a frame. The blade is replaceable. It's cheap but works great for electricians.
Electrical Power Tools Lists
Electricians need various power tools that ease their tasks. Such power tools include drill machines, impact drivers, saws, and many more.
Power Drills
Power drills are important for electricians for drilling purposes. They may be run by electricity sources or batteries. Battery-driven cordless drills are recommended because they helped you a lot especially if there is no electricity there. But, you should take extra batteries and suitable drill bits for that.
Most of the electricians' tool belts have devoted drill holders. For safety purposes, you can use a lanyard for extra support.
Impact Driver
This is smaller and lighter than the drill driver. In this tool, there is an outer sleeve that makes it easy and safe for drilling screws and tightening nuts. This makes both downward and rotational force which assists in loosening screws and nuts. You will find corded and cordless impact drivers in the market.
Power Saws
Handheld reciprocation saws are very popular tools for electricians. Circular or spiral saws perform the same as reciprocation saws. Moreover, they can cut downward, parabolic fluting. Battery-operated circular saws are helpful for cutting floorboards such as laying cables. Moreover, it's not very heavy and suits your tool bag.
Other saws include hole saws, portable band saws, and cut-off saws. Most of the saws use the six-ampere motor with different cutting blades.
List of Tools for Electrician Tool Belt and Bag Based on Electrician's Skills
Again, depending upon electricians' skills we can classify these tools as apprentice electrician tools and pro electrician tools.
Apprentice Electrician Tools List
As an apprentice, you need only some essential tools. These tools are the basic tools for electricians and discussed most of them are in the hand tools section. Actually, these tools are also used by the pro electrician.
They include a voltage tester, pliers, hacksaw, screwdrivers, wire strippers, fish tapes, voltmeter, labeling machine, tape measure, torpedo level, wire crimpers, hammer, razor-sharp knife, pencils, markers, Allen wrench set, center punch, many more.
Pro Electricians Tools List
With the basic tools, skilled electricians need some auxiliary tools for performing their tasks. Some of them are-
Electric Soldering Iron
Soldering iron is a hand tool assembly process between two metals. The soldering iron is energized by electricity first. Then it supplies heat that melts the solder material and joins the metal parts. If you need to join a thin wire where the screwdriver doesn't reach or need to fix the circuit permanently, then this will help you a lot.
They come in various types like simple iron, cordless iron, soldering station, temperature-controlled soldering iron, hot knife, soldering tweezers, etc. You need to consider the suitable one for your task.
Multimeter: Discussed earlier.
Circuit Tracers
Sometimes it is difficult to find out the connection of any outlet circuit's from lots of circuits in the residential or commercial area. In these areas, the circuit tracers worked greatly to locate electrical circuits in floors and walls and for identifying circuit breakers. This device incorporates three main components – a handheld digital transmitter, receivers, and probe.
This device eliminates the need for actual contact with the electrical equipment that needs to be tested. It provides a safe environment for electricians.
Circuit Analyzers
The circuit analyzer is a special device to find out the fault of the AC-low-voltage distribution line in a short period of time. With simple operation, it can detect the multiple problems of a line such as electrical fire, unusual operation of equipment, electric shock, etc. In the market, you will find a variety of circuit analyzers. Out there, you need to pick the right one.
List of Tools for Electricians for Safety Purposes
There are few tools and accessories that provide electricians protection so that they can get a safe and shock-resistant working environment. These include-
Safety Goggles
When you are welding any parts or tightening a screw, the molten metal parts or chips may hit your eyes and damage them totally. But, a set of safety glasses can save you in that instance. We recommend using safety goggles for you if you are an apprentice or work on a construction site. You can also gather welding-related knowledge from resourceful sites like WeldingHubs.
Insulated Gloves
There are possibilities of being shocked by electricity or electrocution. So electricians need to take adequate precautions. One of the best ways is to use gloves made of insulating materials. Wearing these properly coated gloves you can easily grab electric parts and work safely.
Headlamp
Sometimes it's very hard for you to perform electrical work in low lights or dark conditions. But, if there is a flashlight in your head, it will help you to see easily. If you take this hands-free light on the job site, it is recommended for you take an extra battery set for urgent needs.
Kneepads
If you are old enough, it will be hard for you to work upright for hours. But kneepads can support you in this case. It will lessen your knees' pain too. When buying these pads you need to take a wide strap because it protects your joints.
Conclusion
Electricians need tons of tools for a variety of purposes. You will find many tools from HVAC kits common to this tool list type. Tool belts and bags (just like the carpenters) allow you to organize several of them. As a beginner, you don't need the most expensive ones but with the growth of your skills, you need sophisticated ones. We tried to include most of them in the above electrical tools names list. Hopefully, you will be pleased to learn about the electricians' tools list.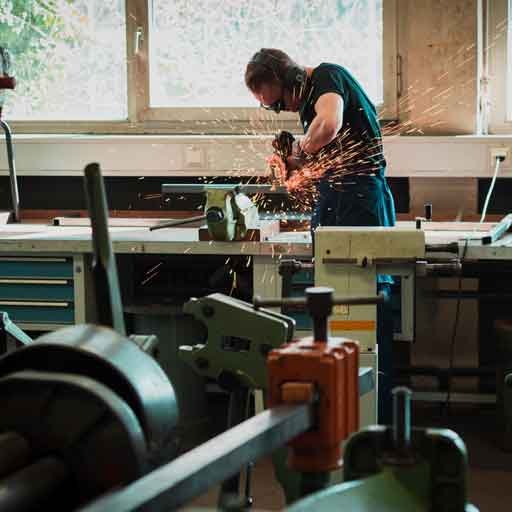 Adam is a tool geek who just loves making and breaking things. Doing the home improvements works and repairing things with his tools is his favorite past time. He loves to keep his tools arranged and sorted. On this blog, he shares his experience and knowledge.