Last Updated on November 7, 2022
As an electrician, you need to work from the floor to the ceiling. Now, carrying all your electrician's gear in a toolbox doesn't seem entirely convincing. You need to move constantly around with your weapons loaded in your arsenal. That's when a tool belt seems promising. If you get lucky enough to tie the best electrician tool belt around your waist, you can see the considerable momentum you achieve in your work. To help you out, we have filtered out some of the best electrician tool carriers from hundreds of options.
If you are not in the mood to dig around to find a top-quality product, just jump into the reviews we have done here. Trust us; you definitely don't want to miss a bit of it! So, what are we waiting for? Let's hop in!
Product Comparison
Table could not be displayed.
7 Best Electrician Tool Belts Reviews
We got to admit; we had a tough time selecting these products from loads of choices. Still, we took our time to go through the key features of the products, and we finally listed down 7 top-class tool belts. Let's get started!
01. Gatorback B240 Electrician's Combo Tool Belts
It wasn't an easy job placing one belt over another, let alone on top. But the unique features Gatorback B240 comes with outperformed most of the choices we had.
Comfortable Memory Pad
Most of us who have used regular leather belts, know how itchy and uncomfortable our waist can feel. Especially if you are wearing an electrician's tool belt for a longer period like five to six hours at a stretch.
Gatorback B240 comes with a comfortable solution to this. The belt's inner surface is embedded with a comfortable memory pad that provides a soft feeling around your waist. If you are wearing the belt even for the whole day, you are not going to feel any weird itching. Plus, there are multiple air channels beneath the belt. These channels promote sufficient air flow to prevent heating up and cause excessive sweating.
Boxed Pockets
It gets really awful when you can't locate the tiniest nuts you have put inside the pocket. That's because the pockets are generally made in a baggy shape, which only entertains larger tools.
That's why the B240 features pockets that are firm and shaped like a box. These pockets are stitched with plastic that supports the shape of the pouch. Now you can just put your hands in and get anything out of it, no matter how small it is!
Nickel-Plated Ring
You can hang your heavier tools like hammers and pliers from the solid ring attached to the belt. The ring is pretty strong because of its unique built-quality. It comes with durable nickel plating to further strengthen it.
So you can hang some of the heaviest of tools from it quite comfortably.
Customizable Pockets
One of the drawbacks of most tool carriers we find today is that you can't place the pockets according to your choice. Every single pouch is fixed and non-movable. B240 just nailed it here.
This champ features pockets that can be rearranged and removed. If you feel like having two pockets on your right, well, it's an easy wish for the B240! Just remove the left pocket and place it beside the right one. It's that easy and convenient.
Strong Bar-Tack Stitch
The B240 combo takes the strength of the belt into the highest consideration. That's why all the stress points of the belt are carefully stitched with bar-tacking. This means more durability and endurance.
Pros
This tool belt is stitched with 1250 DuraTek nylon
Rearrangeable pockets for convenience
Box-shaped pouches for easy pick-up of tools
The strap is made from genuine leather
Best pick electrician tool belt
Double metal buckle for a better lock
Features a carrying handle for easy movement
Cons
It comes with a very weak Velcro
Verdict
Apart from the durability this belt offers, its genuine leather belt, and box-shaped pockets pose it to be one of the best options for you.
02. Occidental Leather 5590 SM Commercial Electrician's Tool Belts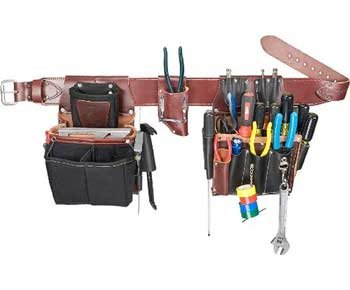 When it comes to electrician's tool belts, you just can't proceed without talking about Occidental leather. They have been producing some of top-class products for decades. If you are an electrician, you can't help but notice the elegance of the 5590 SM electricians set they come up with.
No-Spill Holder
It's a fact that you will be running to and fro with all your equipment when you are in a full mood. Fixing electrical devices and wiring has nothing to do with relaxing. That's why you need to have a well-managed tool holder that can hold your tools with a magnet-like force.
That's how the pockets in Occidental Leather 5590 SM were made. No matter how much bumping and jerking you do, no gear is to fall off from the pouches.
Designed For Working Rhythm
When you are in full swing working on a project, the last thing you need is to look for the exact tool you need every 2 minutes. This has a lot to do with your pockets' position in the tool holder. The 5590 SM has a great solution to this.
This electrician's tool belt is specially designed to provide smart service to support the working rhythm to a maximum level. It can be your ultimate HVAC tool belt for sure. You can move your hands just a bit, and there you go! – you have your tool! It's super easy to take gear out and put it back in.
A Good Number Of Holders
You have an ample amount of pockets on both sides of the belt. For larger tools, you have 4 large pockets on the right side. As for smaller and slimmer gear, the left side is loaded with pockets. You can count more than 10 smaller pockets for different tools.
You can even specify which tool to put where. That's the beauty of Occidental Leather. They boast of the fact that this electrician's tool belt is engineered for the modern electrician.
In addition to the pouches, the belt has a metal ring attached. You can hang heavier tools like hammers and pliers from it. Nothing to worry about, these tools fit the ring just fine!
Pure Leather Belt
As for the belt, it is made from pure and genuine leather. It is quite robust and can resist any scratch or pressure. It's not going to crack open like most of the cheaper alternatives you have on the market.
Pros
It comes with a lot of pockets for different tools
The belt is made from pure and genuine leather
It is engraved with rivets for extra security
Best high-quality electrician tool belt
They are designed to support maximum working rhythm
No-spill design to prevent spilling
Cons
No pocket for a tape measurement tool
Verdict
For those of you who are fans of classic style design and genuine products at the same time, it's not easy to ignore the Occidental Electrician tool belt. You should definitely give it a try.
03. TradeGear Electrician's Belt & Bag Combo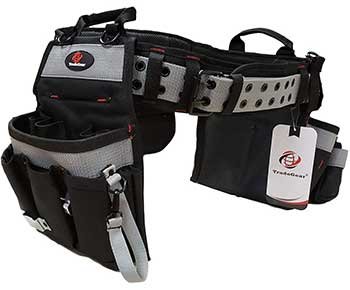 If you are looking for something unique and stand-out, you need to check out the TradeGear Belt and Bag Combo. It's a combination of belt and bag, that too with smart service from a suspender.
Comfortable Suspender
The suspender comes with a comfortable padded shoulder. When you put it on, the straps absorb most of the pressure and provide a soothing sensation on your shoulders. Moisture-wicking fabric and foam are some of the materials used in the pads for this purpose.
Its pads are breathable and welcome air flow to a great level. So, you can keep away from heat and moisture.
Distribution Of Weight
Having a great service from a suspender can bring about drastic changes. This one we have here is a prime example of it. It distributes the weight of the tools quite evenly, and you feel less pressured than usual.
It is going to withdraw most of the pressure from your waist and hip and distribute it to your shoulders and thus making it a complete ergonomic package, especially for weight management.
Fully Adjustable
For tool belts, there is no 'one size that fits all. You can't pick up a tool holder belt and use it. The ideal electrician's belt should have an adjustable strap that you can alter according to your size. The TradeGear Electrician Belt has been properly executed it.
Its adjustable belt lets you adjust the size of the belt as per your waist number.
Durable Fabric
On top of all the features, the TradeGear belt is made from a tough and durable 600D polyester fabric. It withstands rough use and a tough environment. You can carry as many as tools you need in it, without being worried about it tearing up.
With the support of top-class stitching, the TradeGear Combo is going to satisfy you with great service if you are concerned about its long-lasting nature of it.
Comfortable Placing
What matters the most with a tool belt is that you should be able to place all the tools at your convenience. The TradeGear tool belt is designed exactly like this. Its smart and modern design lets you access all the pockets and pouches pretty quickly.
Also, having 4 loops is something really appreciable. You can hang 4 different tools from the rings along with other tools in different pouches.
Pros
It comes with a number of convenient pockets
Soft and comfortable padded suspender
The weight distribution of the belt lessens the pressure
It is made from 600D polyester fabric
Best budget electrician tool belt
Fully adjustable belt
Cons
It doesn't fit quite well if you are under 6 feet
Verdict
For most of us who feel that a suspender can help a lot in carrying a tool belt, you people can definitely try this one out. It won't disappoint you!
04. Gatorback Electrician's Tool Belt Combo Deluxe Package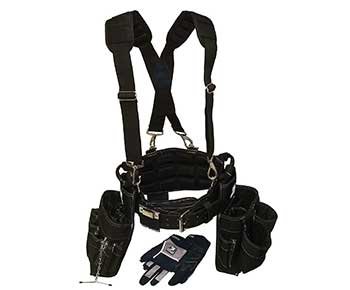 The B240C Combo is a special edition from the Gatorback house, focusing on the needs of an electrician. Whether you are a pro electrician or not, this can be your ultimate choice.
DuraTek Fabric
As an electrician, you have to explore weird places with your wires and tools. This means you need to have a strong and sturdy tool carrier with you. Using the DuraTek 1250 Fabric, the B240C makes the job easier for you.
This robust electrician's belt lets you move around in rough and tough conditions. It can endure scratches, cuts, and other abrasions quite easily. Now carry on your task confidently!
Strong Stich
It's not easy to carry loads of tools and gear that come with a lot of weight. A simple tool carrier may end up tearing itself apart, failing to withstand the weight. That's the reason most of the top-class products like the B240C, use Bar-Tek stitch on the stress points.
Usually, most of the pressure produced by the tools is absorbed by a number of points on a tool bag. These points are mostly known as stress points. Stitching these points with an additional Bar-Tek stitch is the best possible way to strengthen these points.
Well-Designed Metal Rivets
Adding up to the strength and durability of the belt, the B240C is engraved with several metal rivets. What the rivets do, is ensures the stitched parts of the belt are staying put with extra strength.
The B240C had precise planning for placing the rivets. It came to us that the rivets are placed just where the stress points are. Meaning, the stress points are going to endure more loads and weights without being damaged a bit!
Air-Ventilated
Yes, you are going to sweat a lot while you are working with an electrician's belt. No one can help it! But it's possible to reduce the sweating by providing enough air flow inside. That's good news for you as B240C belt pads are perfectly air-ventilated.
You get enough air flow in and out of the belt's pad for maximum breathing.
Ample Pockets
What does an electrician's belt do without a smart number of pockets? The B240C doesn't lag behind in this case. With 27 different pockets, this is one of the finest tool straps we have come across. You get 18 pockets on the right and 9 pockets on the left. Perfect storage capacity for an electrician!
Pros
Made from high-quality DuraTek 1250 fabric
Secured with Bar-Rek stitching
Strong metal rivets for extra durability
Air-ventilated padding for comfortable breathing
27 different pockets and pouches for optimum storage
Cons
Not all the pockets are capable of holding larger tools
Verdict
Having a huge number of pockets, this one is surely a heavy contender in the market. It comes with durability and ample storage capacity that can be proven to be the best if storage is considered.
05. Klein Tools 55427 Electrician's Tool Belts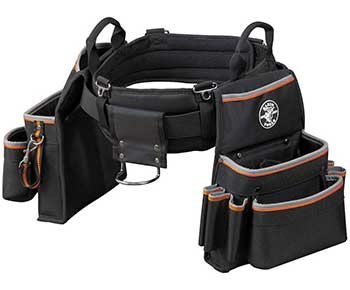 We have to admit; there are very few tool belts out there that can catch your eyes the very first time you put your eyes on it. Klein Tools 55427 has to be one of those rare items. It's super cool, looks fabulous, and is sturdy at the same time.
Robust Body
First things first, the build quality of the Klein Tools 55427 is just excellent. Made from 1680D ballistic Polyester, the tool belt couldn't have been more robust and sturdy. You can see it when you put it on.
Its amazing dark design matches evenly with the top-class fabric and lets you enjoy the fiesta of durability. Now move around from project to project, from the bottom of the house to the top – this tool belt is going to stay put, as always.
Removable Pouches
It's true that you need all the pouches and pockets that come with a tool belt. But very few tool belts allow you to alter the pockets. This one in our hand is a gem in this case. You can remove the pockets that you don't need and keep the ones that you need.
On top of that, you can even rearrange the pockets according to your needs. Put the right pocket on the left and the left one on the right – it's your choice!
Adjustable Belt
Although the belt is constructed to fit people with a waist size of 31 o 34 inches, it's still possible for it to adjust a range of sizes. It comes with a size adjustment option to match your waist measurement.
Comfortable Pad
The producers have considered the comfort of the waist as much as you do. That's why the inner side of the belt is arranged with soft cushioned pads. These pads allow air to be passed from in and out.
Your entire waist area does get the chance to breathe and it prevents heat formation. Thus, it reduces sweating and provides the ultimate comfort that you deserve.
Carrying Handle
Okay, it may be a tool belt, but sometimes you do need to carry it around, as well. You are not going to put it on all the time. But does that mean you take all the tools off of it?
Well, Klein Tools says not. You can carry the unit in your hand by the handle that is placed on top of both sides of the strap. Fill it up with tools and just carry it around by your hand – it's that easy!
Pros
It is made from 1680D ballistic Polyester
Pouches and pockets can be removed and replaced
It comes with drill bit pockets
Comfortable carrying handle
It has an adjustable belt for easy adjustment of the size
Cons
It doesn't have sufficient pockets for pliers
Verdict
From durability to a great look, this tool unit doesn't lag behind in any way. Its ballistic Polyester-made body makes it a tough competitor for most of its peers.
06. CLC 1608 Electrician's Combo Tool Belt
Most concerned electricians focus most on the number of pockets a tool belt comes with. This indeed is one of the decisive factors for a tool belt to be a convenient one. CLC 1608 Electrician's Combo is one of them.
Wide Range Of Pockets
With 28 different pockets and pouches, what more can be said about its versatility? You can find 28 useful pockets, small and large, for your everyday needs. You can just put it on and find at least one place for the tool you are holding in your hand.
Although this is a great option, that comes with a little price, and that is, you can't remove the pockets, nor arrange these according to your wish.
Padded Suspender
It comes with an easy-to-put-on suspender that supports more than you expect it to. Its unique design allows it to distribute the weight of the tool belt quite conveniently. You can fill all the pockets up with tools and nuts, but it won't hurt your waist at all.
Moreover, the suspender comes with smart padding. These breathable, soft cushioned, and air-flow-enabled pads make it super-easy to wear it all day long!
Comfortable Fit
Usually, the belt can fit waist sizes from 29 to 46 inches. That should be enough of a range of sizes that conform with most waist sizes. In addition to this comfort, you find the belt is embedded with comfortable pads, as well.
You get the same soft feel as the suspender on your shoulder. This makes your job much easier and more comfortable.
Easy To Carry
In case you need to take it off and carry it with you, you have two holders on the belt to help you out with that. Just fold it up or leave it full, and carry it by a couple of handles. Easy as that.
Pros
It comes with a wide range of 28 different pockets
The belt features a useful drill holder for any cordless drill
Fits waists from 29 to 46 inches
Easy to carry by two handles on top
It comes with a padded suspender
Cons
The Velcro that comes with the belt is not of good quality
Verdict
For most of us, comfort is the ultimate target. It gets even better when comfort is supported by functionality. With a padded belt and suspension, along with 28 pockets, this is one of the best options you have.
07. Milwaukee 48-22-8110 Top Electrician Tool Belt
Our last pick is the Milwaukee 48-22-8110. Apart from the classy red-black look, this one is an absolute show-stopper. Let's find out why!
Durable Nylon Construction
The body of the tool belt is constructed from heavy-duty 1680D Nylon. That means this tool belt is going to resist a lot of pressure and scratches. Usually, electricians carry loads of tools that put a good amount of weight over the bag.
A nylon construction can save your day if you are carrying that amount of weight in your pockets.
Padded Belt
It's really an annoying issue when you are wearing a tool belt around your waist that hurts. It mostly happens when you are putting it on for hours at a stretch. That's why a padded belt comes as a blessing for most electricians.
Milwaukee 48-22-8110 is exactly the match you deserve. Its cooling and soft gel pad around the belt make it easier to wear for a long time.
Stable Pockets
One interesting feature of this tool belt is that the pockets it comes with never get baggy. The pouches have a strong plastic line at the bottom for them to retain an upright shape. That's why the pockets have a flat surface all day.
Puncture Resistant Pockets
As an electrician, you must be aware of the sharp edges your tools can have. This results in damaging the pouches and pockets of your tool belt. Wouldn't it be great if you finally got rid of it?
Well, you just got lucky. The Milwaukee 48-22-8110 has pockets that are specially constructed to resist any type of damage and puncture.  All the 29 pockets it comes with won't get any leakage or puncture, no matter how sharp your tools are.
Pros
Made from durable 1680D Nylon
Puncture resistant pockets
Stable box-shaped pouches
It has a gel-padded belt for extra comfort
Integrated carrying Handles
Cons
The belt is a bit long for people with a waist size below 33 inches
Verdict
This tool belt is truly a versatile one. The makers have concentrated more on the pockets, unlike any of its competitors. If top-class heavy-duty pockets are your prime need, this is your bet with no cons.
Best Electrician Tool Belt Buying Guide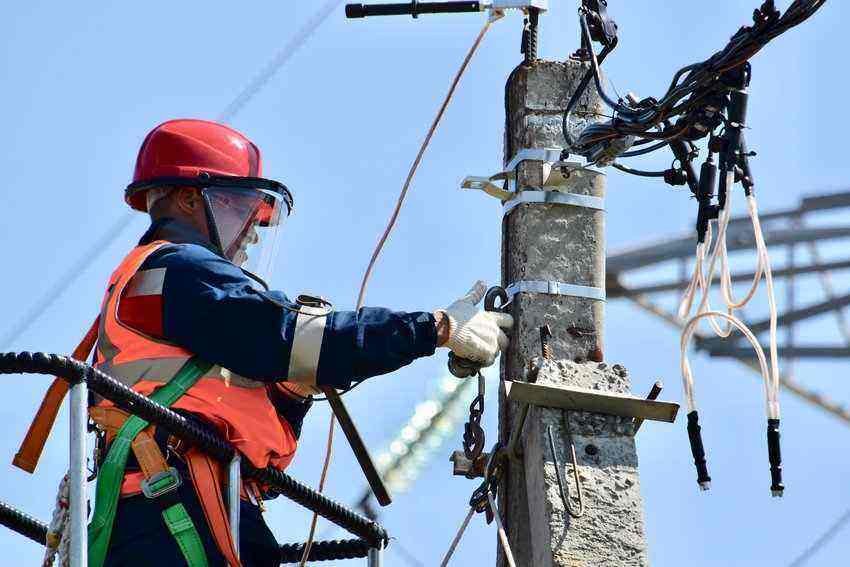 Now, as you know what are the top-performing tool belts in the industries, it's time you decide to get one. But before you step outside and make up your mind, let us discuss some of the key factors that you need to focus on.
Types of Electrician Tool Belt (belt and harness)
Before you decide to go for the best tool belts, you need to fix your mind about what type of tool belt you want. Usually, there are two types of tool belts you can find on the market. The one with just the belt, and the one with a harness that attaches to a suspender.
The normal belt will weigh less than that with a suspender. It can be carried easily and put on conveniently, as well. As for the suspender ones, we will be discussing the benefit of a suspender, later in this buying guide.
The Comfort of Electrician's Belt
The first and foremost thing that you need to consider is the comfort you are getting from the belt. It's not something you wear once in a lifetime and take it off. It's going to stick around your waist for a long time. Therefore, you should never compromise with comfort.
You need to have the best comfortable tool belt for this. Belts that are gel-padded provide the maximum comfort possible. These belts give you a soft and soothing sensation around the waist that causes zero fatigue around that area.
Waist Size Fitting
Another important issue is waist size. It has to be one of the most crucial issues for you. If you are going after belts that are just the 'one-size-fits-all' type, you are doing it wrong. Just find one that gives you to option to adjust. There should be enough variations for all age and sex groups. There are quality women's tool belts and some fine kid tool belts too if you are interested.
With adjustable belts, you can adjust the size of it according to your waist size. Moreover, if you're not the only one who is using the belt, then you are in luck. If someone else is using it, he/she can again adjust it accordingly. That's how you define versatility. But if you are the only user of the belt, knowing your exact waist size you may go for fixes size options like the Gatorback Tool Belts.
Tool Fitting Option
You need to concentrate on how varieties of electrician tools are organized in the pockets. Is it baggy? Is it going to spill off from the pouches when you kneel or bow? If these are the cases, then you are choosing the wrong one.
The perfect electrician tool belt does come with optimum organizing capacity. The tools are going to sit firmly inside the pockets and holders. Nothing is going to spill off from the holes or holders. As an electrician needs to move frequently, there is a great possibility that the tool belt faces enough jerking all day.
If the arrangement of it is up to the mark, nothing is going to disappoint
Storage Capacity
If you are looking for the best possible electrician tool belt, look for its storage capacity of it. You don't want to spend loads of bucks on something that doesn't provide enough space to keep all of your necessary starting tools in place.
Having a tool carrier that lets you keep all the essential gear is what you should focus on. Try to find the tool pouch that lets you keep all your pliers, hammers, screwdrivers, tiny tools, etc. in place with the optimum storage of it.
The Durability of Electrician Tool Belt
You should not compromise the durability of the tool belt for money or any other settings. Usually, most of the users use a tool pouch for more than a couple of years. This calls for a durable material that can help you up with this. That's why you need to find a product that is constructed with top-quality materials like Nylon, Polyester, or even leather.
Here're three of the best materials you can find on a tool belt.
1. Leather
One of the best options for a tool belt that every electrician is fond of. Leather is a quite durable, strong, and sturdy material that is widely used in industries. It is appreciated for decades as an ideal material for anything that needs durability. Still, it does come with a few drawbacks. One of the notable drawbacks is that it is not water-resistant. If you are using it in rain or dripping it in water, chances are there that you will damage it very shortly.
2. Polyester
Polyester is a synthetic material that is used in most top-class tool belts and carriers. For obvious reasons, it can cost you less than leather but doesn't disappoint you in any way. One of its excellent features of it is that it resists water. No matter how long you are working in the rain, it's not going to get damaged.
3. Nylon
Nylon is another good option to construct durable items. Some of the nylon types like Ballistic nylons are quite popular for crafting tool belts and other belt-like carriers. It can resist water to a certain level, but it's not a full-fledged water-resistant material. The fibers can swell up if you are working in a moist environment for a long time.
Customization
It's not always pretty useful if you are using a tool pouch that has fixed pockets. Most of the tool belts you find on the market come with fixed pouches. Still, some products provide the freedom to alter and adjust the pockets and holders as you like.
You can remove a pocket or even change its position according to your convenience. If you can find a tool belt that lets you do this alteration, you better go for it without a doubt. Customization of tool belts makes it easy for you to use your belt for other purposes. Through that, you can use a tool belt for carpentry purposes as a framing tool belt too.
Supporting Suspender
Some of the tool belts come with a default suspender attached. This helps you stabilize the belt quite easily. You can take control of the tool carrier with the utmost convenience with a suspender attached.
This also helps to distribute the weight evenly around your shoulder and waist. That means you don't need to take all the pressure off your waist when the tool belt is full of materials. The suspender helps you to let your other body parts share the weight. Look for a suspender for your tool belt. If you are in luck, it may come by default; if not, consider buying one.
Water Resistance
You will be working under a range of conditions all through the year. If you are working in a moist environment, it is expected that the tool belt will get wet and damp after long-term use. It gets worse if you are working in rainy seasons. Not to mention the perspiration from your waist area.
That's why you need to get tool stuff that can resist water. Look for a Polyester or Nylon made tool belt that can withstand damp weather like a pro!
Easy To Access Tools
There are so many options for you when you are out in the market for a tool belt. But not all of these products come with ergonomic designs that let you have easy and fast access to the tools.
You need to find stuff that you can put on and take full control of the gear. Just move your hands at a minimal level and find all the tools in place. It increases your productivity and saves you a lot of time.
Avoid Large Buckles
Some tool belts feature a large buckle just for the sake of security. That's not necessary at all. Plus, it can have a lot of downsides as well. For example, if you are leaning to pick something from the ground, or just leaning over to fix a few nuts, the large buckle can put a lot of pressure on your belly. It's going to be itchy and annoying. So do avoid large buckles if possible. On a high place like on the roof, you want your roofing tool belt to be light and comfortable.
Brand Matters
Although you may find some products that come with great features, not all of these products represent a reputed brand. In the case of durable products, like tool belts, you need to put your trust in reputed brands. You can't just pick a product up just because it seems to be a great one.
Look for the producer of the belt. If the features are good and the brand name you can recognize – it's a win-win situation we have here!
Carrying Handle
A tool belt will not always be around your waist. There come some times when you need to carry it in your hand. If there is no carrying handle, it gets difficult to move it with your hands with all the tools inside. Look for a good carrying handle on the top of the belt for easy carrying.
The Price-Quality Ratio
And finally, you should consider the price-quality ratio. Is it worth the price you are paying? Does the stuff come with features that deserve your bucks? There is no absolute measurement for it to decide, but you need to consider this to a certain level. Lest you will end up paying for an overpriced item.
Final Words
As we have drawn ourselves close to the end of this review, we hope that you have got a pretty good idea of what it takes to be the best electrician tool belt. And a perfect tool belt is a must for every modern electrician. Follow our reviews to get find the one that works just perfectly for you. If you are still dangling around in indecision, keep our in-depth buying guide handy – you will surely end up spending bucks on the best suiting tool belt for you!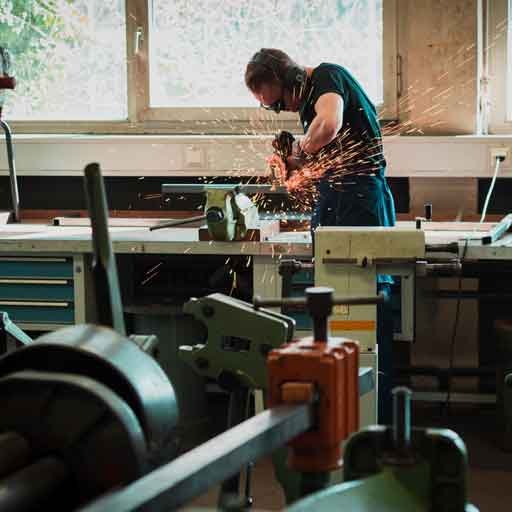 Adam is a tool geek who just loves making and breaking things. Doing the home improvements works and repairing things with his tools is his favorite past time. He loves to keep his tools arranged and sorted. On this blog, he shares his experience and knowledge.