Last Updated on November 7, 2022
Maybe you are a newbie electrician and going to start your professional life soon. But you might be confused about choosing the right tools for your job. I can realize your worries; the same question came to my mind when I was in your stage. After passing a long time as an electrician, now I know what an apprentice electrician needs exactly.
Today, I'm going to tell you about the tools list for the electrician apprentice tool belt. Be relaxed, I'll guide you on this topic. Let's start the list of the basic tools for apprentice electricians!
Tools List for Electrician Apprentice Tool Belt
Actually, the company where you are going to work will supply most of the tools that an apprentice electrician needs. However, you might buy a few extra items. That's why you should have good ideas about the first tools for electricians. We'll enlist here a few of the most important ones. So, check out the tools list.
15 Tools List for Electrician Apprentice Tool Belt
Screwdrivers
Every one of us is familiar with the screwdriver and its basic functions. Actually, there are various screwdrivers for versatile tasks. Nowadays, electricians prefer to take screwdriver sets that include Phillips, nut drivers, TORX, and many more options. Some of the most used screwdrivers are-
Flat-Head Screwdrivers
The flat-head screwdriver is the standard and basic screwdriver that is designed as a fastener for straight and linear notch head screws. This is actually an inexpensive tool among screwdrivers.
Nut Drivers
The nut driver is a good tool to tighten or loosen nuts and bolts. Their head seems very similar to nuts. You'll get better grip leverage in the nut drivers than the pliers. It's necessary to take multiple-size nut drivers for versatile nut loosening and tightening.
Phillips Head Screwdrivers
Phillips head screwdriver is designed for Phillips head screws. It has a cross-slot in the top to loosen or tighten the screws. This is one of the most used screwdrivers.
Multi-Tip Screwdrivers
The multi-bit screwdrivers come with interchangeable bits; you should install the needed one from the bits. If you own this and don't have other screwdrivers, you can do all the tasks with this handy screwdriver.
Conduit Reamer Screwdrivers
Your usual screwdrivers don't reach the conduit. But the conduit reamer screwdrivers can be easily tightened or loosened the screws. You can use this tool for pipe reaming purposes.
Wire Strippers
Another essential kit that a beginner electrician needs frequently is a wire stripper. This instrument is used for removing insulation from cables. It is also capable of stripping the wire's end and makes it easy to connect with other wire terminals.
Cordless Drill
A battery-powered cordless drill is an important item for electricians. For any type of drilling purpose, the drilling machine will assist you significantly. You can also change the drill bit according to your required hole sizes. Most of the electricians' tool belts allow hanging the cordless drill in the drill holder.
Socket Sets
A socket set is a convenient toolkit for electricians. It is designed to tackle varieties of fasteners primarily aimed to fit nuts and bolts. You don't know which size will be suited for the worksites, so you should take the full set.
Pliers
Apprentice electricians need different types of pliers for doing their everyday jobs. A few of them are-
Nine-Inch Pliers
The nine-inch handle plier is good for everything. The long handles assist you in maximizing leverage. Make sure the handles have proper insulation materials for a proper grip.
Side Cutters
The side-cutting pliers are one of the most used pliers for electricians. There are toughened jaws used for wire cutting, stapling, nailing, and many more purposes.
Nose Pliers
Needle-nose pliers or nose pliers are handy for reaching into tight spaces. They are also helpful for holding the small nuts while tightening the screws.
Tape Measure
The measuring tape is a must-have item for most contractors. The Gatorback tool belts come with a durable tape measure clip. Typically, a double-sided 25ft tape measure is used by professional electricians. This small accessory helps for all types of measuring purposes.
Multimeter
The voltmeter or Ohm multimeter is used to determine the current and voltage level of any electrical circuit. The reading tells you whether the circuit is alive or dead.
Pipe Reamer
Occasionally, you need to make conduits in the steel pipes to run wires through the channel. In this instance, pipe reamers work nicely as a deburring tool. Normally, pipe reamers are used manually but for long reaming you need to mount it with the drill.
Wrenches
Electricians need various wrenches that include-
Adjustable Wrenches
This is a good wrench or spanner category for apprentice electricians. The adjustable gripping jaws help you apply torque for rotary fasteners like nuts and bolts.
Allen Wrenches
Allen wrenches are used for tightening and loosening the hexagonal fittings. They are L-shaped tools. It is recommended to take a versatile Allen wrench set.
Pipe Wrenches
The pipe wrench is designed to grip and turn the threaded pipes for fastening. You will see various pipe wrenches according to their handle. They are available from 3 inches to 48 inches.
Claw Hammer
Electricians use nice-looking claw hammers. These tools assist in nailing and removing nail tasks. You will frequently see them in the electricians' tool bag also.
Hacksaw
You may need to cut various materials such as metal, plastic, PVC, wood, etc. during running wire or fitting sockets. The hacksaw works greatly in this instance. You can replace the blade when necessary.
Utility Knife
To cut anything in your worksites, a utility knife is a convenient choice. Moreover, the blades are retractable inside, so you are safe from unwanted accidents. You can also take a small sharpener for keeping the blade sharp.
Electrical Testers
We all are known for this basic electrician tool. The electric tester simply says whether there is any electricity or not in the circuit.
Torpedo Level
The torpedo level is used to determine the exact vertical or horizontal leveling of the conjunction. Its length varies from 6 to 12 inches and is tapered at the ends. The body contains two or three spirit levels.
Final Words
Being an apprentice electrician, you needn't a very special tool rather than you can complete your job with the above-mentioned basic tools. I hope you've found the tools list for the electrician apprentice tool belt. So, start your task and develop your skills for using all types of electrician tools.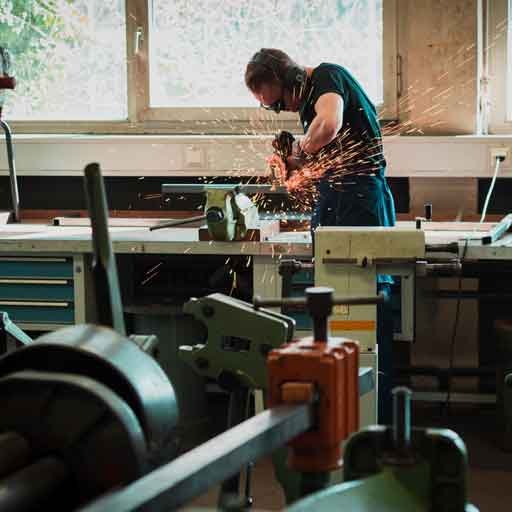 Adam is a tool geek who just loves making and breaking things. Doing the home improvements works and repairing things with his tools is his favorite past time. He loves to keep his tools arranged and sorted. On this blog, he shares his experience and knowledge.