If you are a professional contractor and need to carry a variety of tools, then you could realize the importance of a tool bag setup. With appreciation, you also need to know how to set up a tool bag for your own benefit. The organized tools reflect better output.
Check Today's Deals on Tools!
Actually, tool bag organization isn't a hard job and you needn't have any special skills to do that. But, you must have to learn the tool backpack setup technique first, then you can organize the tools like a pro saving your time and hassle.
This is why we planned to discuss the ins and outs of the tool bag setup. Let's explore the outstanding tool bag organizing tips!
Everything You Should Know About How to Set Up A Tool Bag
A tool bag can store a lot of tools. But without properly organizing them, you couldn't find the right items when you need them. So, learning how to organize tools in a tool backpack is very important. The basics of setting up a tool bag are discussed below.
Why Do You Need A Tool Bag?
A tool bag is a handy option to carry plenty of useful stuff. There are various tool belts and tool bags for distinct purposes. But tool bags allow for storing more tools than tool belts. On the other hand, toolbags are lighter and easier to carry than toolboxes.
The tool bags make your hands free and permit you to carry tools while climbing the ladder, row paddles, and in many situations where using both hands is necessary.
We all believe that time is money. Tool bags organize the tools in a decent way. So, you can easily find your tools and accessories that also save valuable time. So, tool bags decrease workload as well as increase work efficiency greatly.
Moreover, you can use the backpack for multiple purposes. If you like hiking, then this tool backpack allows you to keep your essentials there.
Basic Things to Keep in A Tool Bag
You may be wondering, which tools you should carry in the backpack. This totally depends on the task type. For different contractors, there are a few special tools and accessories. But, the basic tools are almost the same for all professionals.
Several HVAC tech special tools include a psychrometer, refrigeration gauges, refrigerant scale, etc. Electricians' distinct tools consist of circuit analyzers, wire strippers, multimeters, and many more which have usually no application by the other tradesmen.
But framers' tools and carpenters' tools need almost the same as chisels, hammers, pry bars, pliers, saws, block planes, etc.
A few of the common tools and accessories that every contractor needs to carry in their tool bags. All-purpose tool bags include the following items-
Hammer
Pliers
Adjustable wrench
Utility knife
Measuring tape
Chisels
Saw
Cordless drill
Flashlight
Gloves
Tool Bag Organizing Tips (How to Set Up a Tool Bag)
We've come to the most attractive portion of our article. This explains the techniques of how to pack tools properly in the tool backpack. For carrying plenty of tools, tool bags have different compartments and pockets. Moreover, there are dividers in each compartment that separate one tool from another.
Normally, every tool bag whether it is a pouch, backpack, or tool tote allows you to keep tools and pockets in different locations to ease tool findings. The hand tools, power tools, and most used tools are kept according to their uses. You'll see a special pocket sometimes to keep valuable items.
There are a few steps to follow if you want to know how to organize tool bags. They are discussed in the following section.
Step 1: Start Packing from Bottom
The first step is to store bulky items at the bottom of the main compartment. These tools are not frequently used. Also, due to their large sizes, it's difficult to put them in their pockets. This technique helps to build a pyramid of tools. This way other lighter tools will have a strong base. A few tools that should store here are hand planes, sander, etc.
Step 2: Organizing The Middle Portion
After completing storage at the bottom, now you have to organize the relatively smaller size and lighter-weight tools in the middle portion of the bag. The drill machine, socket set, battery set, and many more tools are arranged here.
Step 3: Storing to The Pockets
This is the right place to keep your basic tools such as pliers, hammers, scissors, chisels, and so on. Usually, the internal pockets comprise both large and small pockets. While storing tools in pockets keep the most important tools at the side of your firsthand. And organize the less vital contractors' tools near the secondary hand.
Step 4: Securing the Special Tools and Accessories
As we discussed earlier, some of the tool bags have a private pocket to keep things valuable like a laptop, tablet, etc.
Step 5: Most Used Tools Outside
Finally, your task is to keep the breakable and most used items in the bag outside of the bag. The tools and accessories that are kept there include gloves, goggles, snacks, and much more.
Lifting A Loaded Backpack
After packing all the tools in your bag, it's time to lift the bag on the shoulder. Actually, this is a tricky thing that many people mistake in wearing the tool bag method. Most of them pick up the backpack during they hold the shoulder straps. This may break the straps and complicate the process. So, don't do that.
It is recommended to loosen all the straps at their maximum length first. Then tilt the bag and hold it upright to its position. After that bend your knees and keep your legs straight. Now, grab the traction strap that is situated between the shoulder straps. If the backpack seems excessively bulky, then first lift it to your hip with your primary hand and push the backpack's bottom with the other hand.
After wearing the backpack on both of your shoulders, fasten all the straps according to your needs. This will help you to carry your tool bag comfortably and you will be able to do your job perfectly.
Conclusion
Getting the perfect tools at the right time merely depends upon organizing your tools. Before wearing a tool belt or tool bag, you have to complete the tool organizing process. We hope you now know all about how to set up a tool bag perfectly. Try out all the aforementioned tool bag organizing tips for enjoying the wonderful benefits.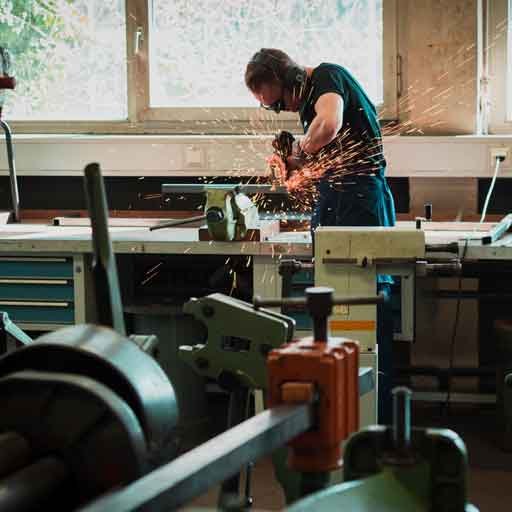 Adam is a tool geek who just loves making and breaking things. Doing the home improvements works and repairing things with his tools is his favorite past time. He loves to keep his tools arranged and sorted. On this blog, he shares his experience and knowledge.