Last Updated on November 6, 2022
After buying an outperformed tool belt for a framer, it's your responsibility to know about the tools which you are going to carry and the framing tool belt setup. This is true for any tool belt user also. Without knowing the tool organizing properly, you will jam-pack the bags with a few tools, this is not a professional approach.
A pro framer knows how to organize a tool belt. As you want to be a skilled framer, you should learn from the experts. So, it's our turn to deliver the knowledge that we are learning through the years!
Framing Essential Tools and Framing Tool Belt Setup
The importance of learning the process of framing the tool belt is incredible. Proper tool belt organizing will lessen your hassle a lot, save you time, improve working rhythms and efficiency, and many more. Let's learn what you need!
Basic Framing Tools List
Framers need a combination of hand tools, power tools, and safety tools. So, what are the essential framing tools list consist of?
Framing Hand Tools
Hand tools can work by muscle power without any electrical or external powers. Some of the important hand tools for framers are discussed below.
Framing Hammer
Hammer is an essential tool for framing. There are different shapes, sizes, and weights of framing hammers. Usually, wood or fiberglass handles and titanium or steel-made heads is great constituents of the hammer. The lighter hammers come with 15 ounces approximately and the heavier ones are more than 20 ounces.
You will find hammers having different shapes of handles and heads. Some handle shafts are straight and others have curved handles with dissimilar lengths. In most cases, the lightweight titanium head hammers have a longer handle.
Of lots of hammers, the rip hammer having a straight claw is the most suitable option for framing. The straight claw helps dually for removing nails and acting like a crowbar. Modern nail guns replaced the place of hammers mostly, but as a pro framer, you must develop hammer skills.
No products found.
Framer Pencils
Line sketching pencil is a must-have tool in the framer carpenter tool list. Before every cut and framing, you need to mark the lumber. Typically, traditional pencils are used in this regard. Now, knife-like mechanical pencils are widely used because they needn't sharpen. You should take at least two pencils in your tool pouch.
No products found.
Framers Tape Measure
Most of us are well-known for framing measuring tape. They come with different lengths and widths of 1/16″ increments. The retractable tape having standard and metric units are preferable. A tape hook is also a considerable factor. We recommend center markings, easy-to-lock, and longer tape that can measure more than 30 ft.
No products found.
Timber Framing Chisels
Chisels are handy tools used for every framing task. Framers use chisels mainly for finish cuts and rough cuts. Frequently, you will find several chisels in the framer's and carpenters' tool belts. We recommend chromium-vanadium alloy steel or high alloy carbon steel-made chisels with a wood handle reinforced by a metal cap.
Timber framing chisels are usually larger in size, so you need to check whether the blade can penetrate properly the wood. You also need the right-width chisels for your purposes. The Japanese timber framing chisels are very favorite models.
No products found.
Framing Layout Tools
The timber frame layout tools are handy equipment for increasing accuracy, decreasing layout time, and making the layout process easy and enjoyable. This includes framing speed square, try square, framing square, and a protractor all come with the combo tool. You needn't purchase them separately while you own this timber frame layout tool. But if you need any one of them specifically, then it is good to pick that alone.
No products found.
Hand Saw
This is a must-have tool for dividing the lumbers. There are different forms and sizes of hand saws available. If you are a newbie then fretsaw is pretty good for you. A tenon saw is a nice selection for the mini-size lover. For cutting timber perpendicularly, crosscut saws give great advantages to users. If you want to cut along the grain then the coarse teeth rip saws will give efficient cutting.
No products found.
Hand Plane
A hand plane is used for shaping the wood surface. Generally, all the planes make the lumber surface flatten. It is also an important tool for carpenters. Different styles of blades remove chips in dissimilar ways. You will find electrical planes today. Before using the plane, you need to check the blade's sharpness, if needed sharpen it with a whetstone.
No products found.
Utility Knife
Without any explanation, all of us know the importance of having a sharp knife. It can help framers in various ways. It will be handy for cutting ropes, scribing lumbers, making pencils sharp, etc. You should take an ergonomic soft grip and a high-quality chisel blade.
No products found.
Torpedo Level
This is a small spirit level used to determine whether your jobs are leveled properly or not. Its length varies from 6 to 12 inches usually and is designed for tight spaces. There are many medium and big levels also, but we recommend this for its small size which makes it convenient to carry in the tool pouch.
No products found.
Screwdrivers
Framers need different screwdrivers for tightening or loosening screws. The multi-screwdrivers in one box are the common screwdrivers now. They offer 3-in-1, 6-in-1, 9-in-1, even 10-in-1 screwdrivers. These include Flathead, Torx, Star, Philips, and Slot-style screwdrivers.
No products found.
Pliers
It is always the right choice to bring at least one good pair of pliers. They are handy for different situations. Sometimes they might help you pull out nails or staples, even loosening bolts in an interior tight space such as plumbing, ledger board, etc.
No products found.
Nail Puller
A nail puller, pry bar, or cat's paws' basic function is pulling nails. Several other uses of pry bars are loosening rusty screws, separating two wood layers, and even nail driving. The nail puller comprises of flattened end and a curved bar. They are found in different lengths but the larger type will be better for longer nail dragging.
No products found.
Sharpening Stones
Framers use different cutting tools such as a chisel, knives, planes, and many others. After using them for a while, their edges become dull. So, you need a whetstone to rebuild the edges of the tools. Different grit sizes of stones are found, and you need to pick the right one for your sharpening tasks.
No products found.
Nail Set
A nail set is an important tool for framers to use in different situations. It's also called nail punch sometimes as this eliminates the mark of the nail from the surface. To use the nail punch, place the narrow end on the nail's head and then hammer the head of the punch set. Thus the nail will go deep into the wood and makes the surface safe from nail hazard.
Usually, nail sets are used for small nails when you don't want to see any nail mark on the wood. Nail punch is also helpful when you work in tight spaces. For example, if you're nailing on the window flange where the hammer won't be reached. But nail punch will do the job easily.
No products found.
Keel
Keel is a professional crayon that is mainly used for marking different jobs. It's wider and longer than the crayon that kids use frequently. The mark of a keel is more visible compared to the pencil mark.  Moreover, when you use red, black, or white color the mark will be more visible than that. It's very affordable. In remodeling projects where the outline is not clearly seen, this may be a handy tool to mark stud location.
No products found.
Timber Framing Power Tools
For basic framing, you can complete the project successfully without any power tools. But, if you are involved with larger framing tasks, then the power tools might be essential for you. Some of them are-
Heavy Duty Drill
The drill is one of the most essential power tools used by the framers. Usually, lots of boring is needed in framing. The hand drill may not support a long time boring, but the electric drill won't disappoint you. Battery-operated cordless drills are good for smaller amounts of drilling but electric drills are outstanding for abundant boring tasks.
No products found.
Circular Saw
Circular saws are another important framing power tool. Hand saws cut straight forward but circular saws can cut both straight and circular routes. If there are lots of teeth in the circular saws, they can cut the jobs smoothly and fewer teeth cut the timber roughly.
No products found.
Power Planer
The electric planers are used for fast and professional purposes. They save your muscles energy largely. The electric planer's main task is to smooth the wood surface, but they can successfully level the rough end grain. A knob on the top adjusts the depth of the cut by adjusting the front planer with the blade.
No products found.
Framing Nailer
A framing nailer or nail gun is used to pin nails efficiently. There are two types of framing nail guns- round heads and clipped heads. The clipped nailers are used for high-volume nailing purposes, on the other hand, the round nailers can hold fewer nails.
No products found.
Wall Framing Tools
Building a wooden wall is a relatively easy task. Wall framing consists of three distinct steps- measuring the timber, cutting the timber, and nailing them for assembly. To make a lumber wall successfully, you need versatile tools. There are also some new framing tools that come with outstanding features to make your jobs easier.
These tools include some basic hand tools and modern creative power tools that will help to make the walls in a quicker time. Some of them are tape measures, chalk lines, circular saws, speed squares, framing hammers, etc. Another essential wall framing tool is the fast framer tool is discussed below.
Fast Framer Tool
The fast framer tool is a reusable framing assistant tool that comes with all reusable tools. This helps to make the wall proficiently like an expert carpenter. It provides users with five skills that carpenters have. DIYers face challenges when doing the square frame but the T-shaped fast frame tool will help them to do that easily.
This unique design makes the framing hands-free whether you assemble a project on the ground or at the standing position to make the studs secured. It also works as a self-leveling assistant. The fast framer tool also eliminates the necessity of levels and squares.
Framing Safety Tools
Similar to other professional workers, framers need some protective equipment. Mostly used framer's safety tools are earplugs or muffs, dust masks, face shields, safety glasses or sunglasses, steel toe shoes, hard hats, gloves, safety harnesses, etc. Never deny these tools, they will protect you from severe accidents and illnesses. You should invest in these tools for your own safety.
Framing Tool Belt Setup: Stepwise Discussion
A well-organized tool belt provides an efficient, fast, and safe working experience. Here are the basics of the framing tool belt setup.
Step 1: Take the Right Tool Belt for Framers
From the lots of tool belts and bags (i.e. electrician), you need to choose the framer's set with plenty of tool storing capacity. Framing tool belts have commonly two pouches with several larger fastener pockets, slots, and tool holders. The leather tool belt is one of the greatest tool belts for framers.
An important considerable thing is to buy the exact framer tool belt. Framers have to build the skeleton of a building. They often climb up and down or slide between studs and pull materials up. So, every time the mass center of the tool belt set will change, you need to consider this.
Putting on bags on the side and hammers and large tools on the back they can work with a full range of motion. It is also necessary to keep your hands free as they need frequent climbing and retreat tools. Your chosen model should come with the framers' choice.
Most of them have dedicated pockets for hammers, rafter squares, knives, tape measure, pencils, etc. Sometimes you need a suspenders tool belt for carrying lots of tools.
Step 2: Keep the Main Tools at a Dominant Hand
The most important tools should be kept on your first-hand side so that you can access them for instant use. This will optimize your work greatly. If you are a right-hand man, then you may favor keeping the most used tools on your right side. Some of the most needed tools for framers are pencils, chalk lines, utility knives, torpedo levels, etc.
Step 3: Auxiliary Tools at Secondary Hand
Later on, your job is to organize the other tools that you need occasionally.  A few auxiliary tools are measuring tape, nailset, drill bits, level, chisels, speed square, etc. You will find a devoted tape pocket there. Some framers also like to keep the tape on the first side. Most of the framers' pouches have a dedicated rafter square pocket.
Step 4: Hammer and Large Tools on Devoted Holders
In almost all the framing tool belts, there are single or double hammer holders and large tool-holding slots.  These holders are metal-made and reinforced durably with the belt and bags. Usually, there is a hammer holder in the middle of the belt. Several belts have more hammer holders with pouches. You can store drills, bevel squares, pliers, and such large tools in the other holders.
Sometimes you need to carry larger tools, in this case, you can add D-rings with the belt and hang the tools there with a lanyard. It is also necessary to install suspenders for carrying more weight.
Step 5: Suspenders Tools Decoration
If you use suspenders, you will see there are small slots in the suspenders. You can store nails, pencils, markers, drill bits, and keys there. Some of them have cell phone holders also to secure your smartphones.
After completing the organizing or setting up properly, it's your turn to wear the tool belt. You can learn it from our dedicated tool belt-wearing discussion.
Frequently Asked Questions (FAQs)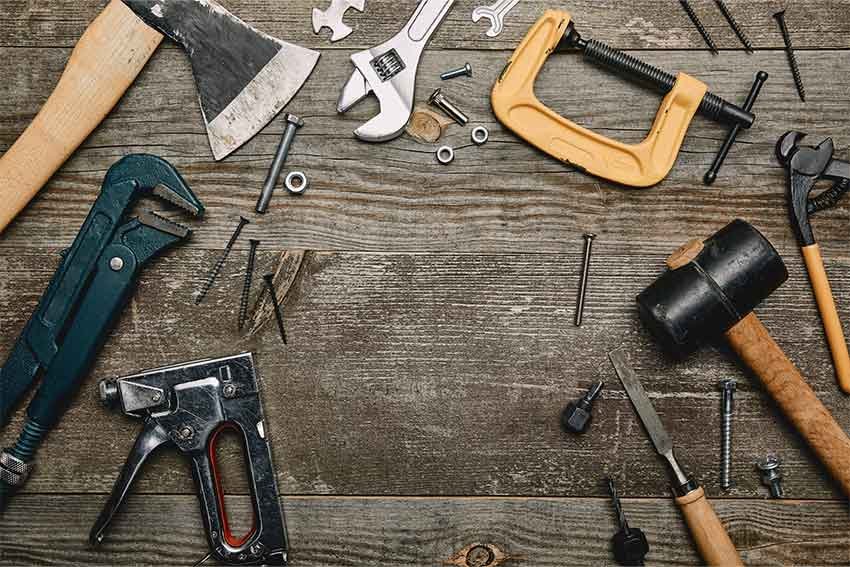 Can I Carry Hand Planers in the Tool Belt?
This tool is heavy enough, so it is not a wise decision to carry your muscle-powered plane in the tool belt. But you can take the blades of planers in the tool pouch, even the small-sized planers can be taken with a tool belt with lanyards.
Final Words On Framing Tool belt Setup
Maybe framing is the most athletic type of carpentry. Toolbelt setup and organizing tool belts largely impact the framer's efficiency. Truly, it's not very tough to organize framing tool belts, but you need to learn the process first. The tool selection is also an important factor behind this.
In the above, we have listed the most important framing tools for your easiness. Also, we tried to educate you on the framing tool belt setup in a simple way. Hopefully, these guidelines will help you a lot to organize tools like a pro framer.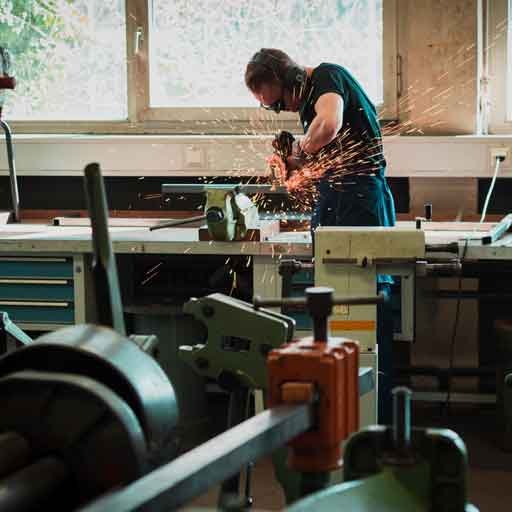 Adam is a tool geek who just loves making and breaking things. Doing the home improvements works and repairing things with his tools is his favorite past time. He loves to keep his tools arranged and sorted. On this blog, he shares his experience and knowledge.