Last Updated on August 19, 2020 by Adam
Imagine you are blended in your DIY project and turned yourself into a pro carpenter for a day. But you are short of a tool-carrying bag and are running back and forth every time you need a different tool. Sometimes it's even difficult to find out what you are looking for!
A nightmare, isn't it? To come out of this bad dream, you need the best carpenters tool belt. A well-designed, durable, comfortable, and versatile carpentry tool belt can help you arrange all your necessary tools perfectly. Here in this article, you will be finding out 7 of the best carpentry tool belts that are proven to be the best value for money.
Product Comparison
Preview
Best Pick
Budget Choice
Table of Contents
Top Rated 7 Best Carpenters Tool Belt Reviews
Okay, you get it. You need a carpentry tool for the best carpentry tasks. But where to find one? Well, here are what we came up with after looking for the best options available in the market. These 6 tool belts are just the perfect match for any type of carpentry work you would carry on.
Gatorback B145 Carpenters Belt
When we are picking our top product, it has to be the Gatorback. The B145 belt from Gatorback is truly what a carpenter needs.
Heavy-Duty Build-Quality
To stitch the entire belt, including the pouches and pockets, Gatorback used industry-quality nylon – 1250 DuraTek. This heavy-duty nylon material ensures the belt lasts more than you expect it to be. Plus, the pouches are riveted and carefully bar-tacked to confirm further that the pockets are holding on to the belt with utmost strength.
Every single stress point on the pouch is secured with the bar-tacked stitching coupled with metal riveting. Nothing is going to tear out from the belt, no matter how much stress you put on the strap.
Memory Foam Pad
Using the ultra-breathable Lycra fabric is the best choice Gatorback has made. This particular air-supporting fabric adds to the support for the molded air-channels that allow natural air-flow under the belt. This means you can forget about overheating or even sweating beneath your belt. This can prevent stress and unwanted discomfort at a higher level like working with a tool belt on roofs.
The ergonomically molded and shaped memory pads under the belt can provide optimum comfort for you. You can put it on and carry on your carpentry work for as long as you want, without feeling the itchy-pain that any fabric-made belt would cause.
Rearrange-able Pouches
How good would it be if you could rearrange the pouch positions according to your convenience? Great, right? Well, Gatorback realized this silent echo from all the carpenters out there. That's why the B145 allows you to rearrange the pouches to the position you deem it to be comfortable and easy to reach for you.
Boxed Designed Pockets
In order to keep all the tiny and large tools inside the pocket without any threat of spilling, a square-shaped pocket was long due. The B145 comes exactly with that. All the pouches are box-shaped so that you can put as many items as you want inside.
Supports Suspenders
The B145 is equipped with a number of heavy-duty metal suspender rings. You can fit any standard four-point suspender with it and use the belt in an extra-comfortable way. The rings are stitched across the width of the belt at three different points for maximum security.
Genuine-Leather And Double Buckle
The actual belt is made from high-quality genuine leather that screams durability. It includes a leather tipped end to ensure maximum strength and longlasting quality. The holes are highly unlikely to rip out because of it.
Having dual-buckle on the belt is a great addition. Putting two buckle-pins in two whole increases the capacity of the belt to hold on to your waist even more.
Pros
It features a convenient carrying handle to transport the belt with hands
It comes with a fitted belt designed just for you
Heavy-duty metal rivets are used for best durability
Bar-Tacked stitch for greater security
Best quality carpenter tool belt
Memory-pad foam back-support for comfortable wear
Leather tipped belt for extra strength
Cons
While big pockets are too deep, smaller ones are too small
Verdict
If comfort and durability are the prime features you are looking for in a toolbelt, the Gatorback B145 should definitely be on your checklist.
back to menu ↑
Gatorback Electricians Combo Deluxe Package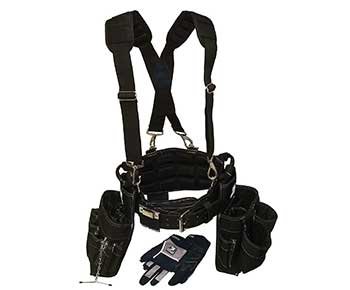 Our next selection is Gatorback B240C. It's a complete package for anyone who is a pro in carpentry, or interested in DIY jobs.
Superior Build-Quality
When it comes to state-of-the-art building, Gatorback doesn't disappoint a bit with their service. The B240C is no different in this case. It is made from one of the best fabric types – the DuraTek 1250 fabric.
This robust and industry quality fabric lets you use it randomly, and under rough conditions. Even if you are using it for days at a stretch, it's going to withstand the pressure easily.
Bar-Tack Stitching
The entire fabric of the B240C is stitched with a bar-tack stitch for optimum protection. The bar-tack stitch is usually used in those areas of a fabric that is pulled too often or is subject to a lot of pressure.
Bar-tack stitch gives that area enough strength and sturdiness. Like we all see on jeans-pant pockets. Similarly, the B240C is stitched with bar-tack for you to hold on to as many tools as you like in it.
Metal Rivets
Putting a toolbelt around your waist means it is going to endure a great amount of pressure. A lot of carpenter tools are quite heavy, and all the tools altogether pull the pockets down.
But the metal rivets used in this belt reduces the risk of wear and tear and confirms longlasting durability for the stress points on it.
Rich in pockets
Having multiple pockets in a toolbelt is equivalent to better working output. The B240C is not letting you down with that. It has 18 pockets on its right side and 9 on its left. Having a total of 27 pockets, the B240C is synonymous with convenience.
Air Ventilated Padding
Working for long hours means you will be perspiring like a waterfall in your waist with that toolbelt on. But the B240C comes with an air-ventilated padding and breathable fabric to tackle this discomfort.
Pros
Made from heavy-duty DuraTek 1250 Fabric
It's stitched with top-quality Bar-Tack stitching
Best finish carpenter tool belt
It comes with DuraGrip Fingerless work gloves for easy grabbing
Ample number of pockets for convenience
Best high-end carpenter tool belt
Air-ventilated padding with breathable fabric to prevent excessive sweating
Metal rivets are used in all the pressure points
Cons
Some pockets are a bit small for larger tools
Verdict
Style, durability, and top-quality fabric – these three are effectively combined in this electrician tool belt. Even though it may cost you a bit, still, you can still consider this belt for regular use.
back to menu ↑
LAUTUS Oil Tanned Leather Tool Belt
Our third pick is the Lautus Oil Tanned Tool Belt. Its top-quality genuine leather-built body will definitely grab your attention at the very first encounter.
Cent Percent Genuine Leather
The Lautus tool belt is made from 100 percent genuine oil-tanned leather. Do you know what the best part of having an oil-tanned leather tool belt is? Softness despite durability.
It is processed through a natural oil tanning that makes the leather soft and sturdy at the same time. Moreover, oil-tanned leather is much more water-resistant than any other quality leather tool belts.
This type of leather belt requires a very minimum level of maintenance. You can use the belt for months without having to take care of it.
Double Prong Roller Buckle
Its belt is designed with a double prong roller buckle for better adhesiveness. A dual-pin buckle will tightly grab the holes on the strap. There is a lesser chance for the belt to loosen or fall off due to the heavy load of tools.
Moreover, being a leather-made belt, the belt also supports the buckle-lock with impressive strength.
Adjustable size
You can adjust the belt to your waist on your own terms. No matter what is the size of your waist, if it falls under the regular range, you can adjust the belt.
It can be set between 30 to 46 inches of waist-size very easily. You need to consider an extension if your waist sizes beyond the range.
Functional Pockets
There are 2 large pockets, 2 medium ones, and 2 small pockets in this toolbelt. With 5 other pouches, the belt is equipped with 11 pockets in total. That means you get one pocket, at least, for every tool you have!
Specialized pockets to keep the pencils, screwdrivers, and other tiny items add to the functionality of the belt. To ease up your hammer carrying job, the belt has 2 leather hammer holders, as well.
Pros
Made from oil-tanned original leather
It comes with a double prong roller buckle
Adjustable waist size
Best budget carpenter tool belt
11 different pockets for specific uses
Contains multipurpose toolbelt for different crafting works
Cons
It's a bit smaller in size to put on
Verdict
Considering the durable leather and adjustability, you can get a good service from this belt. Its smaller size may make you think a bit, but the affordable price should make it up for it.
back to menu ↑
Gatorback Professional Carpenter's Tool Belt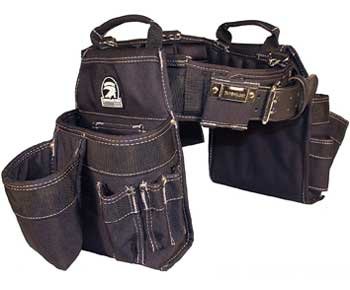 When you are looking for a great quality toolbelt, you just can't ignore Gatorback toolbelts. Their B140-L toolbelt is one of the sturdiest and multifunctional toolbelts available. Here're what you need to know!
Comfortable memory foam
What most of the toolbelt producers need to realize is that when you are putting a belt on around your waist, it is going to be there for hours, at least. This means if the back support of the belt is not soft enough, you are not going to be comfortable at all.
The B140 comes with top-quality memory foam that is ergonomically molded and designed to provide the exact comfort you need on your back.
No more sweating
The belt area features multiple air-channels for easy air-flow inside the belt. Allowing constant air-flow reduces the overheating and prevents your waist area from sweating. It is important for a top-notch HVAC installer tool belt to have those features.
This area also uses ultra-breathable lycra fabric, which works as an agent to promote smooth air-flow.
Metal riveted and bar-stitched
It is obvious that you are expecting your toolbelt to be a sturdy one. That's really necessary when you are putting excessive pressure on it by filling all the pockets up with tools.
This can cause the pocket to loosen and even tear apart in some cases. That's why every stress point on this toolbelt is stitched with bar-tack stitch and secured with metal rivets.
Multiple Size Options
The B140 is available for everyone to use. With the options for an array of sizes to avail, size adjustment is not something to be worried about. The size availability starts from small up to XXXL.
You should fall under any size of this range of measurement. Still, if you are not comfortable with any of the sizes available, contact the manufacturer for a customized one!
High-Quality Fabric
The whole body of this exceptional toolbelt is made from industry-quality fabric – DuraTek 1250. The quality of fabric can make a huge difference in the longevity of a toolbelt.
Having a top-quality fabric with bar-tack stitching and metal rivets to seal the pressure points, is divine. You just can't ask for a more secure and strong build-quality.
Advantage Of Boxed Design Pockets
This belt comes with a few box-designed pockets for better management of tools. A box-shaped pocket holds more space inside for different sizes of tools.
No matter how large or how tiny a tool or accessory is, you can easily use the box-shaped pocket to store anything. However, the tiny ones can be stored in a better way in this type of pocket.
Pros
Belt available in different varieties of sizes
DuraTek 1250 fabric for best build-quality
Air-ventilated padded belt for resisting sweat
Comfortable memory foam for soft-feeling on the waist
Cons
Puts on a lot of weight when filled up with tools
Verdict
This Gatorback pro-level carpenter tool belt is for those enthusiasts who want to reach an upper qualified level.
back to menu ↑
Dickies Work Gear – 4-Piece Carpenter's Rig – 57023
The Dickies Work Gear 57023 is made for comfort and durability. With a range of different pockets, pouches, and holders – this one is one of the dearests of products we have reviewed.
Cooling Mesh Build-Up
The 57023 is backed by a moisture-wicking cooling mesh fabric that helps you control the sweat on your body. It will quickly move the sweat from your body to the outer side of the fabric and instantly dry-up the sweat.
You can stay dry and avoid any kind of discomfort wearing the tool belt.
Superior Adjustability
The 5-inch padded belt can be adjusted for waist-size ranging from 32 inches to 50 inches. This is an impressive addition to the features. Most of the expensive toolbelts lack this convenience.
With the 57023, size really doesn't matter. There is a size for everyone.
Double-Tongue Steel Roller Buckle
Steel-made doubler-tongue roller buckle on the belt is one of the best buckle types, as seen till now. The buckle is going to hold on to the waist quite tough.
That's what makes the difference when you are working for hours in your carpentry work. You don't want to loosen the belt or carry a baggy strap around your waist.
Additional Pouch Option
There are ample pouch and pocket options on the 57023. The left side contains 3 wide open, 3 smaller tools, and 2 tool loops on it. Whereas, the right side features a total of 7 pockets that can store a range of tools and gear.
Still, if you deem it necessary, you can add additional pouches and pockets on it. Its 2-inch outer accessory belt allows adding any Dickies branded pocket and pouch.
Gel Padded Suspender
Every carpenter knows that having a suspended with the belt adds to the comfort and weight management pretty well. The 57023 comes with a gel-padded suspender that provides the utmost comfort to your body.
With moisture-wicking support, the suspender prevents excessive sweating and distributes the weight of the belt evenly.
Pros
It comes with a total of 15 pockets and pouches for easy tool handling
The belt comes with the heavy-duty and rip-preventive canvas
Additional storage for hammer holder and device holder
Option for adding additional pockets
Best trim carpenter tool belt
Adjustable belt for a wide range of sizes
Cons
It's not suitable for heavy-duty works
Verdict
If you are working for an extended period with your carpentry, you should be considering the 57023 for once, at least. It puts very little pressure on your body even after prolonged use.
back to menu ↑
MagnoGrip 203-017 Magnetic Carpenter Tool Belt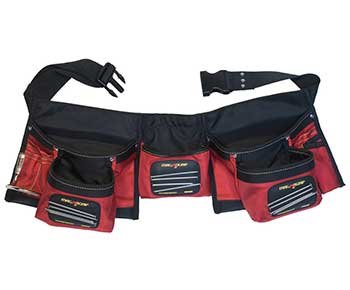 The ManoGrip 203-017 is a true example of a smart pocketing system. Having its main concentration on making standard pockets, it's one of the smartest toolbelts we have reviewed yet.
Ballistic Polyester Body
The belt is made with 1680D ballistic polyester. The same material that was once crafted to withstand a bullet shot back in the old days. This should give you an idea of how sturdy this belt is going to be. You just can't possibly tear this one apart with any regular force.
Moreover, the polyester is a double-layered one. That's double protection for you.
This 100% polyester-made toolbelt is going to last for a long time. No matter what type of carpenter you are, 'once in a while' type or a regular hammerer, this is not going to let you down early.
Wide Range Of Pockets
To get going with your carpentry, the 203-017 comes with 12 different pockets and pouches. You can store and hold your necessary tools in different pockets. The pockets' positions are also optimized for your easy-reach.
Even if you don't remember where did you put your hammer, the belt design doesn't let you forget at all.
Magnetic Nail Pockets
Admit it; you have been pissed off for many times with mismanagement of the tiny screws and nuts in the pockets. Most of us tried to find the solution to this in boxed-shaped pockets, which is kind of okay to deal with.
But the 203-017 comes with a revolutionary solution – magnetic nail pockets. You can put all the minute nuts and bolts in the pockets that are attached to magnets.
The magnets are going to keep the screws in place. Now move frequently without having to think about falling those off.
Rivet Reinforcement
To make sure the pockets don't get torn, the 203-017 has carefully placed rivets on different stress points of the belt. These rivets make sure the pockets don't get under too much pressure and retain the durability that is offered by the manufacturer.
Ergonomic Design
This belt is designed with precision to help you reach out to all the pockets and pouches at your convenience. Each and every holder are well-placed to make it comfortable for you.
You don't need to tap on every pocket when you need a hammer or pencil. There is an easy-to-access position for every pocket.
Pros
It comes with 12 different pockets
It is equipped with magnetic pockets to keep metal screws and nuts in place
It is made from 100% double-layered ballistic polyester
Very light in weight and can be easily worn
Cons
The width of the pocket is very wide that covers the jeans pocket
Verdict
The 203-017 from ManoGrip is very handy when in use. The ergonomic design, coupled with the magnetic pockets, pushed it to our top 7 toolbelt list.
back to menu ↑
CLC Custom Leathercraft 5605
Our final pick is the CLC Leathercraft 5605. This is a versatile tool belt that many of the expert carpenters recommend. Here are all that you need to know about the CLC 5605.
A Good Number Of Storage Options
The CLC 5605 leather belt holds a total of 18 pockets for your everyday tools. There are pockets, pouches, holders, and sleeves for nearly all the regular tool items.
You have 9 smaller pockets and 9 main pockets for any type of tool belt. This includes 2 hammer loops, as well.
You also get a metal clip to hold all the measure tapes that are sized below 6.
Versatile Tool Belt
Let's say you don't like the way the pockets in this belt are organized. Well, you get the freedom to change the orientation and position of the pockets as you like.
You can rearrange the pockets according to your convenience and need. This adjustability is just priceless. Some of the big names in this category don't offer this much freedom.
Heavy Durability
The main body of the toolbelt is made from ballistic poly fabrics that provide ultimate protection and confirm maximum durability. The rugged and ballistic fabric means you can use the belt in rough and tough conditions without a doubt.
Comfortable Toolbelt
There is a 5-inch wide padded comfort belt for your waist to find the comfort and softness it deserves. Your back won't get hurt after you have done carpentry work for hours.
The double-tongue steel roller buckle also ensures the optimum grabbing of the belt, and thus the tool holders don't fall off and get loosened.
Easy Carrying Handle
It features an easy-carrying handle on the top of the belt for the belt to be carried or moved while not in use. You can carry it on from place to place without feeling the weight of it. The handle makes it very easy to transport the toolbelt.
Pros
It comes with an impressive number of 18 pockets and holders
An adjustable toolbelt option allows relocating pockets
Easy to carry design for ease of carrying
It features a 5-inch padded belt for extra comfort
Made from ballistic poly fabric, the belt is heavy and durable
Cons
It's not going to feet people who weigh less than 200 pounds
Verdict
Considering the price, and all the cool features it comes with, any carpenter or DIY enthusiast can definitely use it, for sure.
back to menu ↑
Best Carpenters Tool Belt Buying Guide
As a carpenter, you need to keep a sharp eye while you are purchasing a toolbelt. That's because not all the toolbelts are going to meet your needs. Here is a quick list of what you should be considering while buying a carpenter tool belt.
Versatile Pockets
You may not feel comfortable or convenient while using the belt as it comes with the package. Some pockets may need to be relocated for your easiness. You will feel much more comfortable by rearranging some of the pocket's position.
That's why you need to confirm that the tool belt you are going for has the option to rearrange the pockets and pouches. Try to choose one that comes with better adjustability.
Padded Suspender
It is always a good idea to carry the toolbelt by a suspender. A suspender absorbs the weight of the toolbelt and evenly allocates the pressure over different parts of your body. You feel less pressured.
This way, carrying on carpentry tasks turn easier and hassle-free. Moreover, if the suspender is padded, especially gel-padded, it provides more comfort to your shoulder areas. That comes really handy for people who do framing with a quality tool belt.
High Number Of Pockets
As a carpenter, all you need to carry is an array of tools and gear. To put all the necessary carpentry tools and gear, you need a good number of pockets and pouches in the belt system.
Make sure you have at least 7 to 8 pockets and other holders on the belt. It will make your move easier as you won't need to move to and fro for different tools at regular intervals.
Additional Pocket Options
For maximum carpentry works, you would require more pockets than usual. Sometimes, you may need to carry more than one hammer or pliers for the tasks.
Having an option to add more pockets in your belt can be a functional integration. Make sure the belt you choose to have this option.
Dedicated Storage
It's always easy to work with dedicated holders. It's funny if you need to put pliers in a hammer holder or pocket, due to lack of a dedicated place for the pliers.
This enhances the convenience of your work and accelerates the speed. Do look out for dedicated storage.
Boxed Or Magnetic Pockets
For carpentry works, screws, nails, and nuts of miniature size are very common tools. You will be using many tiny tools like these. In order to keep these little tools arranged, you need a tool belt that has box-shaped pockets like the Gatorback Tool Belts.
You can even go for magnetic pockets where the steel or iron nails and screws will be stuck with the pocket due to magnetic attraction—no more lost screws!
Bar-Tack Stitch and Rivet
Once you are into carpentry for the whole day, you are bound to carry as many tools as possible. Your belt pockets should have the ability to carry the weight effectively.
To ensure that the pockets are not vulnerable to the weight of the pockets, the pockets and the stress points of the belt need to be stitched by bar-tack stitching and sealed by metal rivets. Do have a look if you are getting these from your selected toolbelt.
Durability
A toolbelt is not going to last long if it is not built with premium quality materials. In the case of a carpenter tool belt, materials like genuine leather or ballistic poly fabric can be the best choice.
These fabrics are durable, scratch-resistant, and can withstand wear and tear pretty effectively. No matter how rough and tough you work, your belt will be saved and secured from any type of damage.
Adjustable Size
The belt should be adjustable to most regular waist sizes. You need to see the strap can be adjusted to match the waist size of the one who is wearing it. If that's not available, you can still see if it comes with a variety of waist sizes for anyone to put it on. Check whether there are tool belts for kids & women size tool belts too.
Lightweight
The lighter the belt, the easier and more convenient it is to use. A heavy belt will automatically put a lot of added pressure on your waist and body. To avoid this hassle, always go for belts that weighs less. You can always make an attempt to build your own tool belt from scratch if you want.
back to menu ↑
Final Words
It's not an easy job to locate the best carpenters tool belt, especially if you haven't had your hands on a tool belt. But we have reviewed the top 6 picks from the best tool belts for carpenters for you to decide easily. Our reviews should give you a clear idea of each product, and you can find the best suiting belt just for you.
If you are yet to make your mind up, go through our buying guide for an in-depth guideline. Have you found your carpentry tool belt? If yes, then tell us your thoughts! We are waiting for your part of the story!