Kids today copy a lot from adults, especially parents. If you are into some carpentry work, and you have got a kid, well, you know it better. Now, instead of allowing your kid to play with risky tools, why not buy them a tool belt? A specially made tool belt for little guys lets them have all the fun, keeping them safer. If you want to gift your child the best kids tool belt, you have landed on the right page.
Check Today's Deals on Tools!
In this post, we are reviewing the top 7 tool belts that are crafted especially for kids. So stay tuned, and keep exploring.
Best Kids Tool Belt Reviews
Kids can be very serious about their play tools. So if you are buying your kid a tool belt, make sure it's a real one. As for genuine products, we carefully picked up 7 straps that serve you the exact purpose.
Let's find out!
Here Are 7 Best Kids Tool Belts
GlossyEnd 600D Polyester Kids Tool Belt
Our first pick is for the youngsters who are a little bit far away from real construction work. The GlossyEnd 600D belt is for kids aged from 3 to 10 years old. Is your kid trying to get his hand on your tools too early? Get him this one, and see his reaction!
Multiple Pockets
This kid belt has 11 different pockets and holders for your kid to arrange all of his tools. You have 5 pockets to keep the nails and tools. On the other hand, you have 6 more pockets to hold pliers, nail sets, gauges, pencils, etc.
These 6 pockets are slightly smaller in size than the 5 pockets that hold the main nails and pockets.
In addition to these pockets, there are two steel-made loops at the center of the strap. Your child can use these loops to hand hammers. If he has got a tape measure with him, there is a tape holder on the belt, as well!
Rust-Proof Rivet
Does kid-belt means 'kidding'? Absolutely not! This belt has rivets placed on it for optimum safety. You can see the rivets all over the place. Built from heavy-duty steel, the rivets are sturdy and quite durable.
These rivets ensure that the belt doesn't get ripped off, in case your little 'bob the builder' does something to damage it. Moreover, these rivets are resistant to rust. You can use the belt for a long time without bothering about the rivets going all rusty!
Superior Polyester Made Body
Talking about superior quality, the belt is made from heavy-duty grade 600D polyester. This top-quality fabric ensures that the belt doesn't get torn or damaged in years to come.
Your kid can play and wear it around for as long as he wishes. This belt is not going to get torn off like a regular pocket
Poly Web Belt
To hold the belt to your kid's waist, you have a poly web buckled belt design. No pinned buckle to make things complicated. Just push the belt's end inside the quick-release buckle, and your kiddo is ready to take care of some tasks!
Pros
Made from top-quality and robust polyester
It comes with 11 different pockets and holders
Best pick kids tool belt
Features an easy-to-lock 2-inch poly web belt with a quick-release buckle
They are designed with a superior quality tool apron
Adjustable belt from 21 to 32 inches
Cons
A bit large for average-sized kids
Verdict
Its impressive build quality and ample number of pockets make it a heavy contender for its peers. If you need your kid to be playing around with a real-life tool belt without the tools themselves, this one is the perfect choice for you.
AllwaySmart Real Leather Kids Tool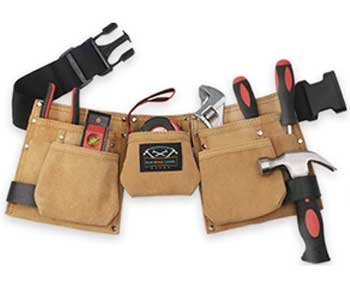 Up next, is the AllwaySmart Tool Belt. This one is for kids aged from 6 to 12. So obviously, this belt means some serious business.
Compatible For Real Tools
Who said kids tool belt is for toy tools only? You can use real tools, as well, if we are talking about the AllwaySmart kids belt. This belt is made to hold original tools that you use for real carpentry works.
You can get this tool belt with a tool set for a few bucks more. These tools are not that heavy-duty but can help your child get familiar with true carpentry.
It's okay if you are not interested in spending more on tools. You can always use your own tools to fill the pockets up for your kid.
Made From Suede Leather
For kid's belts, this one is a true sturdy one. You can tell it from its durable leather-built body of it. Your kid is definitely going to love wearing it, as the leather body is not that rough. It is made from suede leather that gives a fuzzy feeling while you touch it.
Meaning, your baby can feel smooth while using it around his/her waist. Fuzzy feeling with heavy-duty leather – that's a combination you can find in fewer options.
Good Number Of Pockets
The AllwaySmart kids belt comes with 7 different pockets and pouches. Your child is going to love carrying all the standard tools and gear with him. Claw hammer, plier, wrench – you name it, this carrying strap is the right choice for your curious child.
As for hammers, you can find 2 black leather loops just for this purpose. Hang the hammers from the loops to get a perfect look of a junior carpenter!
Adjustable Belt
The belt is fitted to any waist size from 21 to 30 inches. Having a quick-release buckle makes it a perfect choice for little explorers. No complexities at all, just buckle up and start working!
Comes With A Tool Bag
If you want the tool set with the belt, you can get a cool tool bag, as well. Your baby can use the bag to organize and carry all the tools and the belt inside. Meaning, no matter where your kid is playing, playtime with tools is always on!
Pros
The belt can carry real tools and gear
It is made from heavy-duty suede leather
Best high-end kids tool belt
Adjustable from 21-30 inches of waist size
Scaled model of adult tool belt for a perfect representation
Features a quick-release buckle for easy wear on and off
Cons
A bit heavier compared to similar products
Verdict
If your son or daughter is growing up quickly and trying to give your carpentry tasks a go, this kid's tool belt should be to be their first pal.
Black & Decker Junior 14-Piece Set
Is your kid just turned three? Is he running around you when you are busy with your carpentry work? Time for you to get him a Black & Decker Junior Tool Belt Set.
Very Light Weight
Weighing 3.2 ounces, this belt is the lightest of all the tool belts available on the market. Ideally so, this one is perfectly suitable for kids around 3 years of age or more.
Your little buddy will be highly active wearing this as it won't create much pressure on his waist. Most of the usual products that we find in the market can put adverse effects on your kid.
Hopefully, this lightweight tool belt is going to go soft and light on your kid.
Made From Valour Fabric
Little buddies need softer belts. Keeping that in mind, Black & Decker has crafted this cute little belt with velour clothing. The softness of velour fabric is needless to describe.
You may bat an eye on this not being made from leather. This is absolutely not a necessary element, especially if this is a playtime tool belt for your kid. Moreover, a thick leather belt may feel rough on your kid's waist.
Due to the comfortable soft making, your kid can put it on for hours. It's not at all going to give him/her a scratchy feeling around the waist.
Adjustable Belt
Every single kid is different. So there should be no universal fit for their waist. This junior tool belt is thus conveniently adjustable to different waist sizes.
The strap is made from elastic fabric and can be worn without any need for a buckle. Just stretch it around the waist, and it fits perfectly.
Multiple Toy Tools
This awesome tool belt set comes with a wide range of realistic-looking tools. Wrenches, screwdrivers, nuts, hammers, goggles, and many other replicas are there for your kid to get the feeling of real-life carpentry work!
These 14 different tools make a perfect impression of the real gear that carpenters and woodworkers use.
Now keep your child with you while you are crafting some wooden project! Your kid shouldn't miss it at all!
Pros
Soft valor fabric made belt
It comes with a variety of replica toy tools
Weighs surprisingly less
Best budget kids tool belt
The belt is adjustable for all waist sizes
Kids of age as less as 3 years can use it
Cons
Very basic level tool belt for playtime use
Verdict
If you are searching for a starter pack of tool belts for your kid that just passed the toddler age, this is a perfect choice for you.
BLACK+DECKER Tool Belt Set 99638 Jr
Our fourth pick is another Tool Belt set from Black & Decker. The Black & Decker 99638 is a lot similar to the 14-piece junior belt. The build quality is noticeably similar.
A Bit Heavy Belt
Although its predecessor weighed so very little, this one comes with a bit of weight. However, weighing just over 14 pounds doesn't necessarily mean that your child will be very uncomfortable in it. A good solution to this can be a top suspender tool belt for them.
Plus, the weight comes as a positive side for the belt. It sticks to the waist of your little one and doesn't fall off frequently. That's an issue with most lightweight tool straps.
Lighter carrying bags tend to come out of their zone with a bit of trembling. This one, even though equipped with only a one-sided pocket, stays put no matter how much movement is made.
Made From Soft Fabric
Contrary to most other peer models of belts, the 99638 is not made from leather. Rather, it is made from high-quality, durable soft fabric.
It means whether your kid is wearing it all day or not; it's not going to put extra pressure on his/her body. The soft feeling over time will definitely make your little buddy comfortable.
Set The Belt As You Like
The belt is pretty adjustable. Depending on the waist size of your kid, you can stretch the belt to fit perfectly. This is really great as most kids aren't going to fit a one-size-for-all type belt, anyway.
Velcro Belt
Even though you may find it a bit rough, the Velcro fabric is an ideal choice for this belt. For kids that are aged around 3 to 5 years, you don't expect them to be quite friendly with complicated belt functions.
That's why the Velcro belt is going to be far easier for them to wear. You just stretch the strap, place it over the other part, and done!
Moreover, the Velcro belt helps adjustability the belt. No matter what size is your waist, you can always wear a Velcro belt.
11 Different Play Tools
The 99638 comes with 11 different realistic carpentry equipment for your kid to play with. These toy tools are made from sturdy and strong plastic. Even if your little guy is playing rigorously with these tools, these are not going to bend or get damaged.
Pros
The bag is made from high-quality soft fabric
The velcro-made useful belt for easy-wear
Any kid can wear an adjustable belt with any waist-size
The set comes with 11 toy tools for kids to play with
Toys made from sturdy plastic for long-lasting playtime
Cons
The bag set is a bit big for a 3-year-old
Verdict
Although this one can't be differentiated from the previous model, you can still opt to go for it. Especially if you are looking for the same durability with a bit of weight.
Stanley Jr Tool Belt T010M-Sy
The next tool belt we have got is from the brand we all admire – Stanley. Their junior line of belts is really amazing! Out of some of their classic productions, we have the Stanley T010M-Sy as our fifth pick.
A Lightweight Winner
What we have seen on the market, a double-side pocket belt doesn't come in less weight than 10 pounds. Well, to our utter surprise, the Stanley T010M-Sy weighs just only 3.52 pounds and still does what it is supposed to do!
To compensate for the lightweight, the fabric used has been a bit thinner. However, that doesn't mean that it is less safe. You can still put a lot of tools and gear in the pockets, and it will withstand the weight pretty well.
High Strength Fabric
Being such a thin tool belt, the fabric used can be questioned for its strength. Well, worry not! The belt and the carrying bags have been stitched with high-quality, durable, and strong fabric.
Usually, these pockets are to be filled up by toy tools or even by one or two real ones. With the strong fabric in use, the pouches can easily carry the load.
Ergonomic Fit
Of course, the prime and only user of this belt is going to be a kid. So the belt must be kid-user-friendly.
Kids don't act like adults, and they don't like complicated setups. That's why the T010M-Sy is designed with an ergonomic fit. It will allow your kid to reach out to the bag quite easily and conveniently.
Strong Buckle-Up Belt
To ensure the proper safety of your kid, the tool belt uses a buckle-up belt system. It fits perfectly and stays put pretty strong. Children won't be quite familiar with traditional belt systems.
That being said, this type of belt system can help the kids a lot, especially if they decide to wear and take the belt off by themselves.
Pros
The belt set is made from high-quality strong fabric
It is very lightweight and easy to wear
It comes with a buckle-up belt system for easy wearing
It is ergonomically fitted for easiness of the smaller hands
Durable strap for long-lasting grip on the waist
Cons
It's not to be used by kids under 5 years of age
Verdict
This one is quite ideal if you are into a lightweight tool belt that serves as a durable and strong belt simultaneously.
YITOOK Kids Tool Belt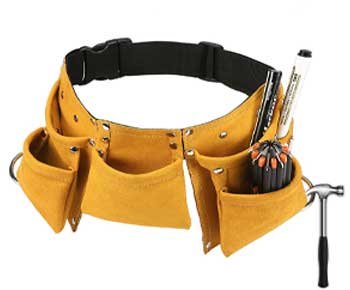 Another great kid tool belt on our list is the YITOOK Tool Belt. One thing that can blow your mind about this is its color variations. You have orange and yellow, along with a pink option, as well!
Crafted With Microfibre
The whole belt and the bags around it are made from high-quality, super microfiber. This makes the build quality of is unparalleled compared to the cheap and low-quality products competing on the market.
The microfiber works as strong support for the tool belt. It prevents the tool bag from welcoming any scratch or abrasion. It keeps the bag safe and strong, even if the bag is loaded fully.
Multi-Functioning Pockets
This kids tool belt is no less than a real tool belt used by actual carpenters. To home a number of tools and gear you use in your day-to-day life, it has an array of pouches on it.
It comes with 1 tape measure pocket, 4 large pockets, and 2 steel hammer rings on two sides of the belt.
High-Quality Strap
The buckle-up strap is made from a heavy-duty nylon strap for maximum protection for your kid. The nylon-made strap is not going to tear off or catch scratches too often.
All the bags, pockets, and pouches on the bag are connected to the nylon strap. These pouches and pockets are going to hold onto the strap quite nicely.
Adjustable Belt
There is an adjusting clip placed on the belt to extend and shrink the belt size. You can adjust and set the belt up according to the size of your kid's waist. Usually, the belt can be set for sizes from 21 to 32 inches.
Variety Of Colors
For most of us with daughters feel less motivated to go for a regular-type tool belt. After all, there's nothing special about these tool belts for your princess!
But this tool strap comes in a pink color that just matches your daughter's preference and style!
Pros
The belt body is made from heavy-duty nylon strap
The pockets, pouches, and bags are made from super microfiber
The belt is adjustable from 21 to 32 inches waist-size
It comes with a lot of pockets and pouches options
Available in pink color for girl-kids
Cons
The size is a bit larger for toddlers.
Verdict
Very few tool belt has a pink variant. Considering the sturdiness and functionality, together with the pink availability, this should be the prime choice for girl kids.
CHENG YI CYGJB38 Tool Belt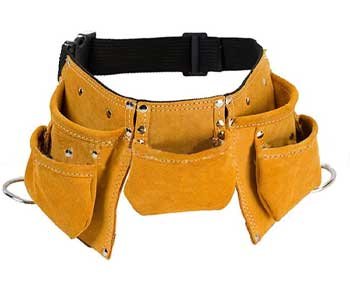 The last one to make it to our top 7 list, is the Cheng Yi CYGJB38 belt. Its simple design may look nothing different than other products of this genre. But you can count on it for its durable materials.
Made From Cowhide Leather
Cowhide is one of the most durable and sturdy leather materials you can find nowadays. The CYGJB38 is made from solid cowhide leather for maximum durability and strength of this belt.
This secures the tool belt from all types of scratches and rip-offs. Cowhide leathers are ideal for dust and waterproofing, so your little guy can wear a tool belt even in monsoon seasons.
Adjustable Buckle-Up Belt
The strap of the tool belt is designed with a nylon-made buckle-up lock. This lock allows your kid to take control of the belt himself. Buckle-up lock eliminates all the useless complexities while wearing the tool belt set.
You can set the belt at different waist sizes from 21 to 32 inches. So, it is an ideal choice for most youngsters aged from 3 to 10 years of age.
Metal Rivets
It's not good enough to stitch the tool belt with high-quality fabric and materials. Placing top-quality rivets in major pressure points is also a serious task to be carried out.
The CYGJB38 has 18 metal rivets embedded in 18 separate points where necessary. That's why the pockets become more secure and even stronger while fully loaded.
Multiple Pockets
This functional tool belt features 5 standard-sized pockets. There are 4 large-sized pockets on both sides of the belt and a tape measure pocket in the middle.
There are two metal rings on two sides of the belt for hammers to be hung.
Pros
The belt body is made from high-quality cowhide leather
Rooted with 18 metal rivets for utmost security
The buckle-up belt can be adjusted from a range of waist-sizes
Several pockets and pouch options for perfect use
Cons
It fits a bit large for kids under 6 years old
Verdict
For those of you who are looking for a genuine leather tool belt for better durability and a long-lasting product, this should be on top of your list.
Best Kids Tool Belt Buying Guide
Well, now that you know what the best kids tool belts are, let's look at some key factors you need to check before you decide to buy one. You can choose one from the reviewed units, but if you need reasons behind selecting one, here's what you shouldn't miss.
Choose Lightweight Tool Belt
Kids can't carry the load of a heavyweight belt. Although a heavy belt bag may seem perfect as it stays in place with frequent movements, it's not always comfortable.
A lightweight belt will provide optimum comfort to your kid's waist if they are doing any HVAC work with a tool belt or an electrician works with tool belts. Then, he/she will be able to carry the load quite easily. But, you need to be careful as these are very serious jobs. You can fill the pockets up with real or toy tools to a certain extent, and your kid will be able to carry them all conveniently. Tool belts for roofing work need to be light as there is height involved.
Look For The Right Build Quality
A lot depends on the build quality of the belt. The extent of load it can absorb, and the resistance to scratch and damage depend highly on how the tool belt is crafted and by what.
Usually, leather material is what is thought to be the best material to stitch a tool belt. While it's alright to get a leather-made tool belt, you can also go for suede leather, polyester, cowhide leather, and other microfiber materials for your belt. This is important if you are choosing a nice framing tool belt for your kid.
Adjustability Is Crucial
Kids nowadays rarely look the same. You can't just judge a kid's physique merely by guessing the age. Different kids have got different waist sizes.
That means you can't go for a tool belt that comes with a 'one-size-fits-all skim. You need to customize the waist size of the belt to fit your kid perfectly.
That's where the adjustability of the belt comes into play. Most of the kid's tool belts come with an adjustment option. Make sure you get one of those.
Type Of Belt Can Mean A Lot
There are a number of types of belt locks. As commonly seen, you can find almost every kid's tool belt featuring a buckle-up lock for the belt. The buckle-up type lock does provide quite good support.
However, that's not all you have got. You can also go for Velcro straps for a different kind of locking system. This type of lock is also effective, especially for child use.
Ergonomic Fit Can Be A Blessing
This is a rare feature you may find in one of the tool belts out there. An ergonomically fit tool belt allows your kid to reach out to the pockets and pouches quite conveniently and easily.
This is not possible for any regularly designed belt. If possible, do not ignore the ergonomic design while you are buying a tool belt for your kid. Fitting is also a concern for women's tool belts.
Ensure Metal Rivets
Being a toy tool belt doesn't necessarily mean that your kids' tool strap needs to be a flimsy one. In fact, the kid's tool belt can be as sturdy and durable as an adult carpenter's tool belt.
That depends mostly on the metal rivets on the tool belt. The more rivets embedded in the pressure points of the belt, the stronger the tool belt becomes. You definitely need to ensure the rivets are there.
Number Of Pockets
As kids love to explore more, having a good number of pockets and pouches on the tool belt can mean a lot of happiness to the kids.
Make sure you are buying the tool belt with the maximum number of pockets and hangers. This way, your kid's imagination will know no bounds, literally. Besides, you can also make your own kid's tool belt too.
Color Variants
Trust us; kids love colors! And if you are one of the smart parents, you already know that. If you present them with anything colorful; they are going to be on cloud nine, surely. To feed their innocent souls, there is no alternative to color.
That being said, the tool belts you present to your kid should not be dull and gloomy. Try going for some color variations as much as you can. For boy kids, you can go for exciting colors like brown, black, and chocolate.
As for girl kids, there are a lot of options from pink, red, and other soft colors. As much as you can meet their color excitement, you can surely see their happiness doubled!
Final Words
Kids are copycats. You can't expect your kid to be staying with you all day, and don't try to copy you once in a while. As a carpenter, bringing their imagination into reality can be a very exciting thing for them.
Nothing beats the excitement of your kid than gifting your child the best kids tool belt. And to help you out with this task, we have presented extensive reviews on 7 of the top-class tool belts available for children. Keeping our buying guide handy, you can easily choose one of these products without a doubt.
If your kid gets the best one in hand, you are the one who is going to be the happiest among all!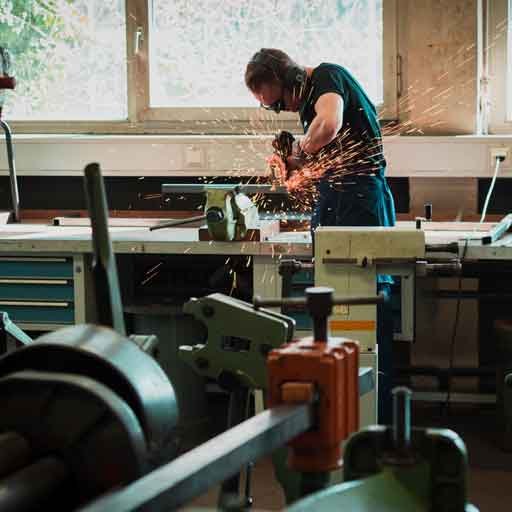 Adam is a tool geek who just loves making and breaking things. Doing the home improvements works and repairing things with his tools is his favorite past time. He loves to keep his tools arranged and sorted. On this blog, he shares his experience and knowledge.