When it comes to craftwork, it is often thought to be a man's job. But women also share a big part in tool works. They can do the critical work of HVAC installation with a good tool belt. Still, it's a tough nut to crack when you are looking for a tool belt that fits a lady perfectly. Most of the gear carriers available are either larger in size or made entirely for men.
We dug down deep to find the best women's tool belt in the market. And guess what, we discovered a few top-class products! In this post, we are listing the straps down and going to review each, one by one, for you. So, for all those smart ladies out there, you better fasten your seatbelts!
Best Women's Tool Belts Ruling The Market
Honestly, we had to go through a tough time listing down the best options for ladies. Still, we have managed to list down the top 5 products that are ruling the market at this time. So, without further ado, let's hop it to the reviews!
7 Best Women's Tool Belts Reviews
Lipstick Tools Pink Tool Belt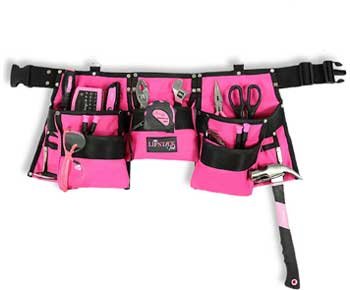 We start it off; we have the Lipstick Tools pink belt. Its gorgeous pink design will mesmerize you within seconds of your first encounter with it. Besides its awesome look, it comes with some useful features.
A Range of Pockets
This tool gear makes a perfect fit for those of you ladies who need loads of tasks to do. To put you ahead of your time, this belt features multiple pockets and pouches on it. Count up to 6 pockets for your convenience and comfort.
These sturdy pouches make sure you can carry all the necessary tools with you. You can place different items on exact pockets, matching the size of it.
Besides the pouches, you can find two metal rings on two opposite sides of the strap. Just hang your scissors, hammers, and other heavy metal gears from it. The days for running to and fro for crafting gears are finally over!
Adjustable Waist Strap
The problem with regular gear straps available on the market is these can't properly fit a lady's waist. But this tool apron made especially for ladies, do consider it. Even though the waist strap is optimized for a smaller area, it can still be adjusted according to individual needs.
Plus, its secure clasp lets you fit the belt tightly around your waist. Just click it, and stick it!
High-quality Build Body
What can be expected from a tool apron other than its durability? It's not likely for you to get a new one every other day. To ensure you are paying for the best possible product, this pink gear carrier does justice to its build quality. Its entire body is made from heavy-duty nylon and other sturdy materials. Having these top-quality materials inside, the tool belt is going to last for a long time, for sure.
Strong Metal Rivets
Rivets take a gear apron's strength to the next level. The Lipstick tool strap doesn't compromise with it. There are around 30 rivets placed in different pressure points of the tool carrier. No matter what item you put in the pouches, the belt is never going to rip off!
Smart Design
This tool carrier is smartly designed to keep your balance in place. The heavy-duty hooks are placed precisely 180 degrees apart to keep the balance of the belt while you put it on. It can be a good tool belt for carpentry works.
Pros
Smart, stylish, pink design to meet women's persona.
It comes with 6 different pockets.
Heavy-duty rivets to enhance strength.
High-quality nylon-made body.
Adjustable strap for perfect fitting.
Cons
When you lean over, tools from the loops can fall off.
Verdict
Apart from the stylish design, this one is wonderful entry-level gear for any DIY or even professional craft woman. Anyone who just stepped into crafting works should definitely give it a try.
Hawk Nylon Belt AS2103S-PNK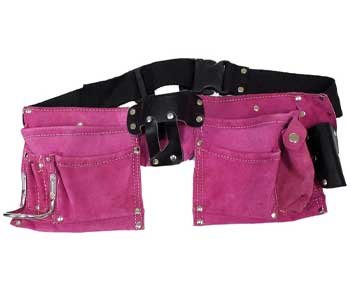 Our next pick is the Hawk's AS2103S. This pink gear is one of the most useful tool belts you can get. Here're some of the excellent features we found out!
Double Stitched Pockets
What's better than a single stitch on your tool belt? A double stitch, of course! The AS2103S comes with a surprising double stitch on it that gives it a sturdy finish. That's a great trade-off at this price tag!
The double stitch goes around the borderlines of the pockets. This confirms further security to the pouches and allows it to hold heavyweight items inside. No matter what you put inside, it's going to endure the pressure better than its peer products.
Security For Knives
Most of the tool belts we find today, don't really bat many eyes on security for sharper objects. Like if you are going to put a knife inside the pocket, it's pretty threatening for you, right?
Well, the AS2103S comes with a solution for this. It features a unique sheath for a knife or a box cutter inside the pockets. It keeps your body safe from the sharper ends of the gears.
Moreover, you can find a few tiny pockets for pens and pencils, as well. A level-up for the safety from the sharp ends of these tools, too!
Roomy Pockets For Nails
Remember the last time you got annoyed with all the tiny nails? Wasn't it a pain in the neck to keep all of those organized? We all went through it. However, the AS2103S tool belt comes with a better idea for that.
It features a couple of dedicated roomy pockets for all those tiny items to be kept organized and in place. No chance to spill and it's impossible for you to lose even a single nut or nail.
Special Holders
For special tools to be kept in place, the AS2103S includes a metal holder ring and a measurement tape holder in it. You can hang a hammer from the metal ring with ease. Plus, with the tape pocket in it, never leave the measurement tape in a random place anymore!
Pros
A sturdy and robust body with double stitching.
Nylon made a durable belt.
Adjustable strap to fit a range of waist sizes.
Two roomy pockets to hold tiny nuts, bolts, and nails.
Metal rivets for extra durability.
Cons
The pocket holes are a bit smaller.
Verdict
This is a perfect choice for those of you who prefer durability over design. A double-stitch body, coupled with a nylon belt, makes a strong, sturdy strap that you can definitely check out!
GlossyEnd 11 Pocket Tool Belt
Okay, who said women's products must be pink? Nobody! That's why GlossyEnd decides to come up with a tool belt, GlossyEnd 11 Pocket Tool Belt, that comes in orange and brown colors!
A Fiesta Of Pockets
Having 11 different pockets can mean one thing – serious business. So for those of you ladies who are really into crafting jobs, here's what you should have in your cart. With 11 different pockets, you can put and place nearly all the necessary items and gears as you like.
The pocket holes are quite large and open for most of the regular tools to the home inside. You can put in everything you use on a daily basis – from wrenches to pliers, screwdrivers, etc. It has 5 main pockets for nails and tools. And 6 other pockets for pens, pencils, gauges, etc.
Heavy-duty Body
It's not the pockets that this gear apron boasts on. Its heavy-duty body definitely 'nails it, as well. The tool belt is made from 600D polyester materials that make sure it withstands abrasion and scratch.
Put the strap around your waist and work in any environment; it is not going to welcome any scratch. Again, it is not going to get ripped off, either. Moreover, this high-quality material is supported by a number of metal rivets.
Strong rivets on crucial pressure places let the apron retain its strength and sturdiness for a long time. Besides, the rust-proof rivets are also going to withstand any adverse environment.
Poly web Belt
Its poly web strap is a perfect match for the polyester apron. Both sturdy materials produce one of the toughest tool aprons we have seen. This strong belt comes with a quick-release buckle that is easy to put on and put off. Besides, the buckle grips so tight that it's almost impossible for the strap to get off unintentionally.
Keeping the strength apart, the belt is functionally adjustable. You can fit it to your waist by aligning the strap hooks a bit here and there.
Special Holders
This apron comes with 2 special hammer loops and a measurement tape holder. It's the best way to keep your hammers and measuring tapes handy. Moreover, the hammer hooks are placed on the two sides of the belt that automatically balances it.
Pros
The apron is made from 600D polyester materials.
Poly web sturdy adjustable strap for better wear.
It comes with 2 special hooks and a tape holder.
11 different pockets for maximum organizing.
Quick-release buckle for maximum safety.
Cons
It doesn't have a pocket for larger screwdrivers.
Verdict
If you are not obsessed with feminine designs, but rather concentrate more on quality, then this one is a perfect fit for you. Its optimum functional pockets and durable build-up make an excellent tool belt for ladies! It can also be used in technical works i.e. as an electrician tool belt.
Graintex DS1118 Pink Tool Belt
The Graintex DS1118 is a prime example of what happens when you mold style with durability. This heavy-duty pink tool belt is carefully crafted to withstand any weather conditions and environment.
Pure Leather Apron
When you are putting on a gear strap around you, the first thing you are concerned about is its durability of it. For the DS1118, you can rest assured of its quality and strength. Made from suede leather, the tool apron is quite robust and thick.
Even though the materials used in it are pretty strong, the belt doesn't feel rough or itchy. A cushion-like layer does keep all the discomfort away. No matter how long you are wearing it, you will enjoy a soft and comfortable feeling around your waist.
Handmade Craft
It's pretty surprising that even today, we have some manufacturers who prefer to ensure quality by hand. At Graintex, the DS1118 is completely handmade by expert and experienced artisans. A manual intervention does ensure that the product comes out with the best quality possible.
Double Stitch Durability
There is a number of stress points on a gear carrier that is subject to a lot of pressure from different tools' weight. To add to the durability of this strap, it is double-stitched at every stress point of it.
Having more than one stitch on these points makes a lot of difference in the strength of the carrier. It makes it a lot easier to keep and hang heavy gear.
Moreover, the tool belt is reinforced with chrome-plated hardware. This allows your apron to last more than you expect!
Ample Pockets
The DS1118 is equipped with 8 different pockets and pouches. You have two large pockets for larger tools. Additionally, you get three medium-sized and three small-sized pockets, for a range of gear-keeping applications.
Sturdy Belt
As for the carrier, it is a 2-inch webbing type strap that keeps both ends as tight as possible. You are obviously going to keep all the pockets occupied while you work. This strap will prevent the apron from falling apart due to its weight of it. You can always use a good tool belt suspender to reduce strain on your back.
A PVC quick-release buckle makes it easier to lock the belt. It saves you from the useless stress of pin straps.
Pros
The apron is made from genuine and high-quality suede leather
It comes with 8 useful pockets and pouches
PVC-made buckle for easy buckling-up
Completely handmade tool belt for the safest production
Double-stitched stress points for maximum safety.
Cons
The color of the carrier tends to fade away after rigorous use.
Verdict
Some craftsmen do like to have handmade things. Considering the robust and sturdy materials, and ease of use, this handmade tool belt may be the only option that can satisfy you. Only if you are among the perfectionists!
Leather Gold 3450-PNK Tool Belt
Our last pick for the best women's tool carrier is the Leather Gold 3450-PNK! Although at first look it may seem a bit weak, that's what tricked us as well! Rather, this is one of the sturdiest tool belts we have reviewed so far. Let's see what it has got for us.
Cowhide Leather
Nothing beats genuine natural leather when it comes to using it on tool straps. How long can your gear carrier last, depends almost entirely on the materials it is made from. If leather is the key material for the apron, it's going to end up lasting quite a long time.
Out of different natural leathers, cowhide leather is quite prominent among users. Leather Gold has used top-quality genuine cowhide leather to craft the 3450-PNK tool apron. So if you are worried about your gear belt's durability, you better knock it off your head.
Reinforce Stitch
For the best quality tool apron, you need top-quality stitching. The 3450-PNK has reinforced stitching for the pockets and pouches to be able to withstand the continuous pressure from the heavy-duty gears.
It will actively endure the stress generated by the tools and the constant movement of gears. A traditional stitch would have struggled to keep in place in such cases.
Rearranged Pockets
The pockets come with a great surprise. Apart from the 3 functional hammer hangers, the tool carrier features 10 different accessible pockets. Regular gear belts have pockets and pouches fixed to a place these are stitched to. But the 3450-PNK tool carrier has a different technique for it.
You can easily move the pockets around the strap as you like. If you are not feeling like having two pockets on both the right and left sides, you can quickly move both pockets to the same side. You can arrange the pockets according to your comfort and easiness. this can be your kids learning tool belt too.
Pros
The belt is made from genuine cowhide natural leather
It comes with 10 different pockets and 3 hammer hangers
The pockets can be rearranged as per your needs
Reinforced stitching for the best security
Adjustable waist size for easy fitting
Cons
The pockets are way big for small tools.
Verdict
The tool apron is made from high-quality natural cowhide leather. The original leather pockets, coupled with reinforced stitching, make the 3450-PNK a strong contender for peer products.
Task Tools T77250 Weekend Warrior Apron 5 Pocket Leather Utility Tool Belt
Ladies, are you looking for a good quality apron framing tool belt? T77250 Task Tools weekend warrior apron tool belt will be an unmatched option for carpenters, framers, or roofers.
Sturdy Construction
It's important to take a strong tool belt to hold lots of tools there. Task Tools belt is an ideal choice in this regard as it's made of rugged and long-lasting split leather. The rugged leather provides great strength to the women's tool belt system thus it can carry heavy items like hammers or drills.
Different Sized Pockets
The weekend warrior apron has 5 dissimilar sizes pockets. Thus you can keep versatile sizes of tools in these pockets which is necessary for any construction worker. There is also a semi-rigid leather harness hammer holder and a nickel-coated hammer holder. So, this tool carrier makes it fully functional.
Padded Adjustable Belt
The belt is 2 inches wide poly web durable belt that allows easy strap-on and removes it fast. Heavy padding of the belt provides comfortable wearing. The belt is adjustable that fits from 36 to 54 inches waist size.
Pros
Rugged design to carry heavy tools
5 pockets and hammer holder for versatile tools
Adjustable women's tool-carrying belt
Bags don't slide on the belt
Easy to wear on and off
Cons
The plastic buckle isn't sturdy enough
Need special care for leather
Verdict
Having the Task Tools tool belt women can carry any type of tool for their construction job. And the leather padded belt will give the best experience to wear it for a long period.
The Original Pink Box PB2BELT Tool Belt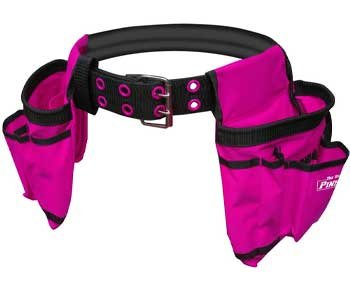 The Original Pink Box brings a unique and comfortable tool belt system. If you need a tool belt for arts and crafts, gardening tools, hair-stylist tools, and storing tools, this will be a handy choice for you. Let's have a look at its features.
Lightweight and Strong
If you need a lightweight tool belt system this would be your first choice. The canvas-made belt is a low-weight belt so you can carry it comfortably. But it is stitched well to make it solid well so that it can hold numerous tools.
Comfortable Strap On Belt
Many women complain about buckles-style tool belt fastening. For them, this tool belt introduces a double-grommet fastener. It is very easy to put on and off. The belt fits any waist ranging between 27 to 44 inches.
Numerous Pockets for Versatile Tools
The tool belt features two compartments and ten pockets to carry lots of tools there. You can store small to large tools in these pockets. There is also a hammer loop and screwdriver slots.
Pros
Lovely pink color for women
2 compartments and 10 pockets
Adjustable belts system
Lightweight tool pouch
One size fits all belt
Cons
Pouches on and off
Quality should be improved
Verdict
Besides carrying lots of tools, the lovely color of The Original Pink Box ladies' tool belt makes women happy. The firm fastening will be undoubtedly appreciated by the tool-carrying women.
Best Women's Tool Belts Buying Guide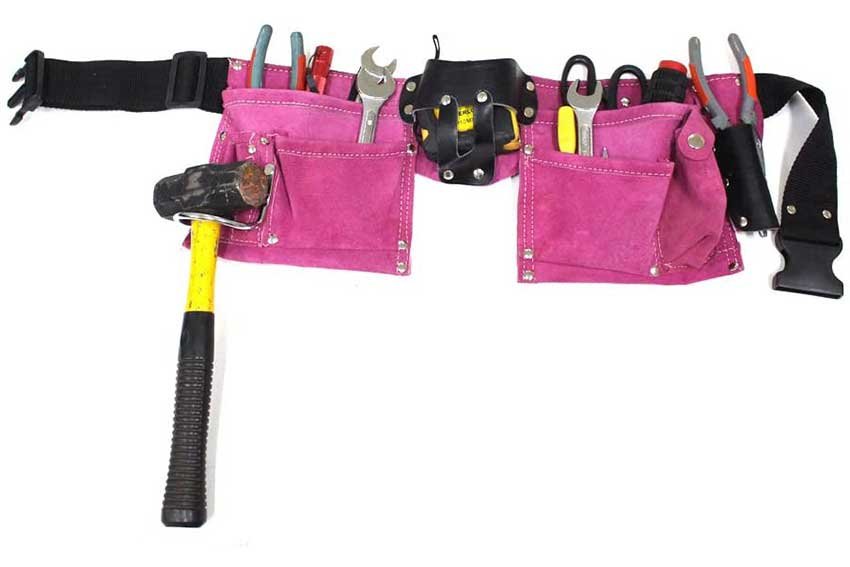 Tool belts are not something that you buy every other day. Some even use a gear carrier for more than a decade. That's why taking your time and finding out the top-class one is really important. Here're a few points to remember before you put your hands on a tool belt.
Materials Are Crucial for Womens Tool Belt
The durability of a tool apron depends entirely on what it is made of. If you are only concentrating on the price, you need to compromise on the quality. That's going to be a disaster for you.
For the best service, you should choose carriers that are made from leather materials. A lot of women's tool straps are stitched with cowhide leather and heavy-duty industrial nylon. These materials add to the durability of the belt to a much greater extent. You can check our other tool belts made from leather here.
The strap itself should be made from industry-standard nylon or polyester. This gives the strap enough strength to hold on to the weight of the apron.
So, if you are not into buying a gear carrier every month, look for top-quality materials in your belt.
Adjustable Size Is Necessary
For most women, no tool belt fits universally. Besides, most of the tool carriers we find in the market are designed to meet the sizes of men. Even if there are some products crafted, especially for the ladies, you may need to look for an adjustment option.
This way, you can alter the length of the strap to fit your waist. There are a couple of ways you can alter it. Make sure you feel comfortable with the adjustment option.
Look For The Belt Closure
Although most of the tool belts we use come with a double-pinned or single-pinned buckle, you better look for a quick-release buckle. That's the best fit for ladies as it is easy to close and comfortable to open.
It saves you from the stress and complexity of the double-tongued steel fastener. A quick-release buckle puts less pressure on the waist, as well.
It's Better To Have Optimum Capacity for A Women Tool Belt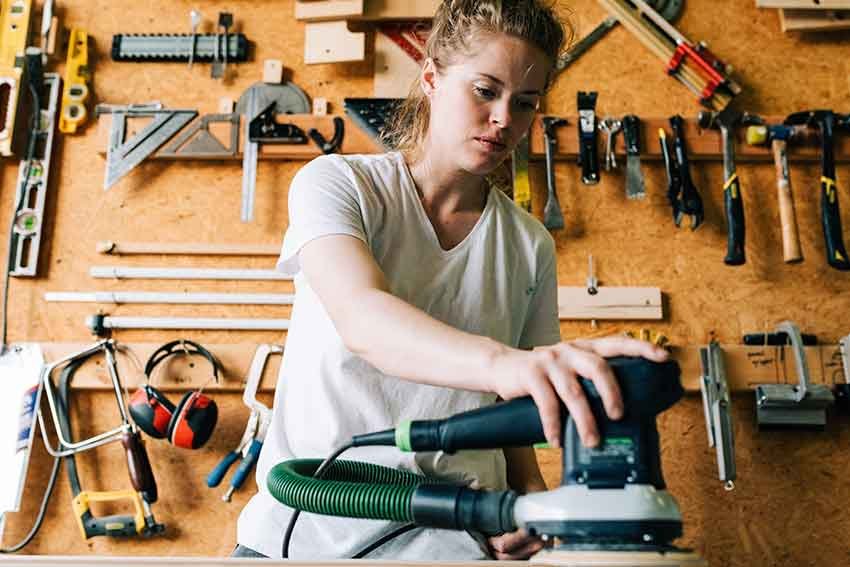 The number of pockets and pouches to have on a tool belt is not a universal requirement. It depends on what you are planning to do. If you are a professional craftswoman, functional capacity is an obvious demand.
As for the DIY people, it's not the pockets that matter. As DIY works need a minimal number of tools and gears, you can manage it with a limited pocket count. But hey, that doesn't mean that you can't go for better pocket numbers. That, too, rests entirely on your choice. You better be prepared for a heck of tasks in the future, as well.
Design Of The Belt Matters
Tool carrier producers have really worked hard to make the carrier as ergonomic as possible. But that's where the competition lies. Some good-quality gear aprons fail to reach the top because of poor design. Having a good number of pockets on both sides of the belt, a few hanging hooks, and some closed pockets – these are some of the design hacks that you need to look out for.
On top of that, a rearrangeable pocket system is the best one you can get. You can arrange the pockets and pouches according to your comfort and hand position. Lefties can alter the pockets' positions to match their natural movement.
There are many fancy and colorful tool belts for women. But, you must prefer a comfortable and handy design for your tool belt. If the tool belt is a good design and also fulfills all the requirements, then that can be a very good choice.
Weight Should Be Considered
Hanging a heavy tool strap around you doesn't make sense. Plus, the carrier is going to gain more weight as you put different tools in it. So never go for a belt that itself weighs a bit heavy. A lightweight one is going to fit you perfectly, and it ensures your comfort. Also, it helps to do work in high places like doing roofing work with your tool belt.
Final Words
While there is a scarcity of tool belts dedicated to women, it was a challenging task for us to gather some of the best. Still, we did come up with 5 of the best women's tool belt options and crafted in-depth reviews. We believe it is worthwhile for you to decide which one you should go for. Also, learn the tricks of wearing a tool belt perfectly. If you're still in a fix, scan through our complete buying guide that will definitely land you on the perfect choice for you.
Happy Crafting!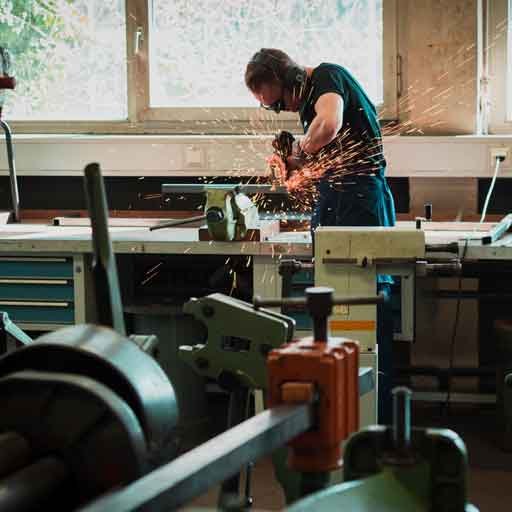 Adam is a tool geek who just loves making and breaking things. Doing the home improvements works and repairing things with his tools is his favorite past time. He loves to keep his tools arranged and sorted. On this blog, he shares his experience and knowledge.