Last Updated on November 7, 2022
As a tool belt lover, you must know numerous types of tool belts. If you don't have a clear understanding of versatile tool belts, you may fail to select the right one. When you intend to buy your necessary one, you will find plenty of options. According to task type, you have to choose tool belts.
Unlike professionals need dissimilar tools, therefore different tool belts. So, you need to learn all classes of tool belts. Here we categorized the tool belts into different sections and discussed them their using advantages.
Various Types of Tool Belts Based on Different Aspects
Tool belts can be classified from different angles. For users' easy understanding, we discussed them in a few comprehensive categories.
Multiple Wearing Pattern Tool Belts
First, we can classify tool belts according to their wearing style. Some common wearing positions are waist, hip, wrist, apron, suspender, etc.
Waist Tool Belt
These are the most common wearing style of tool belts. According to users' waist sizes, they have to choose the appropriate ones. Some belts are adjustable, that fit various waist sizes. Waist tool belts allow you to hang different tools. They may cause pain in the waist zone if you wear them for long times. To overcome this, you should pick a well-padded belt.
Suspenders Tool Belt
This is a very handy option for carrying lots of tools. It evenly distributes the weight and makes your waist belt almost free. Usually, there are more than three straps in the suspender belt. You should look for padded belts that will give you a comfy experience. These belts are sometimes referred to as harness or yoke-style belts.
You can adjust the harness according to your needs. Several suspenders tool belts have pockets for storing cell phones or nails.
Hip Tool Belt
When you need tools near your hands, then these tool belts come in handy. In the waist or suspender tool belts, you need to see the position of the tool first then pick your necessary one. But the hip tool belts allow you to grab tools easily. These tool belts' holding capacity is lower than the waist and harness styles.
As these belts are worn at the hip, so they only hold the basic tools such as the hammer, pruners, utility knives, or small tools. Hip tool belts are mostly suitable for gardeners.
Wrist Tool Belt
Small tools and nails are very much difficult to find. They may also drop outside. But with wrist tool belts, you can easily carry these items. They are especially convenient for ladder climbing and working on an inclined surface. Most of cases, they have magnets that hold the tools. These tool belts are easy to wear and put off.
Apron Tool Belt
Apron tool belts cover your body as clothing does. When you are associated with power tools jobs like cutting with saws or nail guns, then these belts will be ideal for you. They are usually comfortable and create soft feelings for users. Sometimes they are referred to as tool belt vests. These belts have plenty of pockets than others.
Types of Tool Belts Based on Materials
Tool belts are made of different materials. Mostly used materials are leather, nylon, cotton, canvas, fabric, polyester, and a few more. They are discussed below.
Leather Tool Belts
Leather is the most durable tool belt and most tool belt users prefer these belts. They last for decades without any remarkable changes. Leather has many types. The suede leather gives pleasant to wear but can't hold heavier weights. Full-grain leather is the toughest one.
You also find other leathers such as two-ply leather, bonded leather, saddle leather, etc. Bonded leather is stiffer but not as durable as the full-grain type. The two-ply leather is cheap but not great in strength.
Nylon Tool Belts
Nylon-made tool belts are more lightweight and comfortable than any other type. They are mostly ideal for those, who are concerned about tool belt weight or suffering from back pain. But few nylon models tend to decline soon. When taking nylon tool belts, you must choose the thicker one over the normal nylon. Double stitching made the tool belt durable. Nowadays, 1250 DuraTek Nylon-made tool belts have become very popular. Famous brands like Gatorback Tool Belts are mostly made with this material.
Canvas Tool Belts
Canvas is duty-proof material that lasts long without any fraying or damage. Canvas tool belts are durable like leather. Moreover, canvas is very cheap than leather belts. When picking your one, make sure that it has outstanding stitching.
Fabric Tool Belts
Fabric pockets are comfortable to wear but don't provide outstanding durability. They look more pretty and lightweight than any other type. But you need to be careful about overloading the pockets as they tend to stretch and deform with loads increasing.
Cotton Tool Belts
Tool belts constructed from cotton are very flexible and soft. They are lightweight but damaged soon as well. Take the robust cotton tool belt that can withstand heavy tools. Most cotton belts have a zipper, make sure the zipper is durable enough.
Polyester Tool Belts
Polyester is a very durable material compared to fabric or cotton. It can absorb a great temperature also than others and find in versatile types. Polyester-constructed tool belts are strong enough, so they are perfect for any type of task you do often. They also ensure you of damaging tools, if fall accidentally. Buying these tool belts, you need to look for pocket space.
Profession-Based Tool Belt Types
Tool belts are important gadgets that are used for organizing different tools. Professional tool carriers need these belts badly. Considering these, manufacturers develop tool belts for the specialty of each job.
Contractor's Tool Belts
Construction workers have to do their work in rough environments. So they need durable tool belts for carrying their tools with plenty of pockets. A quality leather tool belt or combination of leather and nylon belts is recommended for them. For example, Gatorback brand's tool belts are great for contractors.
Carpenter's Tool Belts
The tool belts for carpenters must-have come with more pouches and lots of pockets. Usually, carpenters need wide and large pockets to store their carpentry tools. Leather-made or other durable materials belts are perfect for them. If the carpenters need to use power tools, then apron-style belts are likely appropriate for them.
Electricians Tool Belts
Electricians' tool belts are specifically made with dozens of pockets. Some of their pockets are magnetic that can hold testers, cables, screws, and small tools. Their tool belts should be also durable and comfortable enough. Sometimes they have to do several projects at a time, so their tool belts should have the necessary storage. If you need to carry heavy tools like drills, then don't forget to install suspenders. A subcategory of this is an HVAC installer tool belt type.
Framer's Tool Belts
Framers working fields are comparatively small than the carpenters. They can use canvas or fabric materials for tool belts but the leather will last longer. Framers' tool belts should be lightweight also. There is a separate setup way for a framing tool belt. All the tools need to be arranged accordingly.
Plumber's Tool Belts
Plumbers need waterproof tool belts, as normal fabric materials tool belts can't prevent entering the water. Ensure that you need to take the tool belts covered in the pockets and pouches. They also have the capability of quick-draining that keeps the tools snug and secure.
Roofer's Tool Belts
Roofers have to work in a confined area in height. Usually, suspenders are good selections for roofers. And securing the suspenders' chest strap is necessary for roofers. Roofers' tool belts have come with a lightweight facility, it will lessen their workloads.
Painter's Tool Belts
Painters usually need to carry brushes and dyes in their tool belts. Most of the time, they also work in height, so suspenders or apron style is a pretty choice. They needn't go for numerous pockets, three to four pockets are enough for them. Fabric or nylon materials are recommended for painters as they are easily washable in case of paint spills in the tool belt.
Glass Cleaner's Tool Belts
Professional glass cleaners usually need roomy tool belts for keeping spray bottles and sponges to clean glasses. Their spray bottles are attached to lanyards so that the chemicals don't fall accidentally. Synthetic nylon tool belts are a good selection for glass cleaners. As they don't act any adverse reactions with chemicals.
Gardener's Tool Belts
Gardeners do need not many tools, so a maximum of five pockets of tool belts are good for them. These belts have small pockets and pouches. Generally, gardeners prefer leather belts for storing their tools.
Other's Tool Belts
Tools belts have wide applications. Female tool belts and kid's tool belts are different from male belts. Generally, they love lightweight and colorful belts. Canvas and polyester-constructed belts are mostly suitable for them.
Types of Tool Belts Based on Features
There are different features of a tool belt. Sometimes tool belts' name comes according to these features.
Adjustable or Personalized
Tool belts may come with adjustable options or dissimilar sizes for varieties of waists. An adjust-to-fit belt is a good option as it allows easy tight or slack opportunities. This belt lets wear to use different people. If you don't want to share tool belts with others, then the personalized belt is good for you. It fits only a specific waist size.
Padding
The padded belts are comfortable to wear for a long time. This padding may make them a little heavy, but you will get extreme back support. Usually, padded belts are made of mesh materials that draw moisture and give a comfortable feeling. If you have back pain from carrying lots of tools, then these belts will add comfort to you.
Handles
Most of the quality tool belts have handles that help to carry the belt easily. They also assist you to put on the belt or when you need to remove the belt. Handles are stitched and riveted strongly with the belt. Usually, fixed pouches tool belts have no handle.
Pouch
Tool belts have usually two pouches on the two sides of the belt. Few belts come with a single pouch. You will see three, or four pouches options also. Pouches may come with customized, or fixed options. You can remove or attach pouches in the customized pouches and they give you some extra facilities.
Pouch size is an important fact. For different tools storing, you need a versatile pouch size for keeping multiple dimensions tools. When seeing the pouch quality, make sure it has double-stitching in the back.
Pockets
For keeping versatile tools you need plenty of storage. It includes fastener pockets, large pockets, a hammer holder, slots, and a few more. For roomy pockets, you need to choose gusset pockets. These pockets have more space than the usual pockets. They allow you to access small tools, and nails easily without any problem.
Reinforcements
Tool belt durability largely depends on its reinforcement quality. It includes stitching and riveting options. The sewn may be normal or have nylon stitching. There are caps over the rivetings, that prevent snagging. Reinforcements of tool belts strengthen overall durability.
Buckle
Buckle fastens the belt with your waist. It may come with single, double, or triple buckle options. The metal buckle is the most durable option. Some belts use plastic buckles also. The size of the buckle is also an important consideration. Big buckle-size belts may be hard to bend the belt for comfort. So, choose the right size metal buckle for increasing working rhythms.
Zipper
Zipper pockets in tool belts are very essential to keep valuable things in them. Even if you work on height or climb a ladder, your tools will become safe in your pockets. If all the pockets have a zipper, it may feel awkward. It's a good decision to take one or two zipper pockets tool belts.
Hooks
Many tool belts have pre-installed tool hooks. They are handy options if you need to attach large tools suddenly.
If you are a DIY enthusiast, you can make your own tool belt too.
Ending Words
Choosing the right types of tool belts is important for pro workers. Having a well-equipped tool belt, you can easily lessen your workload at the same time increase your efficiency. We have discussed here varieties of tool belts to facilitate you choose the suitable one. So, consider your jobs and pick up the belt that will make your work easy and enjoyable.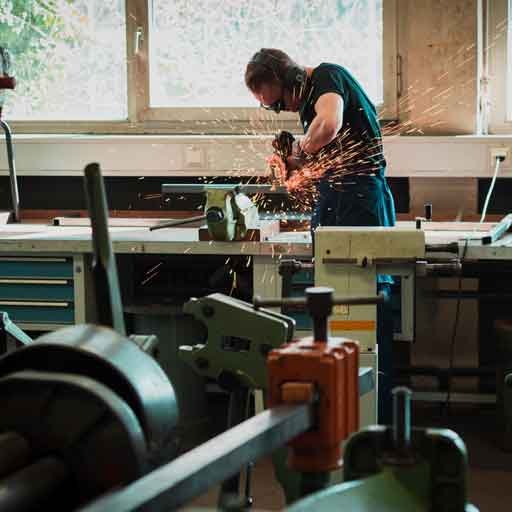 Adam is a tool geek who just loves making and breaking things. Doing the home improvements works and repairing things with his tools is his favorite past time. He loves to keep his tools arranged and sorted. On this blog, he shares his experience and knowledge.