Carrying the best rolling tool bag with you can give you plenty of leverages. You can list down a number of the benefits, but if you were to point out one, it would be 'convenience.' Let's face it, carrying heavy tools around your waist or on your back doesn't seem to be a healthy idea for the long term.
Plus, not all the gears you use fit into your tool bag or even in the backpack. That's where a carrier on wheels comes into play. It's rolling, it's stress-free, and it's pretty simple. All you need to do is just pull it with you without even feeling any weight or friction.
Impressed enough? Curious to know where to find one? Let us make things easier for you. We have listed down the 7 top-class rolling tool bags that you can get right away. So fasten your seatbelts for an exciting ride!
Top Class Rolling Tool Bags You Can Get Right Away
We went through a lot of options before us. It's not easy to shrink down the top-quality selections into 7 choices. But eventually, we did. Here are the reviews on the 7 rolling carriers that we found to be the best on the market!
9 Best Rolling Tool Bags Reviews
Milwaukee Packout 48-22-8426 (Best Tool Bag with Wheels)
On top of our list, we have the Packout 48-22-8426 from Milwaukee. This Red-Black giant is a heavy contender in the field of rolling tool totes. Here are some of the heavy-duty features we have found.
Sturdy Weather Seal Body
It comes with a super-sturdy build-up that lets you use it nearly anywhere you go. With an IP65-rated weather seal body, you can tell how well it performs. The level 6 rating gives a clear idea about how well it is going to withstand difficult circumstances.
No matter where you take it, it can keep itself safe from water, mud, and industrial debris that often pose a threat to the outer part. That's why it's less likely to face any scratch or wear and tear while you are moving with it.
Industrial Grade Extension Handle
The carrier allows as many tool bags to be placed in it as possible. That calls for a longer handle for it to carry those bags. No worries, you can extend the handle of the carrier instantly. Its industrial-graded handle can be pushed out to support the extra bags piled up.
Similarly, you can push the handle down when not needed. It's easy to operate and really convenient to push in and pull out.
All-Terrain Wheels for Tool Bag
All-Terrain wheels are specially built for working on both off and on-the-road riding experiences. It is basically a hybrid of highway and mud tires to suit any street and way. It withstands and moves perfectly in wet, muddy, snowy, and even hilly conditions.
The Packout 48-22-8426 features a couple of All-Terrain wheels that make it a perfect choice for those who have to work in a diverse environment. You can smoothly move on uneven grounds, wet grounds, or even muddy ones with this wheel.
A True Weight Carrier
To our surprise, this tool carrier can withstand a good amount of weight. You can put as much as 250 pounds of weight in it. The tote will be carrying the weight quite easily. You won't feel like putting additional effort into it to move around.
Now fill it up with all the necessary tools you need from the drillers to the routers. Everything is going to fit in just perfectly.
Pros
The body of the carrier is made from IP65-graded material
Wheels All-Terrain type and provide excellent movement support
Carries weight up to 250 pounds
Best pick rolling tool bag
Extendable industry-graded handle
Metal-reinforced locking points and corners
Cons
No interior organizer tray by default
Verdict
It's the best tool bag on wheels for those of you who are really keen on the sturdy body and a wide space for tools. Although you don't get to organize all your tools without buying an organizer, the tote still comes with a wide hollow room.
Klein Tools 55473RTB High-End Rolling Tool Bag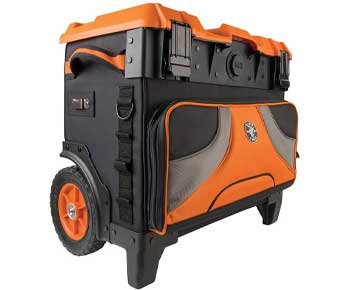 Up next, we have another winner from the house of Klein Tools. With 160 years of experience in the tool-making industry, Klein Tools has never ceased to impress us with its exceptional production.
Rugged Wheel Tool Bag
What can be better than a rugged and strong wheel that keeps your carrier going even in the roughest of conditions? That's what the sole purpose of the 8-inch sturdy wheels is. You can move around in a wide variety of places with these movers attached to your tote.
Is it muddy or wet where you are working? No worries! Own the 55473RT today to conquer the toughest grounds possible.
Hard Tops For Storage
Very few users among us don't think about using the top part of a carrier bag. The blame is on the designers, mostly. Why? Because most of the rolling bags we see today don't pay much attention to the top of it.
Very few of the products you find on the market come with a hard surface. This heavy-duty champ is one of those few. It has a sturdy and hardened surface that you can use to place boxes, pipes, and any other tools you like!
Heavyweight Carrier
What makes the difference between a regular, poor-quality carrier and a winner is the weight-carrying capacity. The Klein Tools 55473RT can absorb about 250 pounds of weight.
Time for those heavy tools and gadgets to go inside, isn't it? That's what we are talking about. You can place the heaviest tools from your side in it, and carry them with you. It's not easy filling up 250 pounds!
Telescopic Handle
You can place as many bags and boxes on the carrier as you like. It comes with a wide surface to home a few more boxes over the default one. So how do you carry them all? Well, the telescopic handle is right there for you, at your service!
Just pull the handle from the telescopic position to carry all the boxes and bags. When done, all you need to do is push it back.
Pros
Durable and all-round sturdy wheels suitable for different environments
Carries up to 250 pounds of weights
It comes with a telescopic handle for easy pull and pushing of the tote
A hardtop allows extra carrying
Best quality rolling tool bag
Exterior webbing and D-rings for attaching bungee cords and other items
Cons
There is a shortage of pockets inside the carrier
Verdict
The 55473RT is truly one of the top-rated tool bags we have reviewed. Its rough wheels and wear-resistant build-up are a combination of ultimate choices for any rough-users.
XtremepowerUS Rolling Tool Bag (Best Budget Rolling Tool Bag)
The XtremepowerUS Rolling bag is just as its name sounds. It's really an extreme carrier that can support you in difficult environments.
Polyester Material
Contrary to most of the producers, XtremepowerUS decided to try something unique with the actual carrier. Rather than using a plastic tool tote, they introduced a ballistic polyester material. It comes with a lot of benefits, we must say.
It becomes effortless to use and carry. As it feels more like a comfortable backpack tool bag you carry behind your back, it does feel a bit soft. But being soft doesn't mean any less convenient and strong!
Well-designed Compartments
Its multiple dedicated compartments in this bag have drawn all the spotlights towards it. When opened up, you can see different sections for separate tools and gears. You need to put the tools that suit those compartments. The hollows count up to 5 inside.
Additionally, you have a lot of pockets. To be specific, you get a total of 19 pockets in this bag. Out of all these pouches, you get 10 pockets inside the bag and 9 outside it.
Very few carrying bags come with a number of external pockets. However, it is actually quite helpful for carrying those extra tools you need that you have to use frequently.
Telescopic Handle
While you carry the bag around, you need to pull out the strong and durable handle that comes with it. It's not from the usual designs. You have a pull-out telescopic handle attached to the bag.
It opens up step by step according to your height requirement and locks itself there. You can pull it and carry the loads pretty easily. You can push it back step by step in a similar manner.
All-terrain Wheels for Tool Bag
The best part of a rolling tool bag is the wheels that move it around. In this case, we have two sturdy and robust All-terrain wheels. These wheels are the perfect match for you if you are planning to work in a variety of places.
If you are working in a rough area, like near the hillsides or wet-muddy area, these wheels let you glide through the tough grounds like a knife on the butter.
Pros
Robust ballistic polyester body for durability
A total of 5 internal compartments for a convenient arrangement of tools
10 internal and 9 external pockets for easy carrying of tools
Best budget rolling tool bag
All-terrain wheels for moving around in multiple environments
It comes with a pull-out telescopic handle
Cons
The handle becomes a bit flimsy if used with a heavy load
Verdict
Its strong polyester body is a great choice for you if you are looking for a softer solution for your carrying task. Again, with all the compartments and pockets, both internal and external, it should be a good choice for any level of users.
DEWALT DGL571 Light Roller Open Mouth Tool Bag
When we talk about tools, we can barely skip Dewalt. That's why we have the DGL571 rolling tool bag from the Dewalt family. Here are the features that landed it on our list.
Padded Telescopic Handle
The fact that the tool carrier has a telescopic handle is not all it has got. First, the handle can be pulled out and pushed in when you are carrying a lot of weight. It is constructed in a telescopic format to fold itself down when you are pushing it down.
It unfolds itself when you pull it up. It gives you a lot of space and leverage when you are carrying loads at the optimum capacity of the tote.
Second, this champ is well-padded. This makes a lot of difference. You can feel the uniqueness of it when you are pulling the bag for a few minutes in a row. The padded handle will protect your hand from fatigue, and you will be at your prime comfort.
All-terrain Tool Bag Wheels
It's not always possible to stick to one single environment when you are working as an electrician, woodworker, or even a DIY guy. Moving from place to place calls for a sturdy carrier that can support your bag's weight under challenging conditions like the sturdy carpentry tool bags.
The All-terrain wheels in this bag let you glide the rollers on smooth, rough, muddy, wet, rocky, and many other types of ground. It helps you a lot to be able to move to different locations with your arsenal!
Loads Of Pockets
The carrying bag comes with a lot of pockets and pouches to keep all your necessary gear. It has 6 pockets inside the bag and 11 outside it. These pockets can hold most of your regular tools.
Besides the pockets, the hollow space inside lets you pack all the common larger tools you need to use on a regular basis.
Magnetic Zipper Top
A convenient way to open up the folding top is to attach it somewhere. That's why Dewalt thought of a unique way to do it. The folding top has two magnets sewn on it. So when you open it up, the magnets get attached to the metal handle, giving you a proper opening to navigate inside!
Pros
It comes with a comfortable padded and telescopic handle
There are 11 different pockets and pouches inside and outside the bag
Robust wheels to keep you moving on all terrains
LED light on the handlebar for great illumination
Magnetic zipper top for easy access inside
Cons
The handle is not sturdy enough
Verdict
This is one of the most useful carrying bags from Dewalt. Although there are not enough pockets inside, its hollow space inside makes it up for it. Space fits almost all the tools you use daily. That being said, you can consider it for your regular use.
Stark 20 Inch Rolling Tote Bag, Quality Rolling Tool Bag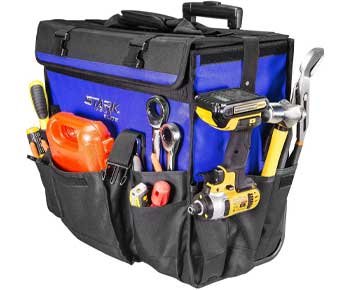 Up next, we have the Stark 20-Inch Rolling bag. It's a prime example of durability and strength. Why? Let's find out!
Sturdy Body
This tote is constructed with tough strong 600 diner polyester fabric. It's nothing like anything. You're sure to notice a great finish and top-class resistance from the exterior and interior of this product.
Its polyester body deals quite professionally with water. No matter how much you expose it to water or a humid environment, it's not going to fade out or soak in water to damage itself.
Convenient Compartments
You get an ample amount of pockets and compartments inside the bag. Open it up; you find 14 different rooms for a range of tools and gears. Couple that with 8 other external pockets attached to the body of the bag – you can never fall short of putting any of your tools.
These compartments inside come with a lot of hollow space to fit multiple-sized tools. Whether you are struggling with your driller or the pliers you carry, there is room for every single gear.
Robust Tool Bag Wheels
The wheels that keep the bag rolling are attached to the back part of the tote. These strong and heavy-duty rollers are the perfect fit for this type of carrier. There are two reasons behind this.
First, the strength of the wheels helps to carry the entire load of the bag. This is not an easy task to absorb all the weight of the whole bag.
Second, these wheels can withstand any type of ground – whether it is smooth or rough, dry or muddy, rocky, or wet.
That's why you can count on these rollers for any trip you're planning to go with your tools.
Carrying Handle
There are two types of carrying handles in this bag. The first one is the pull-out handle. This is made of plastic and can be pushed back when not in use.
It's telescopic in nature and quite helpful when you are piling up bags and boxes over the carrier.
The second one is the attached handle made from fabric. If the bag feels lighter sometimes, you can carry it with this handle, as well.
Pros
The bag is made from 600 diner polyester fabric
A good amount of space inside the bag with 14 pockets
It comes with a telescopic handle
You can carry the bag with a fabric carrier on top
Strong wheels to support any type of ground
Cons
No holder for the top while opening it up
Verdict
Some professionals prefer a fabric-made bag but without compromising the quality. This one is one of your best for serving as a high-quality electrical tool bag and for other serious professionals too.
Husky 600-Denier Wide Rolling Tool Tote Bag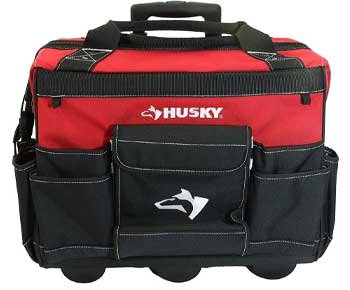 Husky 600-Denier Rolling Tote is one of the simplest-looking and most-designed rolling tool bags we have reviewed. It's so simple that many may think twice before batting an eye. But hey, don't go with the looks. It has got a lot more to impress!
600-Denier Polyester Fabric
As the name suggests, this bag is crafted with the fantastic 600-denier polyester spun tuff fabric. This fabric is specially used in products that are expected to be used in a rough and tough environment.
That's what this bag is all about! You can take it and move around with it as if you don't care. It will resist dust, industry debris, mud, and water like a heavy-duty bag should.
There's nothing more to expect from such a sturdy carrier except the durability and strength it offers.
Bar-Tek Stitching
At times, top-quality fabrics can fall short in performance if not stitched with proper care. Regular, unplanned stitches can cause more harm than benefit. There lie possibilities that the fabric may tear apart, or even open up at different stress points.
That's where Bar-Tek Stitching proves its worth. With this type of sewing, as this rolling carrier boasts of, you can rest assured that the fabric is perfectly stitched and secured.
Reinforced Bottom
Very few producers are inclined towards coming up with a reinforced bottom. That's because some manufacturers believe it to be unnecessary; some try to cut the cost. But not in this case.
The Husky carrying tote comes with a carefully crafted reinforced bottom. You can find a number of metal rivets in the bottom and at the sides of the bag to ensure every stress point is secured.
Top Fabric-Handle
Apart from the telescopic handle that you can pull out and push down when necessary, you have another handle on the top of the zipped top. This one is a fabric one, and you can carry it on your back with your hand.
What's noticeable in this case is the stitches this handle comes with. This thick handle is sewed with a cross X stitching on four different parts of it. You will feel less weight and more comfortable carrying it.
Pros
The bag is made from 600-denier polyester spun tuff fabric
It has a telescopic handle for easy rolling
Strong and robust wheels for smooth gliding over grounds
It comes with a reinforced bottom
Total 18 pockets, 7 inside and 11 outside
Cons
You can't travel with this bag as it won't suit the airplane baggage holder
Verdict
For those of you who are looking for a heavy-duty yet straightforward carrying roller, you can consider owning the Husky Carrying Tote. Its ample pocket option inside the top-quality fabric bag is too excellent to ignore!
Husky GP-57101N17 Rolling Tool Tote Bag
And finally, we have the Husky GP-57101N17 on our list. Similar to the Husky 18-Inch tote, this one is also a true champ in its field. Here's how.
Water-Resistant Body
Not surprisingly, the Husky GP-57101N17 comes with a water-resistant body. The 600-Diner polyester-made build-up is going to help you a lot for working in a humid environment. Some sites may be subject to exposure to water or a watery atmosphere.
This one is a perfect choice for carrying in those situations. Besides resisting water, the fabric stands against scratches and wear, as well.
Heavy-Duty Handle
It's a good idea to carry your baggage with handles. It gets even more convenient when the handle can be well-managed by being folded down. That's how the heavy-duty telescopic handle in this bag works.
When you are loading the bag with tools, you need to distribute the weight around. That's when the rolling handle comes in handy. Just pull it out, tilt it a bit, and carry it around.
Strong Wheels for Rolling of the Tool Bag
Nothing can be more convenient for carrying bulky items other than a pair of wheels. It's super easy and very comfortable. Even the pull-out handle doesn't perform quite a bit without a pair of great-looking, sturdy wheels.
Moreover, these wheels are very responsive to different environments. Whether it's muddy ground, rocky ground, or even a wet semi-shallow poodle, the wheels can drag the bag easily through it.
Additional Accessories
With all these awesome features, this rolling tool bag comes with a dual-zipper top with pulling strings.
The pulling string can be used to carry the bag when you feel it is a bit lighter. You can just pull the bag above, holding to the strings. Plus, these carriers are stitched with a cross X stitching to ensure better strength.
Again, you can find 2 external tape measure loops and 3 plastic feet at the bottom of the bag. These accessories, along with all the features, played enough roles to place this bag on the top 7 list, pretty easily.
Pros
It is built with water-resistant polyester materials
Pull out handles and carrying string
Robust wheels to support multiple grounds
A number of pockets and hollow spaces inside the bag
Scratch, wear and tear, and dust resistant build-up
Cons
No attachment option for the zipper top to the handle
Verdict
Although the GP-57101N17 comes in no visible difference from the 600-Denier one from Husky, it still is a good choice for most beginners. It doesn't come with enough inner pockets, but the good hollow space does make it up for it.
STANLEY FatMax FMST1-80148 Rolling Tool Bag
STANLEY is a renowned manufacturer of versatile tools and accessories. FMST1-80148 FatMax wheel tool bag is no exception to that. Let's know the features of this tool's carrier.
Heavy Duty Construction
FatMax is a durable rolling tool bag to carry lots of tools inside. It is constructed from 600 denier fabric thus making the bag strong as well as water-resistant. This also prevents wear and tear. Heavy stitching and several layers of fabric extend the stability a lot. All the pockets have durable zippers to keep things safe.
Space for Versatile Tools
The bag has a large capacity to store numerous hand tools, power tools, and accessories. Both inside and outside have multiple pockets and compartments to organize small and large tools. The top opening of the bag has a wide opening for easy access to the tools. Front pockets are also wide and can be used as a workstation. In the interior of the bag, there are two removable dividers.
Easy Transportation
STANLEY trolley-style bag comes with durable wheels and a telescoping handle that make transportation very easy. While traveling, you can attach a laptop bag with a telescoping handle.
Pros
Heavy-duty tool carrying system
Wheels don't make noise
Plenty of pockets for heavy tools
Additional hand straps for emergency
Cons
Quite heavier than others
Verdict
Whether you are an electrical, or HVAC tech, or involved in any other construction work, this tool bag will be a great choice to carry lots of tools within it. And its quality is impressive.
CLC Custom Leathercraft L258 TechGear Roller Tool Bag
If you're looking for a small rolling bag for tool carrying purposes, you can consider the CLC L258 TechGear tool bag.
Lighted Handle
This toolbox has an adjustable telescoping handle to transport heavy tools easily. It also integrates a 39-lumens bright LED light that will help you illuminate the pathway and workplace. You can adjust the light brightness and 3 levels and also its angles according to your needs.
A Place for Every Tool
L258 roller bag has a roomy interior and exterior to organize verities of tools. There are 6 pockets inside of the bag and the outside has 11 pockets for power tools and hand tools. The top compartment of the bag has a magnetic zipper for automatic zip-in.
Durable Tool Bag
CLC tool tote is made sturdily so it can hold lots of loads. Wheels are also treated durably to sustain at the fully loaded condition and functional in rough terrain. The telescoping handle is also strong enough
Pros
Magnetic zipper in the main compartment
The brightness-controlled LED light with a handle
Full-opening top compartment for easy tool access
Wheels are durably made for rough terrain
Cons
Not ideal for large power tools
Verdict
The TechGear mini roller tool bag is a cool option for carrying technicians' tools. Having this convenient bag, you can organize numerous tools for your everyday job.
Buying Guide of Best Rolling Tool Bags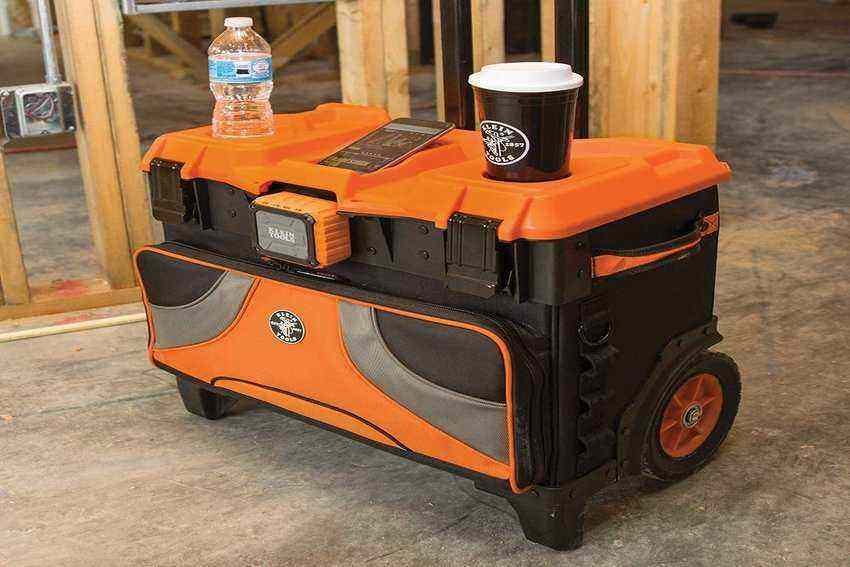 Okay, now that we are done with reviewing the top 7 rolling tool bags, you may have already decided which one you want to pick. If you are still dangling around a few choices, we have got you covered. Follow this buying guide so that you can check the necessary things on your favorite tote!
Wheel Size of Rolling Tool Bag
There is absolutely no point in using a rolling tool bag that doesn't have a couple of heavy-duty wheels on it. Let's be frank here; you can't call it a rolling bag if the bag doesn't seem to be rolling effortlessly.
Most common bags come with 2-inch wheels that are okay for regular movement, but they will limit your potential. You can't use it on rocky, or semi-muddy grounds. These types of rough grounds call for at least 4-inch wheels.
If possible, make it 6 inches to be on the safest side. You can roll on any area and ground with your bag!
Again, do your research on axles. The wheels are mounted on the axles. Look for a metal axle that connects both wheels. Avoid cheaply made plastic axles. These use individual axles on each wheel. These are hard to replace if damaged.
Build Materials for Rolling Tool Bag
This is very crucial. The entire body of the rolling tote depends on the material it has used. For most of the common models, you will find a canvas to be used as it is quite light and extremely durable.
There are other options, as well. Using ballistic polyester and nylon can be alternative choices, as well. You can also find bags that use a hard plastic shell that provides even better protection for tools like quality plumbing tool bags.
You can go for any of these materials, as none of these is less protective of your tools inside.
Storage And Compartments
It's all about storage. Why are you opting for a rolling bag instead of a waist-carrying tool bag? Storage, of course. That's why you need to pay finer attention to the capacity of the bag. Special tool bags like quality HVAC tool bags need good storage badly.
Most bags come in a size of 18 to 24 inches, which is a pretty good range of sizes. You may look for the ones that count above 20 inches. It will allow you a lot of space in it, for sure.
Besides, look for the bag that has the most compartments in it. A good number of pockets, both inside and outside, will allow you to keep as many tools as possible. Dividers and rooms inside help you to organize the tools quite professionally.
Zippers for Rolling Tool Bag
Very few buyers are concerned about the zippers when they are deciding on their best choice. Whereas, the zipper is a vital part of the entire setup. Poorly stitched zippers can come off with a bit of pressure – defeating the whole purpose of the carrier.
You need to pay proper attention to the zippers' quality and smoothness. Look for the top zipper that serves the most important purpose. See if it seems sturdy and not cheaply made.
Reinforced seams
Not all the tool carriers we have seen come with reinforced seams. If you are lucky enough to have the reinforced stitches on different parts of your bag, you are a winner. A double stitch on different pressure and stress points ensures that the points will be pretty resistant to any wear and tear.
Bottom padding support
The part of the bag that carries the total weight of the bag is the bottom one. Some producers take special care to construct the bottom of the bag. The best one should be padded support. Reinforced stitching and padded support on the bottom can make the tool tote a masterpiece.
Maximum weight capacity
It's not that you are going to carry all of your tools and gear every single day. But it's always better to be on the safer side. So, you need to look for a carrier that comes with the maximum weight-carrying capacity. Ideally, a 250-pound carrying capacity should serve the most common purposes.
Waterproofing
Besides dust, mud, debris, and rocks, what damages the carrier is water. If you are working in a humid and watery environment, it is expected that the carrier will be exposed to water. That's why you need the bag to be waterproof to save it from getting damaged earlier.
Extra Features of a Rolling Tool Bag
Apart from all these features, there's no harm in looking for some added features that can make the bag an excellent one. For example, there are some bags that come with an LED light attached to the handle. This helps a lot when you are working in a dark environment. It will illuminate the tools pretty clearly.
Another feature can be the carrying string that is found over the top zipper. You can carry the bag with it, eliminating the need for the telescopic handle.
There are also some tool bag buying guides that help you to understand the way of choosing the right tool bag.
Do You Need a Rolling Tool Bag?
When you are carrying lots of tools in your tool bag, moving from one place to another becomes a problem due to the load. That is why a rolling tool bag will help you to move comfortably. You don't have to lift the bag and carry it. Rather you take the handle and roll it with you where you go.
So, to make your job comfortable and carry zero weight, you need to have a quality rolling tool bag. Don't hesitate, just go for it and choose the best rolling tool bag that suits you and gives you optimum comfort.
Final Words on Rolling Tool Bag
So this is where it comes to an end. We hope that our in-depth reviews on the best rolling tool bag helped you to find out your match! Make sure you stick to our detailed buying guide to ensure that you are not beating around the bush. Follow these tips and cross-match with the reviews in this post. Even if you don't find the one you are looking for, you will surely end up locating the perfect match for you elsewhere. Good luck!
FAQs (Frequently Asked Questions)
What Are the Types of Rolling Tool Bags?
Generally, there are two types of rolling tool bags on the market. The bin type and the regular rolling tool bags. You will find the bin type with a hard outer cover. They have compartments to keep the tools in the rolling tool bag. These compartments are made of plastic bins that have lockable lids. You can carry lots of power tools in bin rolling tool bags.
The regular traditional type tool bag with wheels is made from nylon or polyester. These are soft compared to bin-type bags. You can carry different types and sizes of tools in these rolling tool bags.
What Are the Most Popular Brands for Rolling Tool Bags?
There are various manufacturers that produce rolling tool bags. They provide heavy-duty and durable rolling tool bags. Some popular rolling tool bag brands are- Klein, DeWalt, Milwaukee, CLC, Stark, Husky, XtremepowerUS, etc.
How Do I Maintain My Rolling Tool Bag?
Rolling tool bags are robust construction thus they need little maintenance. However, when it requires cleaning, at first shake it off to remove the accumulated dirt and grime. Then vacuum the rolling bag both inside and outside. If it needs a deep cleaning, use a damp rag and detergent to clean it well. Also, lubricant the telescoping handle and wheels.
Can A Rolling Tool Bag Hold a laptop?
Most rollers tool carrying bags have space for a laptop but it is not recommended. If there is any dedicated compartment for laptops only then carry them there. A tool backpack might be a good option for carrying your laptop.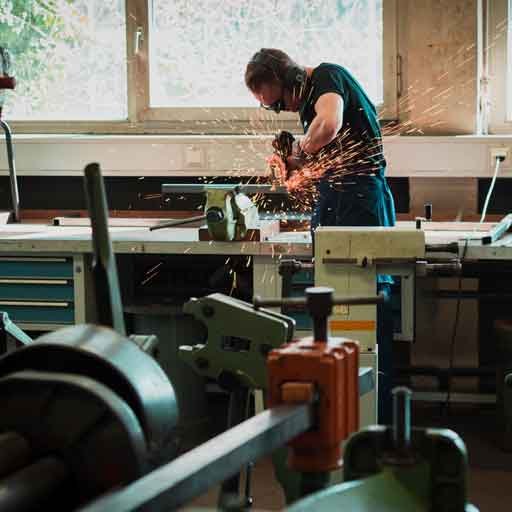 Adam is a tool geek who just loves making and breaking things. Doing the home improvements works and repairing things with his tools is his favorite past time. He loves to keep his tools arranged and sorted. On this blog, he shares his experience and knowledge.