What can be the biggest drawback of being a handyman? Carrying tons of tools with you wherever you go, should be on top! But it doesn't have to be this way if you can make a way out to organize the tools with convenience. Yes, we are talking about a tool backpack. Such tool bags make it way easier for you to take all your crucial gear with you. However, if you are planning to drag your tools with your hands, think again.
Check Today's Deals on Tools!
It's going to hurt a lot, and you can't ignore the fatigue around your arms. What you need is the best backpack tool bag. It's convenient to carry on your back, and it releases pressure from your upper body. This way, it gets pretty much comfortable carrying a lot of tools. If you, too, are into the backpack carrier, welcome to the best 7 product reviews!
Product Comparison
Table could not be displayed.
7 Best Backpack Tool Bag Reviews
While it's true that you can get perplexed by the plethora of backpacks you find in the market, don't worry. We have explored most of the market-leading carriers and picked up 7 of the top-performing ones. Follow this article till the end to find out about all!
Here is a list of Best Backpack Tool Bags
Klein Tools 55421BP-14 Tool Backpacks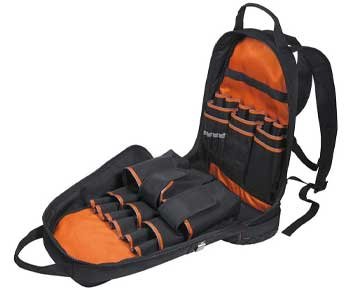 Starting off, we have the Klein 55421BP-14 on our list. Why do you ask? Well, there are tons of reasons for it to make it to the top. Here are a few of them.
Hardened Front
Imagine keeping your fragile and breakable items inside the tool bags, and the bag fell down. It hurts, right? But not anymore if you have this secured champ with you. It comes with a hardened front that protects delicate items inside the carrier.
We often need to carry our working goggles, mobile phones, and other glass-made or plastic-made items with us. It will be a great idea to put all these in the front slot of the tool bags. Well-protection, with style!
Ballistic Body
Although you are not going for a battle with the tool backpack bag behind your back, working as a handyman is no less than a war. That's why Klein decided to design this bag with 1680D ballistic polyester. It gives it the necessary durability and strength.
That's not all. While you can get protection from the outside, it does work from the inside, as well. You can put heavy tools and gear inside the tool backpacks without damaging them. The ballistic protection will keep the bag well-secured and tear-free.
Bright Inside
Not all backpacks come with an LED light. That makes it harder for you to see everything inside clearly. But sometimes, this clear vision does matter. Imagine you are working in a low-light condition, and you've got no flashlight and all.
That's why to mitigate this problem, Klein has introduced a bright-color interior to these best tool backpacks. This bright orange color interior helps a lot when you are trying to have a look inside. It reflects the light and kind of gives a sense of illumination inside.
Zippered Front-Pocket
This is actually a hack in your day-to-day work. While there are many pockets inside the tool backpacks, you don't need to open the central one up every time you need a tool. You can use the front zippered pocket for this.
It's always a better idea to keep all your regular day-to-day items handy. That's what a front pocket can help you with. Grab your tools easily without wasting your time.
Deep Pocket Features
It's not easy to keep some of the longer tools in a regular backpack. Chances are there that these tools can pierce through your carrier's skin. Of course, that's something you don't want to happen.
Plus, you may not even manage to have a place for some of the longest ones in your pack. That's why the deep pockets of the 55421BP-14 make it a best-suiting choice for carrying these types of gear.
Pros
The tool backpacks are made from heavy-duty ballistic polyester
It has a hardened front for protecting fragile tools
Best-rated backpack tool bag
A fully-molded bottom for safety and easy placement
Bright orange colored interior for better vision
Deep and tall pockets for longer tools
Cons
The plastic-made zippers can break anytime under pressure
Verdict
Although it should have featured some strong zippers, it does come with a robust build-up to compensate for it. Coupled with a brilliantly designed interior and rugged bottom, this is surely one of the best in the market.
[wpsm_button color="main" size="big" link="https://amzn.to/35CeoGi" icon="none" class="" border_radius="50px" rel="nofollow"]Check on Amazon[/wpsm_button]
Fluke FlukePack30 Tool Backpack
The FlukePack30 from Fluke is just a perfect setup for any handyman professional. It is built with high-quality material and is rugged on the bottom. Together with these features, this one beats most of its competitors on the market!
Top-quality Polyester
When you are a handyman, you can't compromise the quality of your carrier. It gets more valuable if it involves the safety and well-keeping of your tools. That's what the FlukePack30 has concentrated on.
Its high-quality polyester-made body keeps all your items inside safe and secure. No matter how rough you are moving with your backpack, forget about scratches and damage.
Molded Bottom Tool Backpack
It's not that you are going to keep the bag on your back all the time. It needs to be rested on the ground when you mind your business with the tools. Hence, a rugged and molded bottom helps a lot in keeping the bag steadily on the ground.
This is why this champ comes with such a strong and robust bottom that you can put all the pressure you want. It will stay put on the ground, nice and easy, and it can support the heavier tools you put inside the bag, as well.
Strong EVA Front Cover
The front side of a bag is more prone to accidents than the back. Usually, as a professional, we tend to keep our essentials in the front pocket. However, in case there is no protection from the pocket cover, don't expect your gear to be neat and tidy inside.
To cope up with this, FlukePack30 has a sturdy EVA front cover that provides extra protection for the fragile tools inside.
Gadget Holder
There's no point in carrying an extra pouch for your laptop or tablet when you have the best tool backpacks on your back. But not all these carriers come with a dedicated slot for such gadgets.
For all those gadget-geeks, we have the FlukePack30 that comes with a separate pocket for gadgets.
Completely Exposed Slots
Wish you could navigate easily inside the pockets. Well, try this one! This champ comes with three different slots that can be separately opened and exposed fully. This makes it easier to sneak into each compartment and get access to all the tools you need.
Pros
The body of this bag is made from heavy-duty polyester
Rugged and robust bottom for ultimate safety
Separate slot for keeping gadgets like laptops and tab
Molded front cover
Good warranty
Best featured backpack tool bag
Up to 30 different pockets and pouches with 3 fully-opening slots
Cons
It's hard to make it stand straight when you open the zippers up
Verdicts
Considering the rugged build quality and strong bottom, it should climb up your list of top choices. Plus, its functional wide-open slots make it a suitable bag for easy navigation. When all these features are packed with a reasonable price tag, it's tough to ignore them.
[wpsm_button color="main" size="big" link="https://amzn.to/2YCAXZF" icon="none" class="" border_radius="50px" rel="nofollow"]Check on Amazon[/wpsm_button]
Carhartt Legacy Standard Work Tool Backpack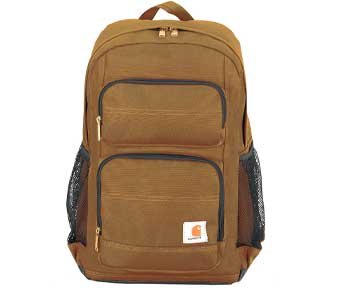 What if you could use your tool backpacks for multiple purposes? Some like using it as a great HVAC tool bag too! Imagine going out with it to your work and also packing it with your clothes when you travel! Seems interesting, right? That's the versatility you get when you own a Legacy Standard backpack.
Polyester Body
The best part of this carrier is its heavy-duty build quality. It has used 1200D polyester material inside and out which gives it a strong and robust base. This total polyester solution helps the bag to last long and absorb various outside forces that may damage it.
Abrasion-resistant Base
Its polyester base body comes with another convenience. It is absolutely scratch-resistant. You can easily move with this one carrying on your back in the roughest of places.
It helps a lot if you are working on different sites as a handyman. You need to wander around in the weirdest places where the bag surely gets a few scratches here and there. But with the Legacy Standard pack on your back, say goodbye to any marks on your favorite carrier!
Water-Resistant Tool Backpack
The first thing we get cautious about when we are drenched in the rain is the valuables we have in our backpacks. That's a common phenomenon for anybody! A water-resistant bag should be a lifesaver in this case.
Luckily enough, Carharrt has come up with a handy solution for this. The durable polyester material on this bag repels rainwater like a pro! Even if you are completely wet under the rain, or anywhere damp, all the tools inside your bag stay dry!
Zippered Exterior
There's a small but handy exterior pocket on the front side of the bag. This pocket comes with a strong zipper and can be easily opened with less effort given. You get to keep your small and tiny items in it that can be quickly accessed when you are madly busy.
Your accessories like screwdrivers, keys, pens, tester, etc. can be kept in this functional pocket.
Padded Shoulder And Back
What matters the most in the case of a backpack is comfort while carrying it. To ease it up for you, this intelligently designed carrier comes with a padded solution. The two shoulders and the backside of it are completely mesh-padded.
This makes it super comfortable for you to carry this whole pack for hours. Not to mention, you can get rid of fatigue and back pain, as well. The unique rolling tool bags are also helpful for carrying your tools without having any shoulder pain.
Pros
A versatile bag works for both working and regular use
Made from 1200D polyester materials
Best budget backpack tool bag
Exterior compartment for easy access
Meshed side pockets for carrying bottles and small tools
Padded shoulder and back
Con
No rugged bottom for a safe placement
Verdict
This versatile carrier is a good choice for those who are looking for a multipurpose bag with a warranty. It works just fine if you are planning to have an outing with your pals. Again, it lets you carry tools and other items to your work, as well. If you are into a 2-in-1 bag, check this out!
[wpsm_button color="main" size="big" link="https://amzn.to/35yGVwc" icon="none" class="" border_radius="50px" rel="nofollow"]Check on Amazon[/wpsm_button]
AmazonBasics ZH1710003R1 Tool Backpack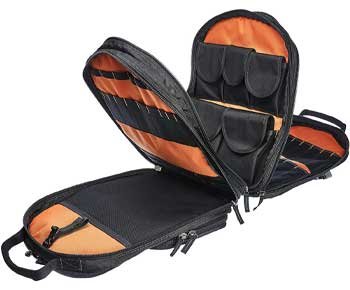 Keep all your tools neat and organized with the AmazonBasics ZH1710003R1. This black-colored cent percent polyester bag screams durability when you see it firsthand. Here're some excellent features you don't want to miss.
1680D Polyester Fabric
The durability of this bag comes from the 100% 1680D polyester fabric that it uses. Although you may argue about its weight, the heavy-duty poly material does come at that cost.
With all these slots and pockets the bag comes with, the long-lasting capacity of it had to be secured. That's what AmazonBasics did. That's not all! It uses a 600D polyester interior lining to hold onto the interior structure.
Whether you are an electrician, a handyman, or a DIYer, it doesn't matter. All your tools are perfectly secured inside this champ, for sure!
Orange Interior
This is a brilliant addition to the interior design of this bag. A bright orange-colored interior makes it very convenient to see everything inside the bag clearly. It works as a great alternative to an attached light.
It serves somewhat the same purpose, but without the extra weight and cost of an LED light. This orange layer reflects the light and brightens up the inner side of the carrier. Letting you have a clear glance at every single tool inside.
Six Zippered Slots
For tool backpacks, you can't just have enough pockets. Whether you need it or not, the more pocket, the more versatile the bag becomes. Focusing on this functionality, this pack comes with 6 different slots in it. You get all these compartments with sturdy zippers, and every single slot can be wide opened.
A total of 75 pockets, sleeves, and loops are there covering all the compartments in this heavy-duty champ. With 42 pockets inside and 8 outside, you have one pocket for every tool you have got.
Adjustable Strap
Carrying this heavy-duty bag need to be comfortable. Otherwise, it will get absolutely a matter of pressure to drag the loads on your shoulder. For that, it features two adjustable straps. On top of it, the straps are well-padded to keep your shoulder off the pressure.
Plus, you have a chest strap, as well, to keep the bag as tight and close as possible. This way, you can even run with this bag even if it is loaded with tools.
Pros
The fabric used in this bag is 100% 1680D Polyester
Two adjustable padded shoulder strap
Best-valued tool backpacks
The shoulder strap comes with a chest strap for extra security
A total of 75 different pockets and pouches
6 separate compartments for optimum storage
Cons
The front pocket gets squeezed if the back pocket is filled up
Verdict
For a traditional brand like AmazonBasics, this is one of the flagship products with a warranty. With a range of pockets and 6 different slots in-house, it's a good bet for those who need a lot of space.
[wpsm_button color="main" size="big" link="https://amzn.to/2SDwlic" icon="none" class="" border_radius="50px" rel="nofollow"]Check on Amazon[/wpsm_button]
CLC Custom Leathercraft 1134 Tool Backpack
When it comes to functional backpacks and tool items, it is hard to ignore Custom Leathercraft. The superior quality you get with their products can hardly be compared to any peer models on the market. Here are some reasons why.
Dual Zippered Slots
This carrier has two main compartments, and both are conveniently zippered. You can wide open both for easy navigation and access. Out of these two, a slot is dedicated to different tools and parts. The other one can be used to keep a cordless drill and battery.
Apart from these two full-down zippered slots, you have a total of 41 quite easy-to-reach pockets inside the backpack. The outside doesn't disappoint either. You get 7 different pouches and holders, as well.
Adjustable Exterior Pocket
What caught our eyes on the exterior side of this backpack is its adjustable pocket. This is not just a traditional pocket that you put your items in and zip up. Rather it's kind of an open-ended holder that can be resized according to your necessity.
An adjustable strap is attached to the pocket to extend the space inside the pocket to keep larger materials in it. Materials like wires, hammers, wrenches, etc. can be easily put inside them.
Padded Tool Backpack
When you are done working and packing up, the backpack is going to be on your shoulder. That's a heavy load being hanged from your back for a long time. The back and shoulder of the backpack must have some comfortable padding.
That's why the CLC 1134 has designed the backside and the shoulder straps with padded support to give you that extra comfort you deserve.
Moreover, there's a chest strap attached to the double shoulder to fasten it even more tightly. There's almost no chance of it being slipped off your body.
Carrying Handle Padded
While you are roaming around your workstation, you need to carry the traditional backpack with you. It's not a great idea to carry it on your back every single time you move from one place to another. The dual carrying handle on CLC 1134 makes this job a lot easier.
Plus, these two handles are soft-cushion padded for maximum convenience and zero fatigue on your hand.
Rubber feet
To support the backpack while you keep it on the ground, it has got rubber feet. These rugged rubber feet protect the backpack from any scratch or damage while coming into continual connection with rough surfaces.
Pros
It comes with two different dedicated compartments
An adjustable compression pocket to hold bulky items
Comfortable padded back and shoulders
Best quality backpack tool bag
A total of 48 pockets inside and outside
Strong rubber feet for support and safety of the backpack
Cons
No pockets for small and tiny tools
Verdict
Although it feels a bit itchy not to have enough pockets for smaller tools like dental picks, precision screwdrivers, etc., it doesn't mean it's not worthy it. To be specific, if the ability to hold on to heavier tools is considered, this is a great tool bag for an electrician.
[wpsm_button color="main" size="big" link="https://amzn.to/2ytM9gH" icon="none" class="" border_radius="50px" rel="nofollow"]Check on Amazon[/wpsm_button]
Rugged Tools Worksite Tool Backpack
Rugged tools didn't do any unjust to their name, especially when it comes to the strong and robust backpack they have produced. This Worksite backpack tool bag has everything to offer that can lead it to be one of the best in the market.
Polyester Body
Before going into the details of its functionality, let's move our eyes a bit over its build quality. Its 1680D Polyester materials give it the tough look and feel that you deserve. It can withstand any rough environment and can stand firm against the roughest of uses.
If you are working in diverse places where you get barely a chance to take care of your backpack, worry no more. This one fits your condition perfectly.
An Array of Pockets
You just can't run out of pockets and pouches for this handy champ. With 30 internal tool pockets, 29 organizes, 4 zippered, and 2 side pockets, it has a total of 68 holders in it.
Apart from these pouches and pockets, you get to keep tape measure clips, a utility strap, and many other useful storage options.
All this storage comes inside a slot that can be opened wide for maximum navigation. Plus, the zippers that come with this setup are reinforced and rugged, as well.
Hard Shell Bottom
At the very first glance you put on this product, you can't help but notice its true hard and molded bottom. It's square-shaped, robust support that keeps the backpack upright when you put it on a surface. This hard shell let the backpack be safe and secured in the mud, water, rocks, and many other rough surfaces.
Ergonomic Padded Support
Its two shoulder straps are perfectly padded for your back and lumbar support. You will be comfortable while wearing the backpack on your back. No matter how long you are carrying it on your back and moving around with it, you are going to feel less fatigue and pressure.
Pros
Rugged 1680D polyester build-up
A total of 68 pockets and holders inside and out
Best backpack tool bag for the money
Built-in laptop pouch for safekeeping of your gadgets
Molded hard-shell bottom for better protection
Padded shoulder straps for extra comfort
Cons
No padding on the lower back portion
Verdict
Although the outer hooks of this backpack seem to be a bit fussy, the overall build quality is going to nail it. Its rugged body and molded bottom give the entire carrier the proper security it needs—definitely, a must-have for rough users.
[wpsm_button color="main" size="big" link="https://amzn.to/3b4zdLz" icon="none" class="" border_radius="50px" rel="nofollow"]Check on Amazon[/wpsm_button]
DEWALT DGC530 Tool Bag Backpack
We wrap our reviews up with none other than the Dewalt tool backpacks. Particularly, the DGC530 backpack tool bag is a prime example of how to make the maximum of your carrier.
USB Charging
This model is hands-down, the best backpack for charging your gadgets. It has a functional USB charging port that is powered up by the Dewalt 20V MAX Lithium-Ion battery.
Connecting via a USB cable, you can recharge your laptop, phone, tablet, etc. with it. There are three compartments for storing your gadgets inside the backpack. However, you get to charge 2 devices at a time with this charger.
Vertical Tool Wall
Although this backpack comes with only one opening slot, its face-down design is pretty useful. You can wide open the slot and expose all the items inside. Plus, a vertical tool wall can ease up your work in organizing.
The wall is kind of a display board for you for all your necessary tools and items. You can put a variety of tools in it, starting from small tools to medium-sized ones.
Well Designed Pockets
This ergonomically designed backpack gives you 23 different pockets to store your items. You get 20 holders inside the backpack and 3 on the outside. These 3 pockets are pretty handy and well-placed for faster navigation.
These 'No-zipper' designed pockets are easy to open up when you have less time to waste.
Back And Shoulder Pad
The back and the shoulder of this backpack is protected with a comfortable pad. This is to make sure that you are having a comfortable journey when you carry it on your back. The soft cushioned pad will give you relief when the backpack becomes really heavy.
Pros
It comes with a built-in charging system
Best backpack tool bag for a gadget lover
An internal custom design battery dock for optimum charging experience
Three gadget holders for keeping different gadgets inside
23 different pockets for easy storage of an array of tools
Vertical tool wall for better organization of gear
Cons
It lacks a molded hard bottom for protection
Verdict
Overall, this is one of the best backpack tool bags that enable you to recharge different gadgets on the go. In addition to this excellent system, it also comes with ergonomically designed pockets and a well-secured padded back and shoulder. Although the hardened bottom is missing, its overall performance of it should be overcast it.
[wpsm_button color="main" size="big" link="https://amzn.to/35zPwis" icon="none" class="" border_radius="50px" rel="nofollow"]Check on Amazon[/wpsm_button]
Best Backpack Tool Bag Buying Guide
So far, we have gone through the top 7 products that you can't miss to know about before you make your move. Still, while choosing from these options, there are some measuring stones you need to keep in your hands. Let's find out!
Build Quality and Durability
It's completely a waste of time and money if you are investing in a tool backpack that doesn't withstand for a long time. Opting to go for cheaper products may sound like a pretty good deal for your pocket, but eventually, it won't benefit you.
For the best quality product, it has to be made from polyester or top-quality nylon thread like the quality plumbing tool bags. Apart from these robust fabrics, the backpack will be subject to wear and tear before its due date. This is something you don't want at all.
Plus, the durability that you get from this type of build-up will help the carrier to accompany you on the roughest of journeys.
Padded Shoulder And Back
Distributing the weight of the backpack is much more crucial than you think it is. When you are packed with the backpack and rest it on your shoulder, you can feel the pressure it puts on your entire body. Mitigating this pressure is the prime concern you should have when you are using such a carrier. Besides, there are several advantages of using a backpack tool bag for the human body.
An easy way out of this problem is padding the pressure points of the backpack. Simply put, the bag's shoulder straps need to be padded so that the weight of the pack gets distributed among a wide area of your upper body.
Similarly, the back of the backpack sticks to your back all the time you carry it. Good padding on it should make it go easy on you. Otherwise, the pocking you get from the hard tools inside can be quite irritating and annoying.
Pocket Organization
Tool backpacks are primarily designed to hold as many tools as possible. This privilege calls for a number of dedicated holders and slots inside tool backpacks. It won't seem a pretty big deal at first, but over time, it will be a big catch if you can't locate your tools as fast as you want. Serious professional work like carpentry demands quality tool bags for you.
Most of the backpacks we have reviewed here in this article, do have the provision for dedicated slots and pockets. So if you are trying to find the best one for you, make sure you check if there is enough room for different gear inside and out.
Rugged Base
A well-organized tool backpack has an array of holders and hangers inside the backpack. This is because you need to keep all your tools in a specific position and place. That helps you to avoid the confusion of what was kept where! That's why setting up a tool bag is important for you.
That's why, if you are using the backpack as a regular one and putting it face down or falling back, you are doing it wrong. It enhances the chance of the tools spilling out of the backpack and making a total mess out of nowhere.
For this to avoid, you need a strong and rugged molded base on the backpack. It will help you in three different ways. First, you can put the backpack in an upright position. This way, say goodbye to the tool spill. Secondly, it will save the bottom of the backpack from the pinch of sharp tools from within the backpack.
Thirdly, you can easily put the backpack on any given surface, no matter how rough it is.
Number Of Compartment
It's going to be always helpful if you can manage a couple of compartments in the backpack. The more the compartment inside, the more tool you get to feed it. Most backpacks come with a main compartment count of 2 to 6.
You need to analyze your needs and how many slots you need, at least. On this basis, you should decide which type of backpack you want to go for.
Opening and Closing Mechanisms
It is a bitter truth that even some of the poshest backpacks come with a very poor opening-closing mechanism. If you can't wide open the slots of the backpack, chances are there that you will be puzzled when you dig deep inside.
Couple that with the poor-quality zippers, and the situation gets worse. So before you fall for a tool backpack, make sure it has a number of robust zippers that are not going to give in in the middle of the race.
Plus, do look for a comfortable opening and closing option. If you can find a backpack with a tough quality zipper system and a great opening-closing option, you are in good luck!
Size of the Best Tool Backpacks
Well, the size requirement of the backpack entirely depends on your usage and requirements. What are you trying to do with the backpack naturally indicates the size you need. Most backpacks come at size 15 inches long and around 12 inches thick.
These backpacks fit most of the handymen's requirements. But if you need a bit more, there is room for this, as well. You can go for a bigger backpack or even a smaller one if it fits your purposes.
Weight of Backpack
Naturally, a backpack will gain weight when you stock it with a number of heavy tools. But if the backpack itself is a bit heavy, it is going to be a nightmare for you to carry it on your back. So do try to get an idea of the weight of the empty backpack.
Does it feel heavy? If yes, then consider another option. If the answer is no, you can easily move on.
Comfort
There's nothing much to discuss about the comfort issue. This is a backpack that will be your companion for a long time, if possible. You will be carrying it in your backpack, putting it aside, and opening it up for the needed tools. You will spend a great deal of time with it.
So if it is not that comfortable to carry on either on your shoulders or back, it is not going to be the best one for you. As we have discussed earlier, you should consider a padded shoulder and backpack. This will increase the level of comfort you get from the pack.
On the other hand, lightweight and ergonomic design do also play a key role in setting the comfort level. One comfortable tool backpack is a homemade canvas tool bag.
Budget
Last but not least, you need to consider your budget. There is always a choice for every level of budget. If you are looking for an entry-level backpack, a low budget may help you make your move.
On the other hand, backpacks that come with a lot of pockets, slots, and better durability – mid and top-range budget is definitely a prerequisite in this case. The more you spend, the more features you get.
So set your requirement and budget accordingly.
Final Words
Choosing the best backpack tool bag doesn't have to be a desperate mission. If you have gone through all the products we have reviewed here, you may already know why. Robust build quality, a good amount of space, and comfortable support are all that takes to be the best one out there.
You can easily choose one from our top 7 list. If you are not so sure about which one to grab, find our buying guide as your guiding star. It will aid you to land on the right page you deserve.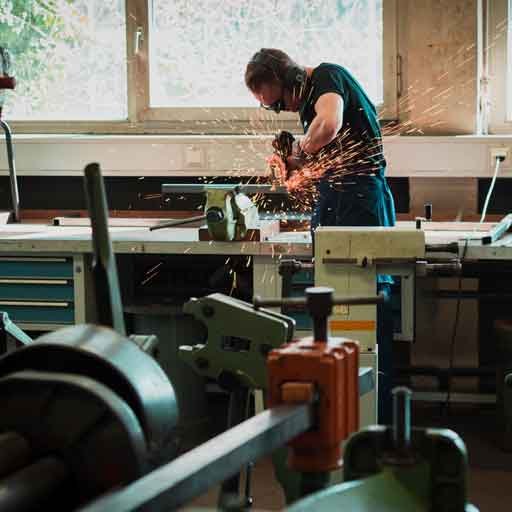 Adam is a tool geek who just loves making and breaking things. Doing the home improvements works and repairing things with his tools is his favorite past time. He loves to keep his tools arranged and sorted. On this blog, he shares his experience and knowledge.