Last Updated on November 7, 2022
Just like any other tradesman – the carpenter relies heavily on his tools. That's why the best carpenter tool bag is never a bad product to have. With a well-made and easy-to-organize tool bag, even the most amateur carpenters can save a lot of time and effort.
While typical bags are often bulky, uncomfortable, or just not tidy enough – a carpenter tool bag makes it all cozier, lighter, and easier to use. So a carpenter bag is a product you shouldn't overlook, no matter your carpentry level or skills.
Here, we're going to show you some of the different carpenter tool bags you may find out there. You're going to learn everything about them and possibly some more. If you're looking for one of these, then be wise and keep reading!
Product Comparison
Table could not be displayed.
7 Best Carpenter Tool Bag Reviews
We had to pick only the best among the best. So we had to take a deep dive into the most popular and well-reviewed models out there. Luckily, we chose 7 of the best tool bags and analyzed them in their entirety. Here's what we found about them:
01. CLC Custom LeatherCraft 1134 Carpenter's Tool Bag
If we had to pick the best tool bag for carpenters among all these 7 models – we wouldn't hesitate to choose the Custom LeatherCraft 1134 Carpenter's Tool Bag.
Anyone who needs a convenient and easy way to bring their tools around will find this bag an excellent choice. With its spacious, comfy, and practical design – any tradesman can enjoy its benefits.
Top Comfort
Everyone loves a comfy piece of gear – especially when it comes to such high-quality padding as the shoulder straps on this model.
Not only that, but you also get excellent back support that prevents common discomfort when wearing the bag. So it doesn't matter how much time or how much weight it's carrying – this bag will not feel uncomfortable at all.
Awesomely Spacious Bag
Want to store all your tools conveniently? Then use the 48 pockets inside and out to organize it as necessary.
Along with a huge design that can host tons of tools at the same time, you won't be disappointed in the level of convenience it offers.
Protective and Safe
Every pocket adjusts to your tools, so nothing jumps around inside while you move. Apart from that, the fabric material is sufficiently thick, so even the harshest of uses keeps your tools safe inside.
To make it even better, you can expect the fabric to never let a single drop of moisture inside. Even in the moistest of environments, you can use this bag without damaging your tools.
Durable and Reliable
We all love durable products – and a tool bag needs to be exceptionally resilient. That's why the CLC 1134 is such an excellent model to have because it leaves no space for fragility.
And this is not just about the tear-resistant fabric, but about its stitching, zippers, and weight capacity. You can use this bag for years without worrying about a single thing.
Pros
Protects your tools at all times
Offers tons of space for small and large tools
Quality material ensures a long-lasting piece
Highly comfortable straps and support
Best-rated carpenter tool bag
Up to 48 pockets for extra accessibility
Excellent stitching and zipper quality
Cons
Buckles are not as durable as expected
Verdict
The Custom LeatherCraft 1134 is simply the best tool bag you can get for the cost. Without taking it too far, it is still durable, easy to organize, comfortable, and protective of your tools. If you want a complete experience that doesn't leave a single thing out – this is the backpack tool bag to go for.
02. CLC Custom Leathercraft L255 Tech Gear Lighted Tool Backpack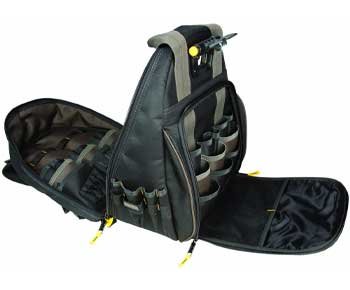 If we had to describe the Custom Leathercraft L255 in a few words, we could say it is the most convenient tool bag in the list.
You get everything a tool bag for a carpenter needs. But on top of that, you get an excellent set of features for an extra touch of practicality.
Practical and Spacious
The first thing you'll notice is how easy it is to access your tools. With a dual compartment, even the smallest of tools or the largest ones will fit inside.
This matches well with the 53-roomy pockets everywhere around. It doesn't matter if you want to store pens and screwdrivers or hammers and pliers – you can store it all easily in this bag.
Safeguard Tools
Don't let harsh movements and unwanted situations damage your tools. Using this tool bag will help you keep everything in place with its tight loops, hooks, and pockets. And with the extra straps for cordless machines – it becomes a go-to choice for experienced carpenters.
Truly Resilient
The build of the tool bag also stands out. You can enjoy its sturdiness, allowing you to use the bag almost anywhere without a single issue.
To make it even better, you can enjoy pad feet with heavy-duty plastic construction, adding a touch of resilient and waterproof capacity.
Ultra-Handy Light
Do you usually work in dark places? Then the 39-lumen light will come like a charm. With 3 different levels of brightness, you can enjoy the built-in light on the tool bag to light up your work at any time.
This is something you don't get with other models. So make sure to consider it as a highly critical feature to have.
Pros
Secure and reliable pocket system
Durable construction all around
Practical 39-lumen built-in light
Best featured carpenter toolbag
Spacious design for secure storage
A convenient set of 53 pockets
Tear-resistant stitching quality
Cons
Verdict
Every single pocket, loop, strap, and zipper on this tool bag is designed to make your tool-transporting experience better. And when you add its light feature, it is merely the most practical. For anyone in search of excellent results, this one is a no-brainer.
03. CLC Custom Leathercraft 1579 Soft-Sided Tool Bag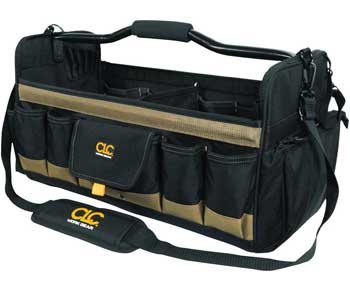 Are you often working with large and bulky tools that don't fit in tool bags? Then you need to use the Custom Leathercraft 1579. It is the best carpentry tool bag for those who need extra space and accessibility.
And if you are on a low budget, then you'll appreciate even more how exceptionally made it is. If you care about quality and convenience – this one should be a go-to choice.
Highly Practical
The first thing you'll notice about this huge and easy-to-access bag is how practical it is. With a wide-open mouth with no zipper, you can reach inside without any friction.
This goes well with the adjustable divider. You can organize it however you prefer so you can place your tools exactly where you need them.
Tons of Pockets
It doesn't matter what you want to store on the bag; it makes it possible with 12 exterior pockets, 15 interior ones, and 6 web sleeves for extra storage capacity.
Be it small or large hand tools; you can store them all in this tool bag. And they will always be safe and at hand reach.
Sturdy Build
The fabric material plus the sturdy handles and straps allow excellent durability. Wherever you take the bag and however you use it – you can expect it to last a long time.
Its molded foam grip for secure handling plus the polyester fabric and reinforced stitching all around – it ensures maximum durability.
Super Comfortable
No one wants to carry a bag with harsh straps that scratch their shoulder. That's why the highly-padded straps and the molded foam grip on the handle make it such a comfy bag to bring around.
You won't have any problem filling the bag to its max and still bring it anywhere you go without problems. Even for such a big size, it still manages to be a piece of cake to transport.
Pros
Tough polyester construction
An easy-to-access and handy design
Extra-comfortable padded straps
Best budget carpenter tool bag
A great number of pockets for convenience
The huge design fits tons of tools
Effortless operation with carrying handle
Cons
Won't protect your tools as expected
Verdict
A super-durable construction alongside a well-organized design and an easy-to-transport build ensures a pleasant experience. And if you consider how easy it is to use and access tools while working despite its low price tag – then you'll love it.
04. DEWALT DG5433 Carpenter Best Tool Kit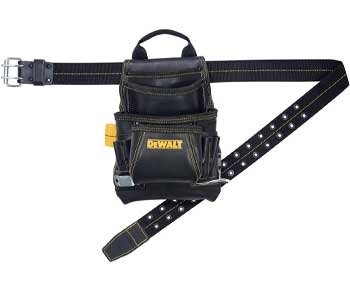 When it comes to carpentry tools and tradesmen gear, few brands offer the quality Dewalt is known for. And that's something to consider when going through the DG5433 Carpenter Tool Bag.
You get a touch of every desirable feature on this bag – going from comfort to secure access to even a highly reliable construction. And it all comes in a highly portable compact design.
Extra-Small and Portable
Want a tool bag you can literally bring anywhere you go? Then this one is your best bet. With a compact design like this one, you won't have a single issue traveling around for hours wearing it.
It all comes down to a patented pouch handle and a chest strap that make it straightforward to put on and bring around.
Quality Leather Build
Using top-grain leather for its construction, this excellent tool bag boasts one of the sturdiest and most stylish builds like the top-notch HVAC tool bags.
The leather has a deep black color with yellow stitching. You don't only get a bag made to last, but also one made to stand out.
Top-Notch Comfort
Combining its small design, easy-to-reach pockets, and light build – you can also expect it to be one of the most comfortable in the list.
You get a 2-inches wide-web belt that you can adjust however you prefer to your body. With a double-tongue roller buckle, adjusting it to your body will take little to no effort.
Amazing Pocket System
You get 5 main pockets to store everything from pliers to large screwdrivers, yet you also get 7 small pockets for tiny tools as well. And to make it better, you can enjoy a hammer holder loop made of steel, a swing-in hammer holder, and a tape measure clip.
There's even a pry-bar holder on this super-tiny tool bag. That's how convenient it is.
Pros
Superb leather build for durability
Comfortable wide waist strap
Totally adjustable for extra comfort
Small and convenient design
Best quality carpenter tool bag
Superb portability
Practical pockets for the size
Cons
Not the most durable belt
Verdict
While not everyone will like such a small design for their tools, it is still an excellent choice for those who don't need much space. If you're more of a handy electrician who can fare with only a few tools, then you'll find this as a perfect tool bag for electrical works.
05. CLC Custom Leathercraft 179354 Best Carpentry Nail and Tool Canvas Bag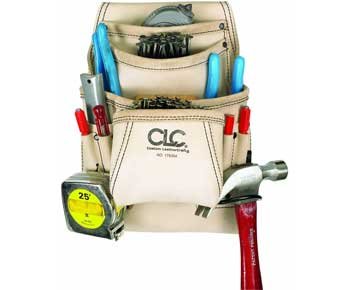 Having no zippers or other forms of closure, the Custom Leathercraft 179354 is a quality tool bag for the user who expects convenience over all else.
With a tiny design and a practical array of pockets, it makes even the toughest of carpenters' jobs a piece of cake.
Superb Pocket System
One of the most important features of this tool bag is how well-positioned and conveniently designed the pockets are. You get a total of 10, with 6 small pockets for nails and pencils, 2 upper pockets for small tools, and 2 main pockets for your pliers and larger carpenter's tools.
The real advantage comes from the zipper-less and closure-less design. No need to open and close consistently. Just place in and take off when needed, especially with the hammer loop and the measure tape clip.
Quality Leather Build
Entirely made of reversed top-grain leather, the Custom Leathercraft 179354 will last more than you expect. Even with the harshest of uses, you can expect it to last a long time.
It is resistant to wear, tear, and rips. You can use it however you want and still expect it to not break away like other fragile materials.
Comfy Design
Despite not coming with padding like other bags on the list, you still get a decently comfortable product overall.
It attaches directly to your work belt or any type of anchor on your waist. This prevents any unwanted effect or discomfort that other more intrusive tool bags produce.
Good-Looking Design
Boasting a beautiful white-leather surface that looks sort of creamy, it has one of the most enticing aspects in the market.
As a carpenter, you don't care much about looks. But being as attractive as this tool bag is, makes it pleasant to wear.
Pros
Amazingly attractive design
Ultra-comfy all around
Small yet practical
Best carpentry tool bag for the money
Quality leather build for durability
Handy pockets for easy use
Exceptional portability
Cons
Doesn't come with a belt or strap
Verdict
From the right number of pockets, and quality leather builds, to the strap-less design for extra comfort and customization – this is a tool bag you won't regret buying. Even though it is not as convenient as others, you can expect it to be a total pleasure to use.
06. CLC Custom LeatherCraft 1539 Multi-Compartment Tool Bag Reviews
Not every tool bag needs to be a tool bag or a shoulder pouch. Instead, you can get a multi-compartment model with tons of pockets to carry by hand.
Yes, you read it right – this is a suitcase-like bag for those who want extra space and convenience. No need to put it on to bring around, just grab it by the handles and move it. If you like that kind of bag, the CLC 1539 bag will come like a charm.
Maximum Organization
Boasting 50 pockets in total, you can expect this bag to make your life as a carpenter better. It doesn't matter how many tools you need to bring around, or what type – they all fit inside this bag.
You will get a large compartment for big power tools, several small pockets inside, a tape-measure clip, a large carabiner, several vertical pockets, some of them in the exterior, and more. If you love an organized bag, this one is your best bet.
Super Reliable Build
One of the significant advantages of this bag is its rugged construction with polyester fabric. Combining a poly-ballistic trim and binding with a polyester body, as well as double-zippered closures plus top-notch stitching – this bag is made to last.
Completely Protective
Want your tools to be always safe? Then you'll go for a decently padded and well-closed design like this one.
The bag is even spill-proof, preventing any tool from falling out no matter how you're using the bag. And sure enough, it won't tear or rip like other models – keeping your tools safe for years.
Comfortable and Convenient
If there's something you can't dismiss about this tool bag is the comfort level it offers. You get a padded shoulder strap, a textured fabric, and an ergonomic grip on the handles. Together, they ensure maximum comfort while using.
This matches well with the adjustable and padded shoulder strap so you can bring it around, not from the handles but from your shoulders. If you love convenient and comfort bags, this one won't disappoint you.
Pros
Highly protective of your tools
Resilient and long-lasting fabric
Gigantic design holds tons of tools
Comfortable to handle and carry
Easy-to-organize interior system
Reliable zippers and stitching
Cons
Gets super heavy when loaded
Verdict
A high level of convenience with an excellent build that lasts years – the CLC 1539 will probably surpass all your expectations. Because of its unique design, you can get things done that other bags can't. And that's something you don't want to overlook.
07. DeWalt DG5333 Carpenter's Suede Nail and Tool Belt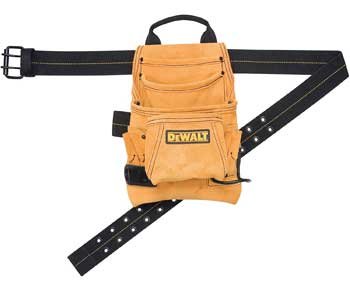 In combination with CLC CustomLeathercraft, DeWalt made the DG5333. This is a suede tool bag for handy carpenters that don't need much space but something easy-to-use and highly portable.
You could say this tool bag is a combination of a pouch and a belt – offering the convenience of both and a highly comfortable design. For anyone who prefers something small and practical, this one will fit like a gem.
Enough Pockets
You won't get an absurd number of pockets like tool bags, and multi-compartment bags offer. But it still provides enough so you can get your job done with ease.
With 10 total pockets, 4 main ones for large tools, and 6 small ones for small items and hardware, you can use it comfortably and smoothly at all times. You get a web loop for a pry bar and a pocket for extra handiness.
Comfy and Practical
This is not like other tool bags that go on your shoulder or across your chest. Instead, it goes like a belt on your waist. Sure enough, this doesn't feel as intrusive when working, and it adds up to how fast you can reach tools.
At the same time, you can adjust it however you prefer for extra comfort and convenience.
Quality Leather Build
Suede leather is one of the few materials that let you enjoy a durable build but also a soft exterior. And if that wasn't enough, you still get a good-looking appearance – adding up to an already excellent product.
Because it is leather, it is more tear and wear-resistant too. You can wear them for years, and they will work with no issues.
Small Design
Want to store the pouch anywhere you want with ease? Don't want to carry a large and bulky piece everywhere you go? Tired of wearing shoulder and chest straps, or carrying the bag with your hands?
For any of those questions, the answer is this compact and handy pouch just like a great rolling tool bag. It will make tool storage a lot more convenient.
Pros
A Super-compact and handy design
High-quality leather construction
Comfortable design overall
Decent pocket system for the size
The good-looking suede leather surface
The highly adjustable belt system
Cons
Verdict
Setting the quality a little higher in construction while adding a touch of comfort and practicality – the Dewalt DG5333 comes as one of the best models in the list. Despite its small size, you'll find no other tool bag like this.
What Makes a Good Carpenter Tool Bag?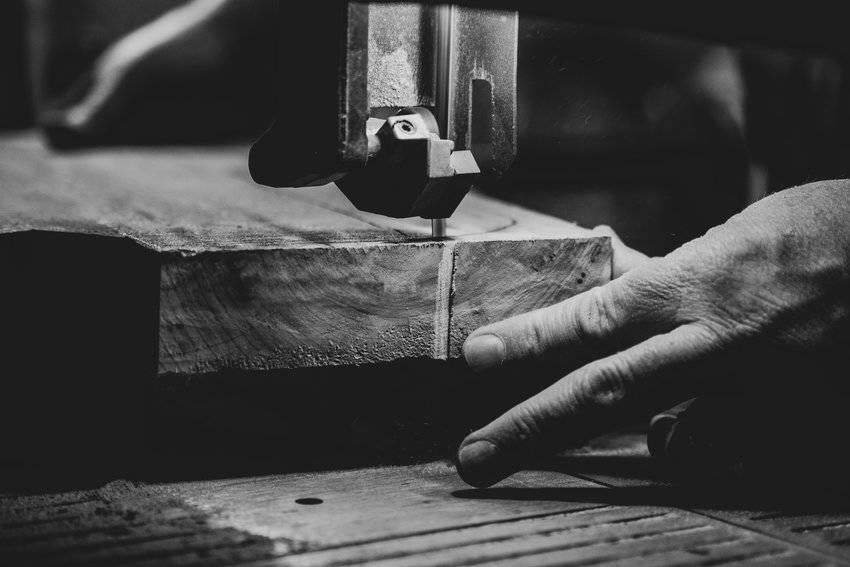 Best carpenter tool bags are not like any product you can just pick and enjoy. You must get something that truly matches your demands. Otherwise, you may regret it.
Here's an array of factors we recommend you take into account before buying one of these:
Pockets and Organization
The first thing you'll have to think about will be the number of pockets, the organization, and how convenient they are.
For example, we recommend no less than 10 pockets for a tool bag – no matter the size. A sufficient number of pockets lets you store small and large tools as needed, and sometimes hardware like nails and screws too. As a carpenter, you need to have enough pockets but also a wide variety of them.
At the same time, you want the pockets to be easy to access for any tool. That's why we always go for models with open pockets that don't hide your tools too much. While this may reduce protection a little, it makes the whole handling of the tools a lot easier.
Similarly, you want the pockets of the tool bag to be well-organized. You need the tools to be conveniently located so you can reach them quickly. For that, you may need a tool bag with only a few zippers. Still, you don't want a total lack of closures either – but only a few are enough.
Overall, just make sure it comes with enough pockets for your needs (of different sizes as desired.) It must also boast a convenient design so you can reach tools easily. And for better results, they should be well-located for even more convenient use.
Durability and Resistance
Every tool bag should be durable enough to last between 1 to 5 years at least. That's why considering the materials and the construction of the piece is so important.
As for the materials, you can find leather, polyester, nylon, and canvas. Each one offers a different experience. For example, leather is super tear-resistant and wears off super slowly. However, it is not a waterproof material. Polyester and nylon are more waterproof, yet not as durable or wear-resistant.
At the same time, you want the material not only to be resilient but also to be well-stitched. So make sure you get a quality stitching system, so the tool bag stays together even after several years of use just like a good plumbing tool bag.
In short, make sure the tool bag comes with a material that handles the weight of time and your level of intensity. If you're working every day with the tool bag – then you'll want something extra resilient. Pick accordingly.
Belt Fit and Comfort
It doesn't matter what type of tool bag you have – it is critical to get something comfortable enough for your needs.
We usually recommend those with padded shoulder straps and ergonomic handles. The more comfortable the tool bag is to carry, the better you'll feel when using it.
But it is not only about the padding, though. The material also makes a huge difference. You won't get the same feeling using a polyester strap as a leather strap, for example.
On top of that, you want the tool bag to be adjustable. The straps may be a little too long or short for you. In that case, you'll have to adjust it accordingly, so it fits your body size as needed.
Lastly, you should go for tool bags with support for your body. Some tool bag models offer back support, so the tools don't harm your body. Others come with uniquely ergonomic shapes that prevent usual pressure points.
If you want to be ultimately pleased with your choice, you'll have to choose a comfortable tool bag. You can explore by having a nice canvas tool bag for a change.
Weight and Inch Size of Tool Belt & Bags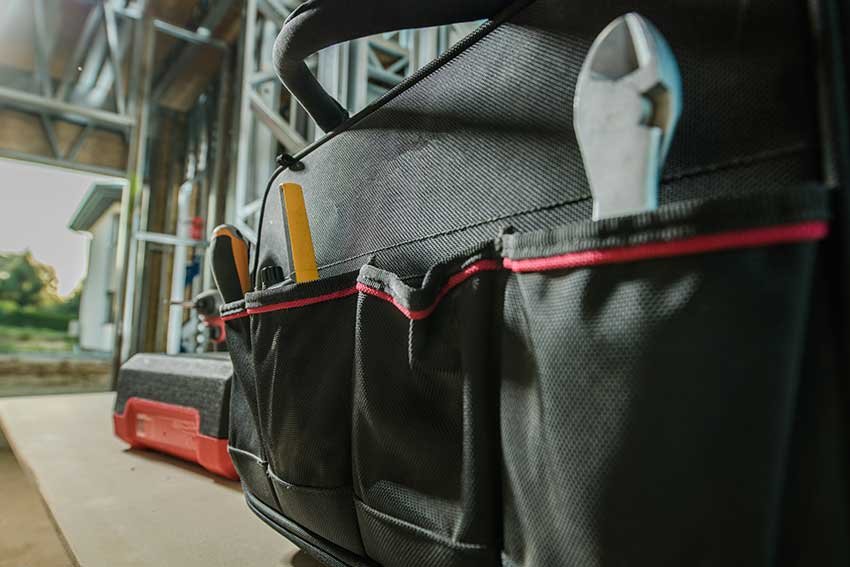 The last thing you should think about before making a final choice would be the total weight of the bag and the size.
While most of these bags tend to be light enough so you can handle them with ease, you may find some that are extra heavy. And when you store tools inside them, then they get even heavier, which results in uncomfortable and problematic use.
Similarly, bulky and overly long or wide bags can affect comfort but also storage. You want something large enough to hold your carpentry tools – but you don't want a bag that's eventually too big to fit in your closet.
At the same time, a bag that's too light or too small can be a problem as well. So be careful.
If you want the best experience with a tool bag, make sure it offers the right weight and size for your needs.
Frequently Asked Questions
It's common that before picking a tool bag for your carpentry, tons of doubts start arising. That's why we want to answer some of the most frequent ones. Here's a list of questions with their respective answers:
1.     Are carpenter bags necessary?
Yes, they make the whole experience a lot more convenient and easy to do. A standard tool bag or not having one at all makes the process more time-consuming and annoying. In contrast, a carpenter tool bag saves time, and effort, and usually lasts longer on the job. So, yes – they're necessary. And you should have one if you want to update your professional status.
2.     How many years does a carpentry bag last?
They can last anywhere from 1 to 10 years in some cases. That's why we recommend going for the most durable and resilient product possible, so you get at least several years of use before it wears off.
3.     What are the most durable carpenter tool bags?
For durability, we recommend leather tool bags. But for resilience, nylon and polyester are better. If you're more of an interior carpenter – then you'll love leather models. But if you work mainly outdoors or in moist places, then nylon and polyester will come as your best choice.
4.     Who needs a carpenter tool bag?
Any carpenter and tradesman can enjoy these tool bags. The way they make tool storage easy and promote a more accessible tool-handling process is unmatched by any other product.
5.     How to maintain a carpenter tool bag?
First, start by emptying all the pockets after using it. Second, clean the bag at least once a week (if you use it every day). Third, store the bag in a dry place. Fourth, don't let the bag hanging anywhere if it has tools inside. And fifth, fix tears and rips before using the bag to prevent further damage.
Final Words
Choosing the best carpenter tool bag will take some time and effort, but with the right guidance, you're set to pick the perfect model.
So don't waste any of your time or energy trying to get the ideal model alone. Use this article as a guide, and you'll have an excellent buying experience.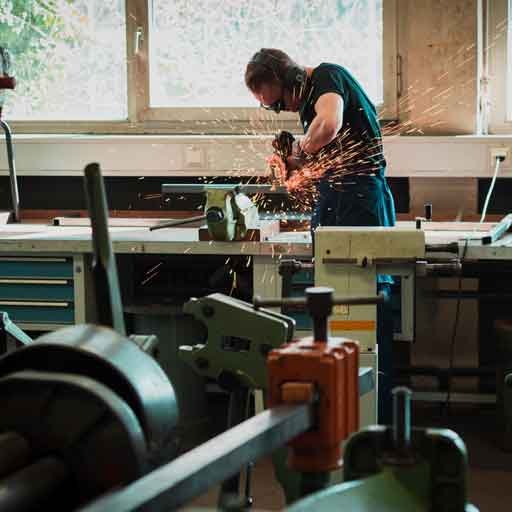 Adam is a tool geek who just loves making and breaking things. Doing the home improvements works and repairing things with his tools is his favorite past time. He loves to keep his tools arranged and sorted. On this blog, he shares his experience and knowledge.