Last Updated on August 19, 2020 by Adam
A plumber's job is like a superhero in action. No matter where you are, the moment somebody needs urgent repair in his water line, the first person that comes to his/her mind is a plumber.
In order to respond quickly and rush to save the day, you need a toolbag to carry your weapons, aka plumbing tool. Getting the best tool bag for plumbers is the first step for you to play the superhero role!
Today, we have decided to gather up the top 7 plumber's tool bag that you can get. So without further ado, let's hop in!
Product Comparison
Preview
Best Pick
Budget Choice
Building Material
Ballistic Polyester and poly-fabric
1800 PVC impregnated Denier Nylon
Bottom Type
Bulled Proof 3 mm polypropylene
Table of Contents
7 Best Tool Bag For Plumbers with Detail Buying Guide
As the market is flooded with numerous toolbags, it's obvious that you can get confused about which one to go for. That's why we have made a list for you to save your time and energy. Here are the top 7 bags that a plumber can easily get today!
CLC Custom LeatherCraft 1539 
It's not just the thing of everybody's league to carry a bag on the back. That's why owning the CLC 1539 can prove to be a great option for most of them. The features it comes with can easily impress any plumber!
Huge Capacity
If you can count enough, you can find 50 different pockets in this bag. Quite functionally, most of these pouches are found around the outside of the bag. Apart from this, you get a huge hollow space in the middle of the bag.
It's the main compartment for the bag, as you can tell. The huge space you have can be used for different purposes. Not only the tools that you use, this one can home an array of items inside.
If you have ropes and other helping tools with you, you can keep that inside, as well. It's a truly multipurpose organizer, we must admit.
Heavy-Duty Zippers
Zippers are the only protector you have when you are trying to zip up your tools inside the bag. That's why, if you don't have the sturdiest of zippers, the security issue is always there. To save you from this, CLC 1539 comes with heavy-duty zippers.
These rugged and robust zippers are sure to last long. The tough and durable zippers make sure that nothing gets spilled out of the bag when you are carrying it.
Strong Padded Bottom
If you are carrying this bag with you in different places, you can't keep it on your shoulder for a long time. Plus, when you are busy with your work, you will have to place it on the ground.
That's why, to save the bottom from scratches and damages, the bag has four padded feet on the bottom. These pads keep the bag firm and upright when you are keeping it on the ground. Plus, the bag stays safe from any unwanted scratch.
Soft Shoulder Strap
This multifunctional bag comes with a little bit of issue. You can't carry it on both of your shoulders. So, you can tell that one of your shoulders will be in tough pressure to carry it on.
But don't worry, 1539 comes with a functional solution. The strap has a comfortable pad on it so that you don't feel much of the pressure when you carry it. On the other hand, the strap is adjustable to your shoulder-size.
Pros
Built from ballistic Polyester and poly-fabric
A durable and robust pad on the bottom of the bag
An array of pockets and organizers
Best plumbing tool bag
Shoulder strap comes with comfortable padding
Strong and robust double-pull zippers
Cons
When opening the middle slot, the shoulder strap gets on the way
Verdict
Considering the surprising 50 different pockets, it comes with, this one is one of the best organizers we have seen. Consider that with its padded feet and strap, it surely makes its way to the top.
back to menu ↑
Veto Pro Pac TECH-LC Tool Bag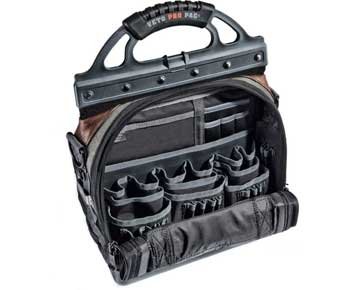 Although Veto was planning to make a toolbag, especially for the HVAC professionals, this one here can be used by any technicians, including plumbers. The Tech-LC is truly a synonym to durability and functionality.
Big Storage Rooms
Keeping the middle space in mind, this is a bag that you can't just have enough spaces. Counting 50 pouches inside and 3 outside, the bag has a total of 53 pockets to keep all your necessary tools.
This includes 6 different pockets that are fully zipped. 4 outside and 2 inside pockets are completely zippered to keep your tools in maximum protection and safety. Again, there are a couple of neoprene pockets, as well.
Rugged Built-quality
When it comes to the building material of this bag, you can't get more surprised. The bag is made from 100% denier nylon. That doesn't tell how much rugged it is. This one is 1800 PVC impregnated Denier Nylon.
Well, now we are talking! It's totally durable against water and can keep strong against any type of heavy blow. So, if you are carrying this bag in damp weather, don't get worried about it being wet. Not a single drop of water can get inside through this nylon body.
Super Strong Bottom
The bottom of this bag is what blew our minds away. First, you get a 3 mm thick polypropylene base, right there. The toughness of it is echoing from every micrometer of it.
On top of that, this one is literally bulletproof. It can absorb heavy blows from even bullets and can still come out as a winner. You can't expect anything to be more rugged than this on the bottom of your toolbag, can you?
Sturdy Handle
From the bag's opening side to the top of the handle, you can see why this bag is known for its strength. For a bag that comes with a strong body and rugged bottom, a simple handle would have done its part. But Veto chose to go for one more blow!
The handle is made from injection-molded nylon plastic. That, too, with a rubber grip on it for the firm grip you deserve.
Heavy-Duty Zippers
The zippers in the bag are not just any other zipper you find on the market. These are actually plastic coil zippers. Even if you put heavy pressure on these while you are opening and closing, these won't get broken or jammed.
Pros
It comes with huge storage of around 53 pockets
Made from 1800 PVC impregnated Denier Nylon
Bulletproof a 3 mm thick polypropylene base
Best plumbing tool backpack
Injection-molded nylon plastic-made strong handle
It comes with a stainless steel tape clip on the outside
Cons
It comes with a lot of small pockets that are useless
Verdict
For a toolbag to be used by a plumber, this one is one of the strongest. You can hardly find a toolbag that you can toss around easily without being worried about its damage. Although some of the smaller pockets may remain unused, still the overall functionality is worth every penny.
back to menu ↑
DEWALT DG5543
When it comes to toolbag, it's almost impossible to ignore Dewalt. They have been producing top-quality toolbags for decades. The DG5543 is just another brick on their hall of fame wall.
Easy Access
Don't forget; this is a 16-inch large toolbag. Interestingly, there's only one slot to be opened. That's why when you open the main pocket, you get a large interior opened up in front of you.
Having no other slot can come in handy for you. You can easily staff anything you want. No matter what size is your tool, you get to place it inside the bag and zip it up quite comfortably.
Its inner slot has 13 different pockets for organizing your tools and other equipment. There's a zippered pocket, as well. This can be helpful in keeping fragile items inside.
On the outer side, you have 20 different pouches. This includes a Velcro-flapped pocket, as well.
Top-Quality Build-Up
As you will be carrying a number of pointed and sharp tools inside the bag, you need to be extra careful in selecting the bag. It must be strong and sturdy enough to keep all the tools safe and sound inside, that too, by keeping the exterior wall of the bag untorn.
This is exactly what Dewalt thought of while stitching the exterior and interior of the bag. They have used a heavy-duty poly fabric material to build the entire body of this one. It makes sure that the tools are not going to pierce through the walls. Again, all the tools inside are also safe from exterior blows of water or any physical harm.
Adjustable Padded Strap
The carrying strap is crucial for you if you are carrying the bag for a long walk. Being a single-strap design, you need to carry the bag on one of your shoulders. In case the strap is a regular one, it surely would put a lot of pain on the shoulder.
But the Dewalt DG5543 has used padded covering on the shoulder strap. This makes sure that you don't feel any fatigue or pressure on your shoulder when you are carrying the whole weight of the bag.  
Moreover, the strap can be adjusted according to different size demands.
Reinforced Rugged Bottom
To make this one a perfect choice for anyone, Dewalt went for the bottom to be stronger and more robust. This bag has a rugged bottom that comes with a number of base pads. These pads allow the bag to be placed on any surface without being subject to any wear and tear.
Plus, the bottom makes sure that you can place the bag upright on uneven surfaces, as well.
Pros
14-inch open space inside the bag for maximum organizing
Reinforced rugged padded bottom for added durability
Comfortable padded strap for easy carrying
Adjustable strap for universal use
Best budget plumbing tool bag
It is built from heavy-duty poly fabric material
Cons
The shoulder strap joints can get loosened after rigorous use
Verdict
Being a brand, Dewalt has always kept themselves ahead of others. DG5543 is one of the finest products they have produced. Although the strap has some connectivity issues, that can be overlooked as the build quality and abundance of space is there to compensate it.
back to menu ↑
CLC Custom Leathercraft L255
The L255 Custom Leathercraft is an example of pure genius engineering. If you are searching for the ultimate toolbag for your plumbing jobs, this is the horse you bet on!
LED light
You just can't overlook the stunning LED light that it comes with. This adds great value to your work when you are not in a well-lit area. The light emits 39-lumen power of brightness to illuminate a wide area around it.
The best part is, you can flip the light to brighten up the inner part of the bag. Just flip it inward and switch it on! It's that easy. It lightens up the inside of the bag to make it easy for you to look for tools that are hardly seen in darkness.
Again, when it is used outside the bag, it can easily brighten up the working area. This makes it pretty comfortable to work in darker places and eliminates your need to use a flashlight.
The light has 3 levels of brightness. You can gradually increase and decrease the power for your convenience.
Easy Organization
The L255 comes with an array of pockets and pouches. You have 28 tool pouches, 14 dedicated pockets for accessories, and 11 pockets for multipurpose use. You get to keep your regular tools and accessories inside these pockets.
The dual compartment set up of this bag makes it quite easier to explore inside the bag. You can wide open both the compartment at the same time for the most comfortable access.
Base Pads
The L255 comes with a large, heavy base pad. This allows the bag to be placed nearly anywhere you work. Along with this facility, you can keep the bag straight on any given surface, as well.
If you are working outside on rough floors, this rugged base can help you keep the bag upright pretty easily. Apart from that, the base makes sure that the bag's outer and inner side doesn't get any wear and tear due to coming in contact with rough surfaces.
Carrying Handle And Shoulder Strap
Unlike most other plumber toolbags, this one has a double-shoulder strap to carry it. And not so surprisingly, the straps come with comfortable paddings, as well. This makes it a lot easier to put the bag on your back and wander around anywhere.
If you get tired of carrying it on your back, you can always resort to the carrying handle. You can easily use the handle to move the bag from one place to another. Its comfortable and convenient gripping technique will not let you feel any fatigue at all.
Pros
The bag comes with more than 50 pockets and holders for a great organization
3-level LED light for proper lighting help
Two dedicated straps for a cordless drill and battery charger
Stong base pad for easy keeping on different surfaces
Two compartments inside make it easier to organize tools
Cons
The zippers are a bit poorly made for long-term use
Verdict
If you are a fan of a dual-strap carrying bag, then this one is a great choice for you. Especially, its LED light will come as quite useful for many occasions. Overall, it's a good bet.
back to menu ↑
ToughBuilt 26-Inch Massive Mouth Tool Bag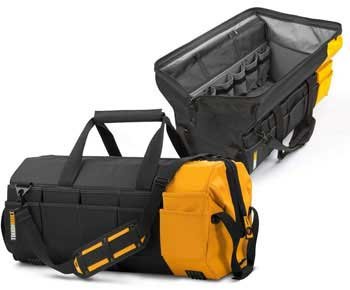 If you are not impressed with tall the bags you find on the market, just because these bags seem small, we got some news for you. Try the 26-inch massive tool bag! It's huge, and it's strong. It can literally blow you mind the moment you put your hands on it.
Reinforced Pockets
About 62 different pockets are there to home almost all the tools you have with you. These pockets are protected by reinforced stitches to withstand the toughest of conditions. Not only that, but every single pocket is also made from heavy-duty construction so that nothing you keep inside can get broken or damaged.
Rugged Feet
This huge bag can take a huge load on it. No matter what size of tools you own, this one welcomes you to staff all inside at one go. This means that the bag can become heavy when you are filling it with your tools.
So, in order to protect the inner and outer layer of the bag, the bottom of it is protected by rugged rubber. This rubbery foot comes with two purposes. One, it can easily make it sit straight on any surface.
Two, it saves the bag from early wear and tears.
HardBody Lining
The inside of the bag has rigid plastic hardbody lining. This protects the inside of the pockets. So, if you are going to be rough on the pockets with heavy loads on, you may find it to be quite strong to tear apart.
The same goes for the outer pockets. The outer ones are also saved with strong plastic-liners to save those from the heavy pressure.
Pros
It comes with 62 different pockets for optimum organizing options
Pockets are protected by hardbody plastic lining
Widest bag on the market for maximum storage
It comes with durable meshed pockets
Strong, rugged feet for convenient placing
Cons
The big size may come as a heavy load sometimes
Verdict
Although this one may not suit everybody, the huge storage can be very useful to most users. As far as storage is concerned, there is a hard chance for other bags to compete with this one.
back to menu ↑
ToughBuilt – 20-Inch Massive Mouth Tool Bag
For those of you who are into huge storage thing and all, Toughbuilt has another option for you. Try the 20-inch ToughBuilt, if the 26-inch one seems to be too large.
Huge Mouth Opening
With its 20-inch huge size, this bag comes with a big opening. This is great as you can easily get access to all the tools you have kept inside. Plus, you can staff as many tools as possible.
With only one compartment inside, there's no way you can get confused about where to look for your tool. It's right there inside the bag!
Lockable Zipper
If you are worried about the safety of your precious tools inside the bag, worry no more. The zippers on the top can be locked to save all your belongings inside the bag. Just drag the zippers together and lock both with a locker, and there you go! You get an extra layer of safety for your gear!
Meshed Pockets
The pockets inside the bag come with a lot of surprises. First, these pockets are quite strong and sturdy. Secondly, most of the pockets are made from durable mesh. This means you can see what's inside without even opening the pockets. It saves lots of your time and keeps the bag neat and clean, always.
Strong Build-Quality
The overall bag is made from high-quality, rugger materials. This gives the bag the perfect strength and durability to withstand any pressure from inside or outside. Take your bag everywhere with you without worrying about any damage.
Pros
The bag is designed with 51 different pockets and holders
It is made from high-quality, robust material to ensure durability
Strong meshed pockets inside the bag for clear visibility
20-inch wide size lets you staff a good number of tools
It comes with a lockable zipper for extra safety
Cons
The pockets are not deep enough for long tools
Verdict
Just like the 26-inch version of it, this one also comes with a lot of spaces, as well. The lockable zippers are also some added advantage you get with this toolbag. Overall, this one is a good product to spend your bucks on.
back to menu ↑
DEWALT DG5597 Open Top Tool Carrier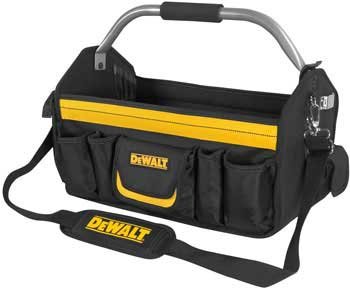 Last but not least, we conclude with another Dewalt tool carrier. This time we have the Dewalt DG5597 with that comes with exceptional design; every plumber has to look twice!
Open Top Design
The very first thing you get to see on this bag is its Open-Top design. It comes without any zipper to zip it off. Well, it may confuse some users, but this comes with a benefit, as well.
Without a zipper, you can get a whole lot of potential space that zippers can take away from you! That's why you get to staff as many tools as possible inside the bag, like never before!
Heavy-Duty Build-up
Talking about its build-quality, as always, it doesn't disappoint. You get a pure heavy-duty poly and ballistic poly fabric material that builds up the bag from scratch. It makes it really tough and allows it to withstand any situation it is in. Roam around with the bag, wherever you want!
Rugged Bottom
In addition to its top-quality body, the bag comes with a strong, rugged bottom. The rubbery bottom feet lets you carry the bag on any location you want. Just place it on the ground when you are busy working. It will save the outer part of the bag, as well as the tools inside from any scratch and damage.
Pros
It comes with an open-mouth design to store various tools
A rugged bottom for safety
Adjustable padded strap to carry the bag comfortably
It is made from heavy-duty ballistic poly fiber
Easy to access the tools inside the bag
It comes with a total of 33 useful pockets and holders
Cons
No-zipper design may raise some safety concerns
Verdicts
Although it may sound unsafe to own a zipper-less toolbag, it can be compensated by the ample amount of space this bag has to offer. If you are not really interested in zipping up and looking more into space, this one is for you to bet on.
back to menu ↑
Best Tool Bag For Plumbers Buying Guide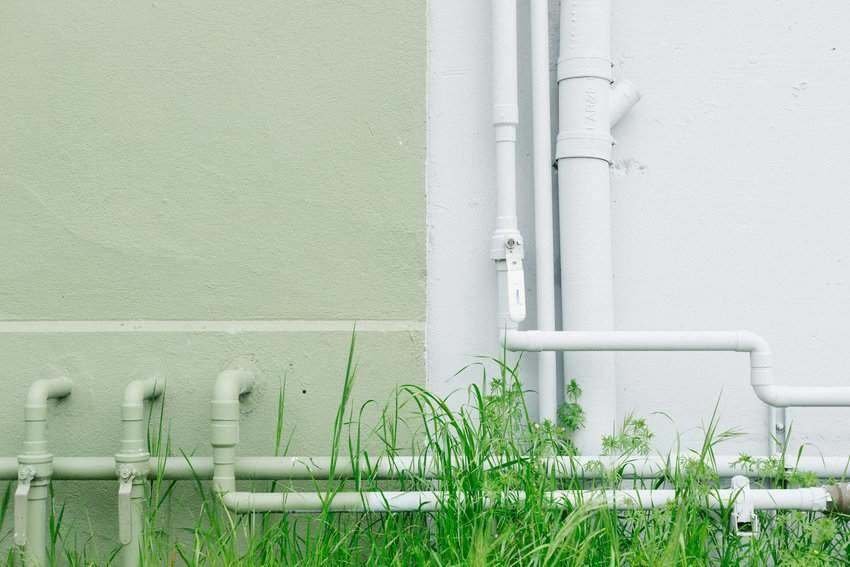 When you are up for the best tool bag for plumbers, you need to be extra careful. There are certain features that you just cannot miss when you are getting one. Here are some of the things you shouldn't ignore.
Capacity
The first and foremost thing that you need as a plumber is a great capacity. As a plumber, you need to carry an array of tools that often come with huge sizes and lengths.
You can't fit all your tools in a small area of a backpack, can you? That's why the more space you can manage, it's better for you. So, look for the bag that has the most space within your budget that can hold the plumbing kits you need.
Build Quality
What's the point of carrying a bag with huge capacity inside that can't live over a month? Guess what; there isn't any point. Before you get mesmerized with the look of a bag, try to see if the build material of it is actually worth it.
As far as we have seen and reviewed, toolbags that are made with denier nylon, or ballistic Polyester, or even top-quality poly fabric, can be proven to be better in withstanding tough conditions.
Heavy-Duty Zippers
Zippers can change the usefulness of a bag by multiple folds. If the zippers are not made from heavy-duty, durable material, you are sure to be in trouble sooner or later. Poorly made zippers will come off easily when you are putting much pressure on it.
Besides, these zippers may even break in half if these can't withstand the pressure. That's why make sure the zippers used in the bag are made from heavy-duty materials like the ones found in the top-notch electrician tool bags.
Rugged Bottom
For a plumber, it's a blessing. As you will be visiting different places for fixing various pipes and all, you will need to keep the bag somewhere near you. If the bag you have don't have the rugged base it needs, it will soak water, if there's any, and also put the outer part of the bag in danger.
A rugged base can protect the inner tools and the outer fabric of the bag from scratches and damages. Plus, it also helps the bag to be kept upright without any support like the quality carpenter tool bags.
Padded Strap
This one doesn't need any explanation. You will feel pain and fatigue when you are carrying the bag around if there is not a comfortable pad on it. A padded strap can ease up the pressure of the bag and put you in immense comfort like the awesome HVAC tool bag.
So when you are carrying the bag, you will be at much more comfort and convenience.
Easy To Access
As we said earlier, a plumber can appear as a superhero to save the day! That's why sometime you may need to take immediate action to solve a problem. But if you need to spend a long time searching for the right tool, chances are there that the problem may worsen.
Make sure that the bag you are choosing has the option to get easy access inside. Plus, it should have great organizing pockets and holders for easy-to-get tools. Another easy-going tool bag is a customized canvas tool bag.
Comfortable Handle
Of course, you won't be carrying the bag all the time in your bag, will you? Sometimes, you will need to carry the bag here and there; by holding the handle on the top or you can choose a nice backpack type tool bag. But what if the handle isn't comfortable?
You will feel pressure and fatigue on your hand. So make sure the handle is well-designed and padded to provide the desiring comfort to your hands. You can choose a good rolling tool bag if you like for comfortable movement.
LED Light
If all the above features are found, you can also look for an LED light in the bag. It's an added feature that you can let go, but having one can prove to be quite useful. It will ensure proper lighting in the darkest of places when you are carrying on your duty.
As a plumber, you will need to go to some places where there is a lack of lighting. The LED light of the bag can be very helpful in this regard.
back to menu ↑
Final Words
As a plumber, your toolbag is one of the most crucial partners in fixing challenging problems. Without a proper and handy toolbag, you can mess up things even if you have all the tools with you. Having the best tool bag for plumbers can make everything easier for you.
If you have gone through all the reviews we have presented here today; you can easily select the one made for you! If you are unsure which one to go fo, refer to our buying guide for more guidance. It will surely land you to your true companion's page!