Canvas tool bag making is a traditional skill that anyone can learn. Making a canvas tool bag is a great first project that needs only a few basic skills. The topic of how to make a canvas tool bag is absolutely fascinating for any DIYer. This project also improves your skill in how to sew a tool bag like a pro. At the same time, it is a home improvement project that your family members will recognize.
Check Today's Deals on Tools!
The small canvas bag allows for carrying garden tools and the large canvas bag can be used for keeping professional tools. Surely, this will be a wonderful gift for your father or mother who needs a canvas gardening tool bag.
How to Make A Canvas Tool Bag?
Today, we plan to explain the canvas tool bag construction in detail. So, stay with us and learn the easy steps of making your own canvas tool bag.
Step-by-Step DIY: How to Make A Canvas Tool Bag
The DIY canvas tool bag isn't rocket science; you can easily do it with a few things only. In the next section, we'll describe canvas tool bag making comprehensively, so that you can easily make and sew a tote bag for keeping gardening tools.
Step 1: Required Material and Tools
First and foremost, you need some tools and accessories for making a canvas tool bag. These are-
1-yard canvas material
Sewing machine
Rotary cutter
Iron
Scissors
Tape measure
Ruler
Pencil
Heavy-duty thread
Triangle
Pins
After gathering all the necessities, you need to make a good plan for completing the project successfully. A perfect plan and outline will result in a great end product. In this stage, you need to decide how many pockets and compartments you are going to see in the tool bag. Then, you have to manage the right pattern for doing that.
Step 2: Making Pattern
This is very important to collect the tool bag pattern before entering the main task. You can download the canvas tool bag template online. Some websites offer a few designs of tool bags for free but in most cases, you have to pay a little to get the pattern. The process is almost the same as designing your tool belt.
You can also make your own template by yourself or order from any reputed firm. To design the bag, you can take an old tool bag and measure its dimensions one by one and write down them and finally sketch on the page.
A tool bag has two layers inside and outside. The interior layer is a single construction that has few pockets. The outside layer consists of different planes that are usually named the bottom, long sides, wide sides, straps, and pockets.
Now, you need a complete pattern for all parts.
For example, the bottom dimension of the template is 20×8 inches, the long side measurement is 20×10 inches, the side dimension is 8×10 inches, strap measurement is 30×3 inches. You can also make a wooden block pattern. Make the pattern considering allowances of ½ inches.
So, you have the right design tool bag in hand. Now you can cut the canvas bag according to the pattern design.
Step 3: Cutting Process
As you already have the pattern, so cut the canvas material smoothly with the scissors. You can mark the canvas first, then cut all the pieces that you need. If you want to make small pockets then cut them according to your requirements.
You should keep in mind; we are going to build canvas tool bags having two different layers that are inside and outside layers. The inside and outside layers should be cut differently and add them after stitching pockets. You can cut the internal layer as a single piece and the outer layer in different portions as we explained before.
Now, you have to sew the parts until completing the project.
Step 4: Stitching The Top Hems
You can start the sewing process with the top edges of the tool bag. Firstly, fold all four parts at ½ inch that you cut for setting at the top. Then, iron over the folding and stitch them several times to make it hard.
Continue the hemming process at the front and back nicely.
Step 5: Sewing Inside Pockets
After completing the hemming process, begin sewing the inside pockets of the interior layer. Add internal pockets according to your requirements. Normally, the large and big tools are stored in internal pockets, so make them roomy enough.
Step 6: Sewing Outside Pockets
It's time to stitch the outside pockets with the main parts. Sometimes you might need gusset pockets, add them to the outer layer. But don't add unnecessary pockets on the outside.
You can also add special pockets to keep the most needed tools.
Step 7: Bottom Sewing
Now, you can sew the bottom part edges. It is recommended to add some hard materials in the bottom to make it solid. You can add hard paper or any other stitchable stiff materials.
Usually, professionals such as plumbers need a solid base bag than the gardening tool bag user.
Step 8: Sewing The Lining
Afterward, you have to join all the parts together sequentially. First, add stitching at the edges of four vertical parts, then stitch them with the bottom parts. Make sure all the stitches go inside.
Step 9: Joining The Two Layers
We have reached almost the last stage of the canvas tool bag design. Now, you have to sew the two layers of the bag at their top edge. The internal pockets of the interior layer should be placed in the right way so that you can use them. While joining the two layers, you have to keep small spaces for attaching straps.
Step 10: Adding Bag Straps
After attaching the two layers of the bag, you can now add straps. Insert the straps at ½ inch between two layers and stitch them nicely. Now, your bag is ready to store tools. After completing all the steps check for faults, if you find any faults resolve them soon. So, the newly made bag seems like a military canvas tool bag.
Final Words
We hope you could successfully make the canvas tool bag. Now, you also know the right method of how to sew a tool bag. It is highly recommended to share the knowledge on how to make a canvas tool bag with your close ones. Surely, they will love it very much.
Always follow the instructions for canvas tool bag making that we discussed here. Happy crafting!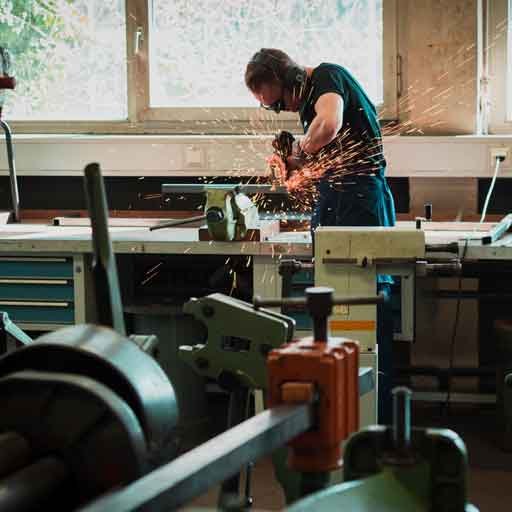 Adam is a tool geek who just loves making and breaking things. Doing the home improvements works and repairing things with his tools is his favorite past time. He loves to keep his tools arranged and sorted. On this blog, he shares his experience and knowledge.