Last Updated on November 6, 2022
Whether you are a professional or DIY tool guy, absolutely you would favor getting the top-quality tool belt. Surely, you'll agree with us that quality comes with comfortability, durability, and a few more things. So, you actually want the most durable and comfortable tool belt. Today, we'll talk about the most comfortable tool belt which is nothing but the best-padded tool belt.
We know, it's not so easy to sort out the best comfortable tool belt from the abundant options. That's why we planned to share our experience in choosing your new comfortable tool belt. So, check the 7 top-rated comfortable tool belts review below!
Comparison Table of The Best Tool Belts for Your Comfort
Table could not be displayed.
7 Top Most Comfortable Tool Belts Reviews
Out of the many available comfy tool belts, we've enlisted here the 7 best comfortable tool belts. Let's explore its outstanding features!
DEWALT DG5617 Best Tool Belt Review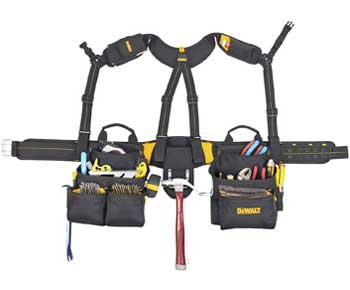 Our top-choice comfortable tool belt is the DEWALT DG5617 Tool Belt. This tool belt is made of durable nylon that accumulates all the features to ensure users' comfort. It has a Dri-Lex 5 inches padded tool belt that provides maximum back support. Moreover, this belt comes with fully adjustable padded yoke-style suspenders that distribute weight evenly and lessen your workloads.
The DeWalt padded tool belt fits waist sizes from 29 to 46 inches. There are altogether 20 pockets having 9 main and 11 small pockets with sleeves for nails, nail sets, pencils, etc. The large gusset pockets provide lots of tools storage with easy access. You will see a zippered pouch to secure valuable items.
If you are looking for the best-padded tool belt, this is absolutely excellent to pick from. These most comfortable tool belt suspenders work great for those who need frequent ladder-climbing like pro framers.
Pros:
5 inches Dri-Lex padded tool belt
Nylon constructed tool belt
2 pouches and 20 pockets with sleeves
Includes fully adjustable suspenders
Best tool belt option for all
Double tongue roller buckle adds belt stability
Belt fits for waist sizes from 29 to 46 inches
Best-pick comfortable tool belt
Cons:
Zipper pocket can't hold the smartphone
Gatorback B240 Pro-Comfort Back Support Too Belt Review
Whenever you are wondering about choosing the high-quality and well-padded tool belt, you can choose the Gatorback B240 Tool Belt without any hesitation. The outstanding memory foam back support pad will provide long-term support. Moreover, the ultra-breathable Lycra fabric and molded air channels allow airflow under the belt that keeps the belt cool and reduces sweating.
This tool belt is constructed from heavy-duty 1250 DuraTek nylon and you can choose the size according to your need. The 2 pouches tool belt has 27 pockets for varieties of tool keeping with tape chains. Pouches and pockets are designed to box shapes that maximize space and quick tool access. There are also metal suspender rings, carrying handles, and all you need for comfort.
Having great comfortability, this B240 Gatorback pro-comfort back support belt features great tool carrying options, especially for electricians. On top of that, the tipped padded leather tool belt, stitching, and riveting will be one of the best options you have. This is one of the best comfortable electricians' tools belt.
Pros:
8 inches foam pad with air channels ensure maximum comfort
Heavy-duty 1250 DuraTek nylon construction
Two pouches and 27 pockets
Ready to install suspenders
Tipped leather tool belt
Durable riveting and stitching at pressure points
Box-shaped pockets allow quick access to tools
High-end comfortable tool belt
Cons:
Velcro isn't sturdy enough
ToughBuilt 3 Piece Handyman Most Comfortable Tool Belt (TB-CT-111C)
Now, we will discuss a pocket-friendly comfortable tool belt, which is the ToughBuilt 3 Piece Handyman Tool Belt Set. The 3-piece set includes 2 pouches and a padded belt. This padded belt is really very comfortable to wear for a long time.  If your waist size varies from 32 to 48 inches, then this belt will fit correctly. You will see 27 pockets with a loop for plenty of tools carrying capacity.
The ClipTech Hub system is one of the best astounding features of this ToughBuilt tool belt. You can easily clip on and off the pouches according to your need. It is a construction of 6 layers of rugged polyester. The rivet reinforcement makes it sturdier and allows using it in any harsh conditions.
A few of the tool pockets and holders are notebook pocket, extreme-duty hammer loop, plastic-lined utility knife pocket, screwdriver loops, 2 tape measure clips, etc. So, this is absolutely a handy comfortable tool belt for HVAC tech considering its price.
Pros:
9 inches padded polyester tool belt
The modular tool belt system
6 layer and no-snag hidden seam construction
The ClipTech clips for quick pouch installing
Notebook pocket
Flip-out kickstand
Fits waist sizes for 32-48″
27 pockets and loops
Best budget comfortable tool belt
Cons:
The plastic buckle should be replaced by metal
TradeGear Most Comfortable Tool Belt (XL-3XL)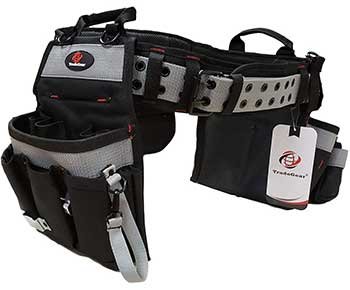 Another excellent padded tool belt is TradeGear Part#SZB Tool Belt. The ergonomically designed tool belt coupled with quality air-mesh foam padding provides unbelievable comfort for long hours. The belt is made from heavy-duty 600D nylon that includes double layers reinforcement with bar-tack stitching and metal riveting for extended service life.
There are 2 heavy-duty pouches with 27 spacious pockets, 4x suspender-to-belt attachment loops, and many more. The built-in D-rings allow you to add suspenders when necessary. This XL-3XL size belt fits for 40 to 55 inches. Moreover, the handles make it easier to wear, put on, and off tools at loaded conditions.
It is a good companion to professionals, especially electricians. This TradeGear tool belt allows you to adjust the belt by folding over the Velcro. Although this is made of nylon but acts like a leather tool belt.
Pros:
6 inches padding provides maximum comfort
600D nylon material construction
Ready to install suspenders
Fits for 40 to 55 inches waist sizes
27 spacious pockets for plenty of tools carrying
Provide customized fit by folding over the Velcro
Double reinforcement and stitching
Cons:
Not perfect for slim tool belt users
CLC Custom Leathercraft 5605 Best Comfy Tool Belt Reviews
CLC Custom Leathercraft 5605 Tool Belt
is a handy option for padded tool belt lovers. The 5 inches padded belt provides actual tool belt comfort to the users. This double tongue steel roller buckle fastens the belt. lt comes in two sizes that accommodate 29 to 46 inches. It is made from a hard, ballistic poly fabric material that delivers the highest durability.
This CLC padded tool belt features 3 pouches and 18 pockets including 9 main pockets, 6 smaller pockets, 2 small hammer holders, and a pry bar holder with a rafter square pocket. The carrying handles make tools carrying and store without any spilling.
CLC Custom Leathercraft 5605 is a good comfortable tool belt for professionals, especially for carpenters that allows carrying all necessary tools there.
Pros:
5 inches padded tool belt
Made of ballistic poly fabric
Belt fits for 29 to 46 inches waist sizes
3 pouches and 18 pockets
Dedicated pry bar holder and rafter square pocket
Cons:
Sturdiness should be improved
Dickies Work Gear 57023 Lightweight Tool Belt
Our next pick is Dickies Work Gear 57023 Tool Belt. This 5-inch moisture-wicking padded tool belt keeps your waist area cool that gives an excellent comfy experience for long-time wearing. You can adjust the belt between 32 to 50 inches for a customized fit. Also, there are gel-padded adjustable moisture-wicking mesh suspenders that distribute weight evenly when carrying lots of tools.
Dickies 57023 carpenter's rig tool belt has a total of 14 pockets and 3 tool loops. The left pouch includes 3 large open pockets, 3 small pockets with two tool loops, and the right-side pouch has 7 pockets for storing varieties of tools. Moreover, there is a steel-loop hammer holder and elastic phone storage at suspenders.
This canvas tool belt is not a bad choice considering its price. It is one of the most comfortable carpenters' tool belt suspenders.
Pros:
4 inches padded belt with suspenders
Comfortable canvas tool bag
14 pockets with 3 tool loops
Phone storage holder
Belt fits belt between 32 to 50 inches waist
Cons:
Suspenders distort from the place sometimes
Phone storage don't allow smartphone
Dead On DO-FR, 1 Size Fits All Padded Best Tool Belt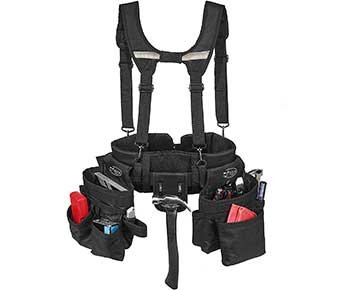 The last but not least selection is the Dead On DO-FR Tool Belt. Wearing this 6-inch padded belt, you will enjoy the real taste of the best comfortable tool belt. Moreover, the moisture-wicking inner lining will enhance comfortability. This top padded tool belt also includes suspenders that allow you to carry lots of loads. It is designed from ballistic nylon fabric.
This Dead-On tool belt integrates 2 pouches and 32 pockets for versatile tools storage. There are also 4 boxed nail pouches and a speed square pocket. It will fit for the 28 to 36 inches waist sizes. This rig's tool belt is a good choice for all contractors, specifically for the roofers.
Pros:
6 inches padded tool belt
Moisture-wicking material increases comfort
Ballistic nylon fabric construction
2 pouches and 32 pockets
Comes with suspenders
4 box front pockets for quick access tools
Cons:
No carrying handles
Reinforcement should be developed
Features of the Most Comfortable Tool Belts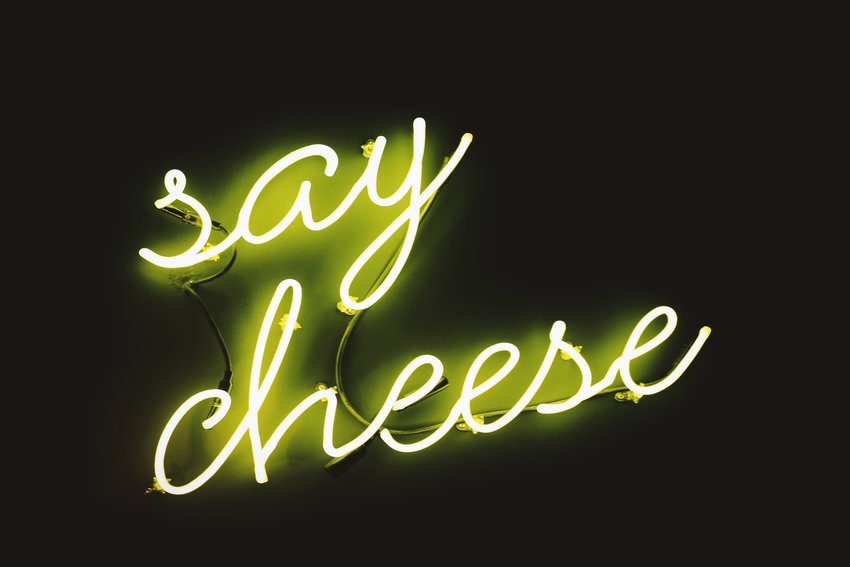 Actually, comfortable tool belts must have some basic features. Without them, the tool belts become uncomfortable. The most important factors are-
Weight of Tool Belts
Toolbelt weight at empty and loaded conditions should be lightweight enough. If it creates excessive weight to your waist you may feel discomfort wearing the belt for a long time. So, choose a belt that is compact and lightweight. Also, avoid unnecessary tools storage at work time.
The Padding of the Most Comfortable Tool Belt
The back support well-padded tool belt is a great reason for its comfortability. Few top brands use high-quality padding such as the Gatorback tool belt. While picking the tool belts, make sure it has enough padding all around the belt.
If it has suspenders, check its padding too. Nowadays, many popular comfortable tool belts have air channels under the belts to prevent overheating and reduce sweating. All these provide a comfortable feeling with the tool belt.
Professional Tool Belt Width
With tool belt padding, the belt's width is another considerable thing. If the belt has padding but is quite narrow, then its padding will exert no effect on your waist. The width of the belt itself is a reason for comfortability. Moreover, the foam padding adds extra comfort to the wide belt.
Fitting of the Best Tool Belt
Always, choose the best tool belt which fits your waist rightly. A loose or over-tight tool belt won't provide comfort rather it will dissipate you from the work. Some tool belts come with an adjust-to-fit feature that can easily fit anyone. So, you should pick the right fitting belt for comfort.
Materials of Most Comfortable Tool Belt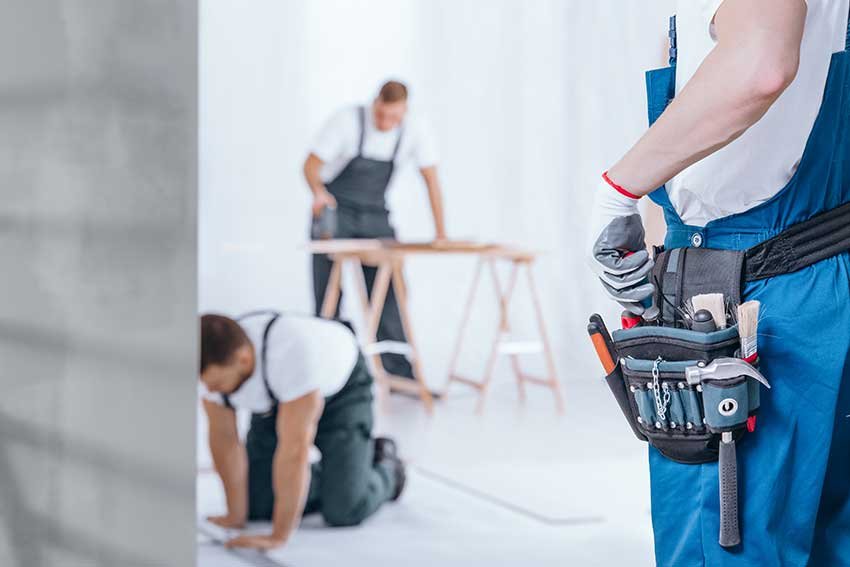 The comfy tool belts come in a variety of materials. Usually, fabric-constructed tool belts are more comfortable than other usual materials constitute the tool belts nylon, polyester, etc. However, you should check the pad quality while considering materials' quality. The best tool belts are those that are made with the best quality tool belt material.
This is really important as you will be benefited hugely from a good tool belt every day in your job.
Pockets Position of Best Tool Belts
If you hang the hammer or large tools in front of the legs, it gives an awkward experience. Just like that, a tool belt with the position of the wrong pocket is also a reason for dissatisfaction. So, wear the tool belt and check its comfort before purchasing it.
Suspenders for Toolbelts
When you store lots of tools, you may feel back pain. But installing suspenders can easily resolve the problem. You will see, several tool belts come with suspenders for adding comfort. The best tool belts become best by incorporating a good suspender with them. That way you can enjoy your work with minimum discomfort and pain.
The Capacity of Tool Belts
When you are choosing the best tool belts for your comfort, you must consider the capacity of the tool belt. It must carry a wide variety of tools in the pockets and offer you comfort and easiness.
Benefits of Having the Most Comfortable Tool Belt
The professionals usually have to wear the tool belt for the day long. Carrying lots of tools in the tool pouch for a long-time is definitely a tough job. So, a comfy tool belt is a must for lessening workloads and increasing efficiency.
If you wear a narrow or no foam-padded tool belt it may be a reason for your future waist pain. But the comfortable tool belt largely decreases the pain due to the outstanding padding. The high-quality padded tool belts also increase the overall performance greatly.
Nowadays, several tool belts add airflow channels under the belts that draw sweat from your body and prevent overheating. That increases overall comfort and helps to work smoothly.
Final Words on Most Comfortable Tool Belt
The comfortable tool belt is a must for all professionals. This will improve your work performance and lessen waist pain profoundly. After great research, we've made reviews of the most comfortable tool belts. You can choose the most suitable one from the best tool belt list.
Our above-mentioned tool belt reviews are capable to fulfill your demand. So grab one now and organize your tool belt properly for a better and more comfortable work experience.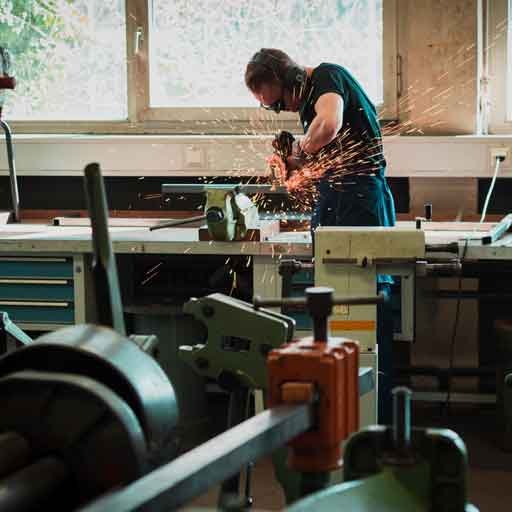 Adam is a tool geek who just loves making and breaking things. Doing the home improvements works and repairing things with his tools is his favorite past time. He loves to keep his tools arranged and sorted. On this blog, he shares his experience and knowledge.