Last Updated on November 7, 2022
Tired of dropping all your tools when working on home roofs? Then you need the best roofing tool belt that keeps it all tied to your body. While you're working on any house's roof, it is possible to have too many tools to use that you eventually feel overwhelmed. And worst of all – it makes the whole job a lot harder.
But the real problem comes from how dangerous it can be to carry some tools without any safety measures. One hammer can fall down and break furniture, the floor, or someone's head. And sure enough – you don't want any of that to happen. That is why having a roofing tool belt is obligatory. If you want to prevent accidents and stay safe while working on a roof – then this is the tool you want.
Comparison Table of Best Roofing Tool Belts
Table could not be displayed.
7 Best Roofing Tool Belt Reviews
We wanted to pick 100 models to review and bring them all to you. But there aren't too many that are worth having. So we chose only 7 that you can truly enjoy to the max.
We reviewed them and brought everything we found to you – here's what we mean:
01. DEWALT DG5617 Pro Combo Apron Tool Belt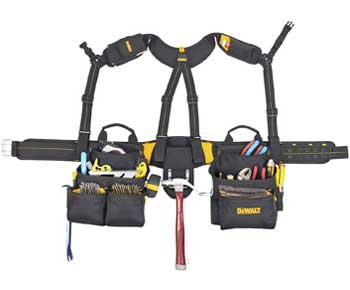 It was challenging to find the best tool belt for roofers, but our conclusion eventually led us to say that the DeWalt DG5617 is the best one. Coming at a decent cost and with a wide array of features and pockets to enjoy – it makes all other tool belts look ridiculous.
Super Practical Design
One of the main features of the DG5617 is the highly convenient design that not only comes with enough pockets (20 in total) but also makes wearing it a piece of cake.
You can adjust it to the max, enjoy the 3-point quality tool belt suspender/harness, and still have the chance to store phones and other small valuables on the zippered pad. Sure enough, all pouches are detachable, and you can change their place as needed.
Huge Pockets
Did we mention this belt has a total of 20 pockets? Well, that's because it has 9 pockets in each pouch – plus 2 extra pockets on the suspenders, one for your phone and the other for random valuables.
The real advantage does not come from the number of pockets, but from the gusset-style pockets that let you access with total ease and allow tons of tools inside.
Comfy and Breathable
It is not enough to get a super-practical model if you can wear it comfortably. Luckily, the DeWalt DG5617 boasts padded yoke-style suspenders that feel superb on your skin.
Using Dri-Lex on the straps, you get 5-inches of total padding that not only improves padding but also keeps it breathable and fresh. You will never feel all sweaty again.
Utterly Adjustable
One of the main advantages of this piece is the ability to distribute weight evenly.
This fits well with the fully-adjustable straps and the waist size adjustability that goes from 29-inches up to 46-inches. Just set the double-tong buckle in the right holes, and that's it.
Resilient Fabric
Last but not least, you can expect the sturdy nylon with Dri-Lex lining to last a lifetime. It is not only for breathability and keeping you comfortable for long – but it also works as an excellent material that won't rip or break easily.
Pros
Totally adjustable design
Superb fabric for resilience
Best quality roofing tool belt
Ventilated Dri-Lex keeps it cool
Adjustable pouches for convenience
Extra handles make carrying easy
Padded straps feel super comfy
Cons
Suspenders may feel a little stiff
Verdict
Adding up every single feature ensures maximum satisfaction when working on roofs. You will solve all your tool problems without feeling a single pinch of discomfort.
02. Occidental Leather 9515LH Adjust-to-Fit OxyLight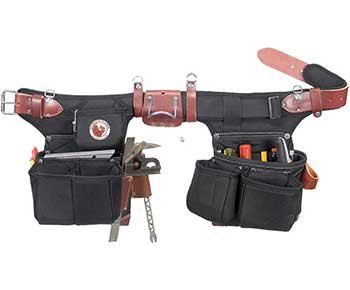 A tool belt doesn't have to be made with fabric only. Instead, you can get something that matches leather with nylon for maximum durability. That's what the Occidental Leather 9515LH OxyLight Framer delivers – a superb belt in its entirety.
Next-Level Materials
The first thing you'll notice from this tool belt is the choice of materials. Boasting commercial nylon on the fabric and leather straps for the buckle and holders – you get a superb belt that won't fall apart in years.
It can handle all kinds of environments as well and help you work even in extreme seasons with no problem.
Resilient Design
But it is not only about the materials when it comes to their durability. You also get excellent design features that will keep it together.
Here you can find the D-Rings so you can use a suspension system when needed. This adds extra resilience to the piece. Along with the ply bags and leather reinforcements on pockets and holders – this belt is set to last a lifetime.
Practical Pouches
Following its resilient features, you can also hope the pouches hold the ground. You won't have to worry about the pouches slipping around and causing discomfort. At the same time, you can remove and configure the pockets and holder as needed.
You even get hand-specific holders for extra convenience.
Maximum Adjustability
The best of all is how adjustable the whole belt is. You can set it up on your waist, going from 32-inches up to 41-inches as needed.
It also ensures seasonal clothing changes with ease. And you can fit it tightly to your body, so it never drops down while working.
Comfortable at all Times
Part of the elevated price comes from the high-density neoprene padding all across the belt. This ensures a soft touch with your body, along with an extra-wide hip design that gets rid of typical pressure points.
Add the nylon cross-over system to enjoy the "Adjust-To-Fit" feature. It will lock into your body tightly but comfortably for a more secure experience.
Pros
Ultra-convenient pouches design and features
Reliable construction with nylon and leather
Unique build features keep it together for long
Exceptional Neoprene padding
Best high-end roofing tool belt
Unique Adjust-To-Fit feature
Great adjustability for convenience
Cons
There's no way to hang it on closets/racks
Verdict
Following the magnificent set of features it offers, there's no doubt it sets the ground for cheaper models. The Occidental Leather 9515LH is an almost perfect roofing tool belt – but it is pricey.
03. ToughBuilt Handyman Tool Belt Set
In case you don't want an expensive product – you can always go for the best roofers tool belt that doesn't cost an eye. That would be the ToughBuilt Handyman Tool Belt Set. It is simple but utterly practical – exactly what a budget tool belt should be.
Surprisingly Well-Made
At such an affordable price tag, you wouldn't believe this belt can withstand all kinds of environments with ease. But it does.
Coming with a 6-layer nylon construction, reinforced with rivets, and stitched with a no-snag seam system – it is made to stand years of use without fault.
Comfy and Adjustable
Considering the size that fits 32-inches and 48-inches waists – the ToughBuilt Handyman Tool Belt will fit practically anyone with ease. You can adjust it to the max if you're thin, or let it loose if you're a little bigger.
Apart from that, you'll receive decent padding all around. It won't feel too stiff or rough on your skin despite its nylon build.
Convenient Storage Options
Including a framer pouch and a smaller hanging pocket, like any quality framing tool belt – it lets you store all kinds of stuff inside. You get a total of 27 customized pockets with 2 hammer loops and a plastic-lined knife pocket.
You also get 2 tape measure clips, a notebook pocket, and several screwdriver loops. That's enough to bring all your tools along without a single issue.
Practical Features
Probably the most exciting part of this belt is the ClipTech Hub. It is a clip system that lets you attach and detach the pouches from the belt.
You can set the pouches apart when needed as well, and they will stand on the floor so you can work even more comfortable if needed.
Versatile and Handy Design
There's no limit to what you can do with this tool belt. From its capacity to be totally adjustable to the excellent ClipTech Hub that helps customize the storage options – it is designed to surpass your expectations.
Pros
Surprising build quality for the cost
Extra-versatile design for any job
Superb adjustability with a buckle system
Decent padding for comfort
Best budget roofing tool belt
Convenient ClipTech Hub clips
Super practical standing pouches
Cons
Metal loops on the buckle may wear out fast
Verdict
It is shockingly reliable and well-made, boasting practical features that even expensive models do not. So if you're on a small budget – this should be your go-to option.
04. Style n Craft 98434 Top Grain Belt Pro-Framers Combo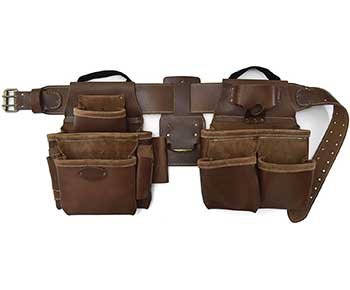 A leather belt would be the perfect choice for any roofer who wants a classical yet hugely resilient model. Sure enough, that's what you get with the Style n Craft 98434 Top-Grain Belt Pro-Framers Combo.
Exceptional Leather
Comprising the entire belt from one tip to the other, top-grain leather makes it look neat while adding an extra touch of durability.
It boasts a dark tan color that delivers a classical look without leaving cuteness behind. Along with the oiled leather for extra resilience, you can experience a top-notch build overall.
Utterly Resilient
The leather alone can't deliver the quality you're looking for. That's why you also get outstandingly resilient stitching with heavy-duty nylon thread. It will keep the stuff together for several years.
But let's not forget you also get rivets with caps that attach pockets and pouches to the belt. This is one of the safest and most reliable ways to keep the whole piece together. And it adds a unique antique finish that makes it look super enticing.
Versatile Pouches
It is not only about looks or durability, though. This belt also stands out for its practicality.
You get a total of 17 pockets considering the 2 double pouches. Each one boasts 6 internal pockets of various sizes, and 2 extra holders for a hammer, pencil, pry bar, or whatever. There's enough to get all your tools ready for your roofing needs.
Fits Almost Everyone
Adjusting this belt won't be much of a problem, either. It can work for people going from 34-inches to 46-inches in waist size.
The double-prong buckle makes adjustments easy and prevents any kind of loosening while working. So you can fit it tightly, and it won't loosen up over time.
Decently Comfortable
Considering its top-grain leather, you may think this belt will be super stiff and challenging to wear. But there's nothing further from the truth. It's a very comfortable tool belt.
Made with a 3-inches wide tapered leather, you can expect it to feel decently soft on your skin. At the same time, it won't cause any discomfort, even if you fit it too tightly. And it will stay like that for years.
Pros
Versatile pockets for easy storage
Adjusts to almost any person
High-quality top-grain leather for durability
Superb stitching and rivets for a long-lasting piece
Surprisingly comfortable despite its build
Practical design with handles and easy access
Cons
Limited belt length makes it hard to put on
Verdict
Anyone who appreciates top-grain leather will probably love this one. From the looks to the sturdiness and pockets – this belt will surpass all your expectations.
05. Gatorback Contractor Pro B145 Triple Combo Belt
Gatorback never disappoints with its tool belts – and the Contractor Pro B145 is not an exception. It looks, feels, and works like no other does – offering features that you won't find anywhere else. What's even better, you don't have to pay a fortune for it.
Unmatched Comfort
Talking about the Gatorback Contractor Pro without mentioning how comfy it is would be a crime. That's why we can leave the decently padded and breathable construction behind.
You'll feel fresh while working on your roofs, but also pretty comfy with no scratches or pressure points on your waist. And
Extra Back Support
If there's a true advantage of using this belt over others, that would be the Pro-Comfort foam support in the back.
It allows maximum tightness on your body without making extra pressure on your lower back. At the same time, it keeps you sweat-free with its breathable design.
Fits All Kinds of People
Despite its super comfort and support, the belt still manages to fit a wide array of bodies without problems. And it happens because there's a size for every possible user.
You can get the small model for 26-inches to 30-inches, up to the 3XL model for people with 50-inches and 55-inches in the waist. There are 4 different sizes in between, so you can pick the ideal one for your body.
Resilience at Its Best
There's no sense in getting a comfy and supportive belt if it doesn't last. That's why Gatorback decided to use 1250 DuraTek nylon for the construction of this piece.
The whole build, including the pockets, come with highly resilient lining and stitching, making the entire piece last a lifetime.
Super-Practical Pouches and Holders
Probably the most enjoyable part of the entire belt would be the set of pouches. You get 3 in total, boasting a total of 10 pockets with one single pouch, a 7-pocket pouch, and a carpenter's tool pouch. There are many quality carpentry tool belts too to check out for you.
This goes well with the hammer holster, the tape holder, and the tool hooks for extra carrying. You won't have any problem bringing all your tools to your roofing jobs.
Pros
Super-resilient DuraTek nylon construction
Ultra-practical pouches with 17 pouches
Unbeatable size options for all kinds of users
Comfortable padding all around
Back support prevents pain and pressure point
Breathable material stays fresh for long
Cons
Velcro parts tend to come off over time
Verdict
With breathable material, enough padding, and unique back support – this belt is one of the comfiest you'll find. But adding up the pockets and sizing options, it feels like one of the best.
06. LAUTUS Oil Tanned Roofing Leather Tool Belt
Still interested in a leather belt? Then go for the Lautus Oil-Tanned Leather Tool Belt. It will get rid of your hardware hassle, make it easy to access your tools when working, and still last a lifetime.
Quality Leather All-Around
While it is not top-grain leather for the highest-quality type you can get, it still provides a heavy oil-tanned leather build that stands years of use.
You won't get the usual polyester or nylon that other belts come with. Instead, you can enjoy the wear and tear-resistant, soft, and comfy genuine leather all across the entire piece.
Well-Made Stitching and Riveting
All Lautus products come with a double-stitching system that keeps all the leather together. If you're a roofer who likes to put a lot of tools in the pouch, then you'll love how well this belt can hold the weight.
You won't experience the typical rips and tears that low-quality belts suffer from. And when you add the rivets that piece up the pouches with the belt, then it gets even better.
Superb Flexibility
Despite being made of leather, you can still enjoy the flexibility of its build. It goes from 30-inches up to 46-inches in waist size – offering the chance to fit a wide array of bodies with no drawbacks.
And you can set it tightly with its double-prong buckle. So it won't fall down even in the trickiest situations.
Tons of Storage Options
You will get a total of 11 pockets with this belt. And that includes 2 large pockets for large tools, 2 medium pockets for devices, and 2 small pockets for the smallest accessories. On top of that, it boasts 4 pencil/screwdriver holders and a final set of 2 hammer holders for extra convenience.
Everything is made of leather, like top-notch leather tool belts, to resist weight and last a long time.
Compact Size
Despite being decently spacious and boasting tons of pockets to enjoy, the belt still manages to feel compact when worn. You won't have to bring gigantic pouches around that eventually limit mobility and comfort. Instead, it brings just enough so you can feel totally free when working on roofs.
Pros
Up to 11 pockets for decent storage capacity
Super-flexible material for easy fitting
Convenient spacious yet small design
Superb stitching and riveting for resilience
Top-notch leather built for durability
Good-looking oil-tanned appearance
Cons
The compact design may not fit large people
Verdict
While you may have a few problems while fitting this piece, it still manages to offer everything else that makes a quality product stand out. From its leather build to its practical design, it is sure to surpass your expectations.
07. Gatorback Contractor Pro B140-M Professional Roofing Tool Belt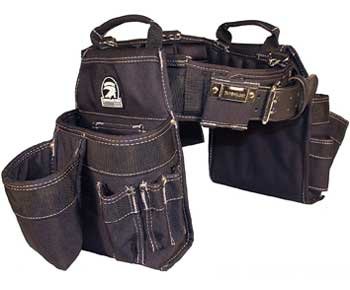 As you may guess, we just can't have enough of Gatorback's Contractor Pro models. And for us, the B140-M is an option we can't dismiss. Perfectly designed and built for the professional roofer – you're going to simply love it.
Gatorback's Support
First of all, let's explain why wearing a Contractor Pro is such an excellent idea.
Just like the previous model in the list, this one comes with an 8-inches back pad that supports the weight. This also prevents typical scratches and pressure points, adding a superb feeling when working with this belt.
It will make you feel way better than most other models in the market.
Ultra-Comfy Design
And all that's without mentioning how comfortable it is because of the overall padding. The belt boasts a Lycra fabric that not only helps to cushion its fitting on the body but also helps to prevent sweat and high temps.
You can wear this belt and feel utterly fresh thanks to its air channels and Lycra material.
Adjustability at Its Best
The best of all will come when putting it on. Because you can pick different sizes going from Small to Medium, Large, and up to 3X Large – then you're sure to get it working without problems.
You won't have to carry more material than needed or eventually waste time and effort looking to fit the belt to your body.
Made to Last
Its material choice is also superb. Using DuraTek 1250 fabric, you're set to enjoy one of the most durable belts on the market.
This matches well with the riveted pockets and handles, a high-density web core, and a bar-tack stitching system that keeps it together for decades. What's even better, it boasts a leather-tipped design that increases strength and resilience.
Handy Pockets and Handles
If all that wasn't enough, you can still enjoy one of the most practical pouches designs out there, with a boxed design reinforced with plastic and sewn with quality nylon. That not only helps to keep things protected but also ensures fast access by not letting them sag.
You can also rearrange the pouches when needed, carry the belt with the handles, and enjoy the 11 pockets, the 2 slots, and the hammer loop when required.
Pros
Super-practical sizing options
A comfy and breathable build
Next-level DuraTek fabric
Long-lasting stitching and riveting
Outstanding pouches design
Practical set of handles
Cons
Feels pretty bulky when wearing
Verdict
Coming with so many features to enjoy — going from the construction to its design and storage options, the Contractor Pro B140-M is sure to make your roofing activities better. If you're expecting quality, this is the way to go.
Things to Consider Before Buying Best Roofing Tool Belt
Before picking the ideal piece, you should be aware of what to look for. Here are a few factors to consider if you want to get the best tool belt for roofing:
Materials for Roofing Tool Belts
First and foremost – make sure you're getting a tool belt that boasts materials that last and feel soft.
There are many to choose from. These include nylon, polyester, canvas, Leather, and a few others.
For us, you should focus on something that feels well on your skin but still manages to last a lifetime. So Leather would be the best choice overall. Sadly, the leather is pretty expensive.
You can still go for synthetic alternatives like nylon. It tends to be super-resilient and durable as well, especially when working in moist environments.
Polyester offers a similar experience to nylon. Yet, it is not as durable due to its slightly stiffer composition. It may feel a little uncomfortable, as well.
As for canvas, we don't usually recommend it much because of its fragility. But you can still enjoy it if you're on a small budget and need something urgently.
Stitching and Riveting
Picking the ideal material for the belt won't be enough to get a durable product. You will also need to consider the stitching and riveting on the piece.
That's why we recommend reinforced or double stitching, if possible. Both will provide the perfect resilience against rips and tears that many belts suffer from.
If the stitching uses a unique material like nylon or a sturdy thread, then it is even more likely to withstand the test of time.
As for riveting, we usually recommend it for leather belts. It is the perfect way to stitch pouches and other features that hang from the belt. That way, they stay tightly fit into the belt and don't fall or sag with too much weight.
Pockets and Storage
Once you're done picking a durable product, then you must proceed to get something with enough storage space and pocket options.
While you may be thinking of going big – we recommend choosing something that offers enough space but not too much. That happens because pouches and pockets can be too large and eventually feel bulky. At the same time, they may be too deep and make it hard to grasp stuff when working.
But of course, you should always make sure to have pockets of all sizes as well as closures if needed. For your roofing activities, the more chances you have to bring small and large roofing tools along, the better you'll feel on the job.
Lastly, consider those models that offer reorganization of the pouches. You want to have proper access to the tools when on the roof, so you need to adjust the pouches according to your specific needs.
Fit and Adjustability for Roofers Tool Belts
Buying a new tool belt is like buying a new pair of pants. You want it to fit perfectly to your waist, but you also want it to be adjustable in case you get bigger or smaller.
That's why you should always go for models that offer the maximum amount of adjustability possible. Some models can adjust from 26-inches in waist up to 50-inches if needed. Others have tighter ranges, making them perfect to fit even more tightly and perfectly with little adjustments.
Your whole focus should be on getting a belt that feels tight but not too much. As long as you can wear it comfortably without having to continually adjust it – then it is an ideal belt to go for. Fitting is very important for every professional, especially for women's tool belts.
Comfort and Breathability
Following the adjustability of a tool belt, you must also consider the overall comfort it offers. We usually recommend models that come with enough padding to not cause pressure on your waist/hips. At the same time, the belt should boast a soft texture, so it doesn't damage your skin when worn. The quality HVAC tool belts and the awesome electrician tool belts are thus very impactful for a user.
Here, you'll have to consider the material directly. Nylon tends to be pretty soft on the skin, and polyester is often a little rough. Leather can be soft if you choose suede or top-grain, yet oil-tanned can feel pretty stiff. And canvas tends to be a combination of leather and nylon in terms of softness.
Also, you need to pick something breathable enough. Once again, materials matter a lot. Leather tends to be pretty hot, while nylon usually provides proper ventilation. If you get a thick material with little to no ventilation like Leather, you're likely to feel pretty hot while using it.
Last but not least, consider any extra support for the back or other parts of the body as a go-to feature to enjoy. If you want maximum comfort when working on your roofs, then extra pads will be ideal.
Frequently Asked Questions
We know reading an entire set of tool belt reviews plus a buying guide can be overwhelming. So you're likely to have a few questions that need answering. Well, you're lucky – we may have the answer in this section.
1. How to wash a tool belt?
Washing a tool belt depends heavily on the material. But overall, we recommend washing them in cold water and using the mildest detergent you can. Let them air-dry for several hours before using them again.
2. Are there tool belts for left-handed people?
While most tool belts are customizable, you may still get the chance to choose between models that have the hammer loop and main pockets on one side or the other. Typically, however, most belts are for right-handed people.
3. How can I figure out my belt size?
Measure your waist, and then measure the belt. Most belts go from around 30-inches up to 46-inches in total waist size. Be sure to get something that matches your waist size.
4. Which tools should I avoid placing on my tool belt?
There aren't many tools you should avoid placing inside the pouches of a tool belt. But you should still exercise common sense. That means not placing knives or other sharp tools without a cover. Also, avoid placing liquids or bottles half-open with liquids inside.
Yes, some models offer the chance to customize the different pouches, loops, holders, and pockets you can enjoy. That way, you can fit it into your body for maximum comfort and hardiness. Similarly, you can make awesome kid tool belts for your young generation.
So, customization for your roofing tool belts is very much easy and you can enjoy having your preferred items in your roofing tool belt.
Final Words Regarding Roofing Tool Belts
Now you're almost ready to start looking for the ideal belt for your roofing activities.
Every model in our reviews list will provide precisely what you need as a roofer. It is up to you to choose the one that best matches your demands.
Just remember, the best roofing tool belt is not the most durable or the most practical, but the one that fits well with your needs. So, be sure of knowing what you're looking for before making a final choice. Do that, and you won't regret your pick!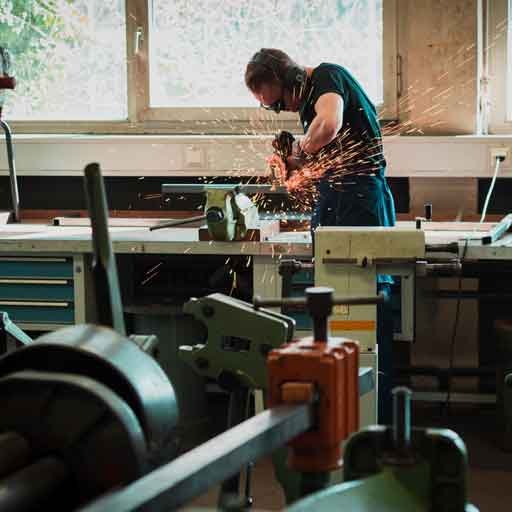 Adam is a tool geek who just loves making and breaking things. Doing the home improvements works and repairing things with his tools is his favorite past time. He loves to keep his tools arranged and sorted. On this blog, he shares his experience and knowledge.