Last Updated on November 6, 2022
For any tool user, it's very important to know how to wear a tool belt. If you are a newbie in the tools world and wondering about how to wear your tool belt perfectly, then this article is for you. Besides, some of you might be using a tool belt for some time but in the wrong way. That might cause you problems in the future. In that case, you may check out this article to ensure you are on the right path.
For a tool belt user, knowing the perfect way to wear the tool belt carries a lot of importance. It may cause severe shoulder damage and give you a lot of pain. That is why you need to know the details of the sound-wearing techniques of your tool belt.
Why Wear a Tool Belt?
A tool belt is a piece of marvelous equipment that helps to do your framing, carpentry, electrician, or other types of work smoothly and accurately. Professional people get a huge benefit from it as they can get all the necessary tools within their reach whenever they want. So, work is done with promptness and accuracy.
There are many pockets in the tool pouch for you and you can place your primary tools with other auxiliary items that you need. If you don't have a tool belt with you, you can have a small number of tools with you. In that case, you need to climb up and down for any tools you need. That would be really frustrating for you when you are in the middle of an important job.
Without a tool belt, you really struggle a lot with your work. It slows you down and makes the work take a long time to finish. It is just a loss of energy and time. So, to do your work perfectly, pick a nice tool belt for you right now!
Step by Step Guide on How to Wear a Tool Belt
There are several points that you need to remember to check on before you opt for any tool belt. Let's find out those points:
How to Wear a Tool Belt Easily?
Step 1: Look for a Tool Belt with Lots of Pockets
The first thing you need to remember is that your tool belt should have enough pockets. If you can do that you will have lots of options for your tools. You can choose different types of tools for your tool belt. Various sizes of nails and screws can be put together if there are more options.
Although the weight of the tool belt will be an issue having a number of options is always a benefit for you. You don't need to carry all the tools at a time. Instead, you pick and choose according to your need. Besides, using a tool belt with a good suspender can be a solution too.
Step 2: Primary Working Tools Near Dominant Hand
You must keep your primary working tools near your dominant hand in the tool belt. In that way, you keep the main items available for you any time you want. Besides, you can comfortably use your dominant hand to take the primary working tools for instant use. This is because the dominant hand can work faster and more than the other hand. Also, primary working tools are used more oftentimes than other tools. So, it makes sense to optimize the ability of any tool belt user for a long time use.
This will make a perfect balance of comfort and control. A framer may want his claw hammer within his framing tool belt in the primary part of it. Every profession can choose the tools based on needs and arrange them accordingly.
Step 3: Secondary Tools on the Other Side
On this site, you can arrange the tools that aren't used or needed frequently. Mainly, you can keep the accessories and small other tools for sudden needs. A four-in-one screwdriver, a cold chisel for plasterwork, and a 1/8-inch large nail plus are some examples of secondary tools. Sometimes there are two sets of tools that are needed simultaneously. You can keep one on the primary side and the other on the secondary side. In this way, you make the most use of your tools and hands.
Step 4: Pockets to the Rear for Speed and Control
When you switch your tool belt pockets to the rear side of your body, it makes it easier for you to bend over easily for tasks where it needs. Some works may require you to bend over for a longer period of time. To increase your comfort and efficiency, you must be able to rearrange the tool belt and keep the pockets on the rear side whenever you need them. It can't be more significant than in the case of a quality HVAC installer tool belt.
If you are working with the belts kept on the front part of the body, it's really irritating for you. building type works need a lot of bending over from time to time. A carpenter's tool belt is an example of that. They need to wear their toolbelt in that way to protect themselves from pain.
Step 5: Keep Your Hands Free
Always carry your tools in your tool belts when you are climbing a ladder so that you can grip the handles with your free hands. It is really important for you to maintain this rule as it protects you and the tools you are carrying. If you do not follow the rules, you might cause trouble for yourself as well as others by dropping any tools. You can use a waistband to carry some more tools with you. It will be within your reach and will be of many uses.
Besides, don't carry many tools when you are climbing a ladder. Too much weight will be a problem for you and that may be difficult for your shoulder. Pick the tools that you need and keep the rest of the items separated for other use.
Step 6: Organize Your Tools
A proper organization of your tools is really important as it will save you from unwanted pain and unnecessary heaviness. Besides, you don't want to be overwhelmed by multiple tools when you are working. So, before proceeding with any work, you need to make a list and pick the tools you only need for that particular work. That will help you keep your tool belt light and arrange the tools properly. It's very important for women's tool belts to have lightweight.
Step 7: Specified Place for Each Tool
When you wear your tool belt, make sure that every tool is in its specified place. If you keep a tool in one place today and in another place tomorrow, it will be really confusing for you to find the right one at the right time. That is why a specified place is really necessary. From my experience, I can say that I become very annoyed if my belongings or my tools aren't in the same place where I'm used to having them. It is also helpful because you know their whereabouts of them and it saves you precious time. Besides, during work, it is very important to have the tools instantly whenever you need them.
So, give a specified place for each of your tools and try to maintain the place for someday. After that, you will be habituated to it and that will ease your work.
Step 8: Maintain Tool Hierarchy When Wearing a Tool Belt
Because the important tasks are done by your dominant hand, you need to supply it with the most important tools frequently. Maintaining the hierarchy of the tools is really important. You can get the maximum benefit when you are following the rules.
So, whether you are a left-handed person or right-handed, you must keep it that way. On the other hand, you need to keep your auxiliary items on the other side. When you pull out your hammer from your dominant side and the nails from the auxiliary part, it helps to do the task smoothly.
Step 9: Moving the Heavy Center Constantly
Moving the center of heaviness is really important as it distributes the load uniformly and helps you to keep yourself pain-free. When you are climbing a ladder or bending over for any work, the center of heaviness always changes. So, you need to change your tool belt accordingly to maintain the center in a way that can offer you the most comfort.
Normally, professional people keep their pockets and pouches back when they start working with their tool belts. When you get a tool belt for your kids, teach them these techniques too. This is comfortable for them as they can bend over or do the tilting work whenever they need it. If necessary, they can rearrange the position for them and make adjustments.
This way, you can keep yourself free from back pain. So, maintain this rule and keep yourself injury-free and healthy.
How to Wear a Tool Belt with Suspender?
The installation process of the suspender is the same as the regular tool belt. You need to push the belt through the pant loops and close the buckle tightly. Don't press your waist during the process. Next, you should carry the suspender through your back and after that to the chest. Then, it would help if you fastened it in the front part of your trousers.
Remember that, the tool belt and suspender can't be hanging to the rings rather be in a comfortable position. You can proceed with loading the pockets of the tool belt uniformly. During that, try to organize the inside of the tool belt pockets so that the auxiliary side gets fewer items.
If your work requires long-time inclination, then you should turn the belt accordingly to balance the weight. If you are working in a higher position, like doing roofing works with carrying tool belts,  then release the front body part from all tools and keep the tool belt on your side. Using a suspender, you can minimize the load, transfer weight uniformly and improve your back support.
FAQs on How to Wear a Tool Belt
Why Should I Wear a Tool Belt with Suspender?
A tool belt with a suspender is really a super addition for any tool worker. It can save you from pain by distributing the load uniformly throughout your body parts. If you aren't using any suspender, then you are exposing yourself to the possibility of having an injury.
When you are going to any work that requires you to carry a lot of tools in your favorite leather tool belt. As a result, it is very hard for you to carry those tools all day long. There are various types of work that need a lengthy period of standing with the tools on you. In such a situation, you need to use a suspender to give you comfortable working time.
Also, you should always use a suspender in those types of works where your hands aren't free oftentimes. Besides, a suspender can save your tools from falling around and getting damaged. So, there are many reasons for using a suspender when you wear a tool belt.
Which Tools to Keep in Your Tool Belts?
You should start with the most essential items. You need to choose the tools that you may use for fixing, repairing, or any other work. You can have your hammer, wrench, screwdrivers, pliers, and other tools in your tool belt.
There are many secondary items too like the measuring tape, chalk line, pencils, and special items like a flat-head screwdriver for special work.
How to Organize the Tools Efficiently?
You need to organize your tools according to your necessity. Primary tools would be in a position that has access to your dominant hand. Similarly, the assistant hand needs access to the other small auxiliary items.
Also, you need to have pockets that are deep and can keep many small items without falling. Besides, you can always make your customized tool belt.
What can I keep in the tool belts?
You can place the most common and necessary items in your tool belt. There are various kinds of tool belts on the market. If you have an electrician tool belt, you will be able to keep your electrical tools and equipment there. If you have a carpenter tool belt, then it will assist you to place the tools related to carpentry.
So, pick the tool belts according to your need and you will find a suitable place and arrangement for your tool.
End Words on Wearing Tool Belt Techniques
Wearing a tool belt is not a task that you should neglect. Because it will have a tremendous impact on your back and shoulder. So, always try to know the right techniques of how to wear any tool belt and follow those instructions properly. If you can do that you will be having a good time working with your tool belt.
So, learn the techniques required for wearing a tool belt perfectly and have a good experience. I hope, you will enjoy your work.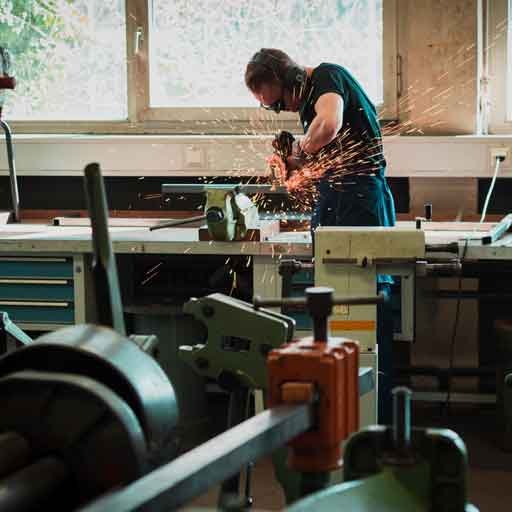 Adam is a tool geek who just loves making and breaking things. Doing the home improvements works and repairing things with his tools is his favorite past time. He loves to keep his tools arranged and sorted. On this blog, he shares his experience and knowledge.