Last Updated on November 7, 2022
Want to store your tools safely and conveniently for your work? Then you probably need the best electrician tool bag. We know how uncomfortable and inconvenient it is to bring your tools around in a regular bag. Carrying them in your hands or a small purse is also an awful experience. And trying to move around with a standard electrical tool bag that tears up within months? That can be depressing.
Luckily, you can prevent all of that with the right electrician tool bag. You only need to make sure it meets your demands in size, design, number of pockets, and comfort. Then, you will have a long-lasting, resilient, and convenient piece of gear to bring your tools around with ease.
To help you out in finding the perfect model, though, you'll have to learn more about it. That's why we brought a buying guide with reviews of the best tool bags for electricians. Keep scrolling down to learn about them!
Product Comparison
Table could not be displayed.
7 Best Electrician Tool Bag Reviews
We went through hundreds if not thousands of electrician tool bags. But few were really worth considering.
That's why we ended up with only 7 of the best. Then we reviewed each one considering their most important features. Here's what we found about them:
01. Klein Tools 55421BP-14 TradesmanPro Best Electrician Bag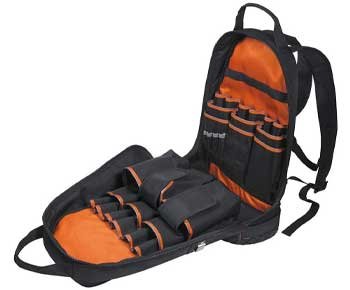 The TradesmanPro from Klein Tools is probably the most practical yet compact choice on the list. No need to get the largest and bulkiest model when something small and convenient like this does the job.
Here, we're going over its most interesting features, starting from its wide array of pockets and finishing with its next-level construction.
Practical Pocket Set
Want to store even the smallest or largest of tools in your bag? Then you need something with enough pockets. That's why the TradesmanPro offers 39 pockets for you to enjoy.
There's a front pocket, a zippered front pocket, two large pockets on top, two more on the sides, and several interior pockets. You'll have enough to store your entire electrician's tool kit.
High-Level Protection
You don't only want to bring your tools around; you also want to protect them. The 55421BP-14 tool bag offers a unique molded bottom that keeps your tools safe. On top of that, the entire fabric build prevents even the tiniest drop of moisture from getting inside.
Practical and Light
With the shoulder straps, the top handle, and ultra-light construction – you can bring this tool bag anywhere without a problem. Even if you fill up the bag completely, you'll feel how the light construction makes it a piece of cake to move just like a high-quality rolling tool bag.
Add the orange highly visible color, and you'll be able to browse inside without a single issue. That adds up to its convenience level.
Superb Material
If we had to pick the most important factor in this electrician tool bag, we wouldn't hesitate to choose the 1680D polyester fabric.
The ballistic weave fabric allows maximum moisture-wicking performance, all kinds of element protection, and a tear-resistant build overall. Even for the most challenging of electrician's work, this tool bag will perform like no other.
Pros
Durable 1680D ballistic weave
Comfortable shoulder straps
Light and highly portable design
Ultra-protective of your tools
Best-rated electrician tool bag
Moisture-wicking and dry construction
A stable design with a molded bottom
Excellent set of 39 pockets
Cons
The molded bottom can be a little uncomfortable
Verdict
As the smallest model in the list, we recommend it for those beginner electricians who want a practical yet resilient option. It won't hold as many tools as others, but it still works like a charm for everything else.
02. Klein Tools 55485 TradesmanPro Tool Master Best Bag
Let's say you didn't like the TradesdemanPro Tool Bag because it was too small. Well, you can also go for its biggest cousin, the Tradesman Pro Tool Master.
With a similar name and a similar design, this one offers a few more pockets plus a way more spacious design. If you want to enjoy the extra convenience of a sufficiently large tool bag – this one won't disappoint.
Pockets for Every Tool
How many tools do you need as an electrician? We're pretty sure no more than 48. That's the number of pockets you get with this excellent model.
You can store everything from wires to attachments, accessories, screwdrivers, flashlights, hammers, and much more. There are so many pockets that it will feel like it has no limits.
Practicality at Its Best
We love pockets, but they won't be enough if you can't get the most out of it in every other way. Luckily, it offers all that too – you get a tool caddy, a D-ring metal hook, and several buckles for extra tightness. Whether it is to secure your tools inside or hang them for later use – it's totally possible.
The removable tool caddy with carrying handles will make your work much easier.
Best Comfy and Well-Fitted
Want to feel ultra-safe and comfortable while wearing the tool bag? You may feel exactly like that with this bag. The well-padded straps and the buckle chest strap allow maximum comfort and tightness.
You can adjust the whole system according to your needs so that you can take this tool bag anywhere freely and comfortably just like those great carpentry tool bags.
Unbeatable Construction
There's no doubt Klein Tools puts a lot of effort, into making a high-quality electrical tool bag with the TradesmanPro. Using 1680D polyester fabric, there's no doubt you get heavy-duty performance and next-level durability.
You can add the molded bottom that protects tools, prevents moisture from getting inside, and adds form to the electrical tool bag for easy use.
Pros
Adjustable buckles and straps
Molded bottom for extra protection
Super-practical design with hooks and loops
A spacious and convenient set of pockets
Comfortable shoulder padding
Best high-end electrician tool bag
Unbeatable tool caddy
High-quality polyester fabric
Cons
Verdict
This is a medium-sized electrical tool bag for those who need to bring tons of tools, but not their entire toolbox. You can enjoy its safety, ease of use, and practical design. It will set your standards higher in total quality.
03. AmazonBasics Electrician's Tool Bag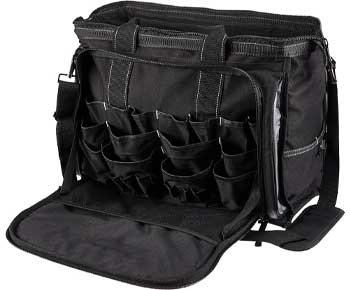 AmazonBasics never disappoints. If you're looking for a low-budget electrical tool bag that offers practically everything you need without going the extra mile – this one is it.
You get everything all other tool bags for electrician offer but without the huge price tag. It's safe to say this is a mid-range model for anyone who wants a quality yet decently affordable product.
Surprisingly Sturdy
The first thing you'll notice is how rugged this tool bag is. Boasting 600D Oxford cloth for extra sturdiness and 1680D polyester for maximum resilience, you can expect it to last a lifetime. This goes well with heavy-duty stitching, sturdy zippers, abrasion-resistant base, over-stitched stress points, and more.
Even in the toughest of uses, this bag will perform amazingly well. And it costs nearly half of its competitors.
Superb Organization
Organizing the tool bag will take little to no time. And having everything in the right place for easy access is a no-brainer.
You get 50 pockets in total, with 41 inside and 9 outside. From screwdrivers to scissors, tapes, hammers, pliers, and much more – you can store it all conveniently on this bag.
Ultra-Handy
No need to worry about bringing the tool bag everywhere you get. You get padded shoulder straps with total adjustability, a 2-strap carrying handle, and a set of 4 rubber-foam feet. Together, they ensure the handiest of experiences so you can bring them anywhere you want with ease.
Highly Protective Interior
The smooth zippers, a non-collapsing design, a metal frame, and a rubber bottom make this tool bag for electricians hugely protective of your tools.
Not only it makes everything inside safer, but it also makes it easy to access. With an open mount offering frustration-free access, you can enjoy achieving quick workflow on the job.
Pros
Long-lasting 600D Oxford fabric
Easy to carry with handles and straps
Stable and protective design with rubber feet
Smooth and durable zippers
Best budget electrician tool bag
High-quality 1680D polyester fabric
Up to 50 pockets for extra storage
Cons
Most pockets are super small
Verdict
AmazonBasics does it again. You get the chance to bring your most important electrician's tools around without wasting any time or effort. And for such an accessible cost, it comes like an excellent choice.
04. Klein Tools 5541610-14 TradesmanPro Shoulder Electricians Best Pouch
Once again with Klein Tools, we now find the TradeasmanPro Shoulder Pouch. Not a backpack and not exactly a tool bag – but still an amazing alternative if you're looking to enjoy the same benefits.
Somewhat larger than its cousins, it still manages to offer practical experience on the job. No need to get a super-large and bulky bag when something small and convenient like a pouch does the job.
Large and Spacious
You get 40 pockets for small and large tools, be it screwdrivers, pliers, or scissors. Alongside that, you get a large pocket for the largest tools. Together, they ensure a practical enough experience for most electricians.
And with an open design, you can bring it anywhere fully equipped, so there's almost no limit to how many tools you can store inside it.
Comfortable Use
Being a pouch to put on your shoulder may make you think it is an uncomfortable piece. But it's not. You actually get more-than-decent comfort with a padded strap system.
These straps are also totally adjustable, and you can wear the tote across your chest if you prefer. That's enough to say it is one of the most comfortable in the market.
Best Build
Boasting the same 1680D ballistic weave TradesmanPro electrical tool bag has, you can expect this pouch to last a lifetime as well.
This matches well with the fully-molded bottom which ensures maximum moisture protection and excellent stability when using.
Fast and Easy Access
In contrast with other tool bags, the shoulder pouch offers direct access to its interior. You won't need to open zippers, close them, and move your hand around to get a simple tool. Instead, you have an open-wide mouth that allows the fastest and easiest access on the whole list.
Apart from that, you only get one zippered pocket. The rest offer easy reach, so you don't have to waste time or effort handing them.
Pros
Ultra-practical set of 40 pockets
Long-lasting and tough 1680D polyester fabric
Direct-access system for easy use
Fully molded bottom for stability
Best electrical tool bag for the money
Very-spacious and handy design
Comfortable and easy to transport
Cons
Doesn't protect tools like others
Verdict
While it won't keep your tools inside as effectively as other tool bags, the tradesman pro electrician tool bag offers amazing access that no other model delivers. And if you add the huge design and comfortable features, then it is an option not to dismiss.
05. CLC Custom Leathercraft L255 Tech Gear Tool Bag
Store all your tools in a single tool bag and get them out fast and easily whenever you want. That's what the CLC Custom Leathercraft L255 makes possible.
As its name says, this is a Tech Gear tool bag, perfect for those who need excellent dexterity and top-notch convenience. You won't find a single thing about this electrical tool bag to hate.
Fantastic Handiness
Easy to access, a piece of cake to carry, and can host as many tools as you need – the CLC Custom Leathercraft L255 is not a tool bag to dismiss.
The hugely spacious design, carrying handles, padded straps, and even the sternum strap make this tool bag an excellent choice for any electrician.
Highly Protective and Organized
Keep your tools safe at all times, and don't let anything disorganize them with this bag. You get 53 total pockets so you can place as many tools as you want. Yet, you can still hope the tools to stay always safe and protected. Wherever you take them, the straps and construction keep them safe at all times.
Ultra-Practical Flashlight
Are you working on a dark space or need to pass through one? Well, you always have the opportunity to set up the built-in flashlight and light your path or worksite without problems.
The light offers 39 lumens of total brightness and offers excellent LED performance. On top of that, you can direct the light wherever you want and set it up on 3 different levels according to your needs.
High-Quality Build
Want maximum durability? Then get a sturdy tool bag. The tough fabric with base-pad feet ensures a long-lasting bag that you can bring anywhere without issues.
Everything else from the zippers to the straps, holders, and even the stitching is reliable enough to make it last decades in harsh environments. And that's something you can leave out.
Pros
Unbeatably handy flashlight
Sturdy construction
Protects your tools at all times
Easy-to-organize 53-pocket design
Durable zippers, straps, and loops
Comfy shoulder straps and handles
Cons
Bulky design can be hard to put on
Verdict
Convenience, handiness, and durability meet to provide a fantastic tool bag for electricians overall. With its fast-access design, highly convenient straps and handles, and tough build will never let you down. If you want a tool bag that reaches a high level in every important factor, this tool bag is your best bet.
06. Veto Pro Pac TECH PAC Service Technician Bag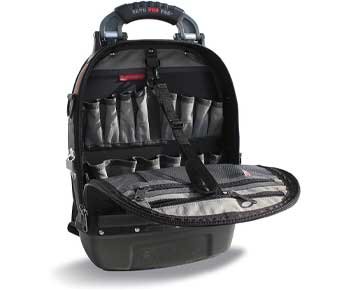 Any electrician who takes his job seriously wouldn't hesitate to get a high-end tool bag. And if that's your case – then you should undoubtedly go for the Veto Pro Pac TECH PAC.
As a Service Technician Bag, this magnificent product offers the most convenient, durable, comfortable, and straightforward experience you can expect. Sure enough, it is also expensive – but totally worth it.
Tons of Space
With a total number of pockets 56, there's no doubt this tool bag will host as many tools as you need for your work. You get so many pockets that there's no tool you can't place inside. Anything an electrician could need from a cordless drill to screwdrivers, pliers, and even a tablet – you can fit it all.
You get a patented center panel with dual bays so you can store tools in either area. With a wide design to store tools, you can place almost anything inside with no issue.
Fast and Easy Access
Despite its huge design, you will still have no issue reaching inside and grabbing the tool you need. The organization plus the straightforward design allows the fastest and simplest access system you can think of.
Hugely Comfy and Convenient
A multi-mode system for Closed and transport or Quick and easy access makes it extra practical. Add the release handle that gets strain out of the shoulder strap, and superb padding all around, and it becomes one of the most comfortable.
The back is totally EVA-padded, you get D-rings for hanging extra stuff, and a TPV rubber grip so you can bring it around. To make it even better, it is totally adjustable so you can fit it to your needs.
 Maximum Durability
You won't find any tool bag as durable and resilient as this one. Boasting 1800PVC Denier Nylon fabric, it withstands any type of use without a single problem.
You also get an injection molded bottom that makes it stable. This adds up not only to its durability but also to the level of protection for your tools. No matter how you use it – this tool bag is a total pleasure to have.
Pros
EVA-padded straps for comfort
Quick access for easy use
Rubber grip handle for portability
High-quality 1800PVC nylon fabric
Excellent Closed and Quick modes
Amazingly spacious and convenient
Cons
Verdict
Despite an absurdly high price, we can safely say it is totally worth it. You may have to empty your bank account, but the quality of this electrician tool bag is unbeatable. And what's even better, you can get it in 6 different colors – which no other model offers.
07. DEWALT DGL523 Lighted Tool Bag
Coming from Dewalt but offering a CLC Custom Leathercraft design, the DEWALT DGL523 is a high-end model for a very reasonable cost.
The combination of such excellent brands makes it easy to know that you're getting top-notch quality in every way. And you wouldn't be wrong going for it – this tool bag is among the best on the list.
Handy Pockets
Want to store all your tools without leaving anything behind? Then you need a tool bag like the DGL523 offering 48 internal pockets and 9 external ones so that you can store them all. Any electrician who wants to bring his tool around with total ease will love how much space this tool bag offers.
Convenient Organization
The interesting part about the number of pockets is that they're all different. Some of them are ideal for your screwdrivers, others for pliers, some of them can handle small hardware, and so on – you won't get frustrated trying to find a place for your tools.
There's even a front pocket for your most-used tools and two side pockets for the smallest hardware or gadgets. It is sufficiently convenient for even the most experienced electrician.
Decently Comfortable
Another factor that you will love about this bag is the comfortable padding. From the carrying handlers to the shoulder straps, and even the back section – they're all padded so you can wear it comfortably.
Even if you need to carry the tool bag filled with tools for several hours straight, you won't feel much of a strain. That's how well-padded it is.
Uniquely Practical Light
If there's something you can't ever leave out is the extra features some of these tool bags offer. And with the DLG523 from DeWalt, you get one of the most interesting features you can have: a flashlight.
Offering 39 lumens of total brightness and 3 levels to adjust, you can use this flashlight to light up the darkest of work areas.
Pros
Practical flashlight for dark areas
Easy-to-organize and access design
Tons of space with 57 pockets to use
Excellent exterior pockets for fast access
Comfortable with padded straps and handles
Hugely protective and safe to build
Cons
Not the most durable zippers
Verdict
Coming from one of the best brands in the tools market in combination with a top brand in the bag sector – we can't say enough good things about it. The tool bag is excellent in every way and it is still affordable. This is a no-brainer.
Why You Should Use an Electrician Tool Bag?
Before purchasing anything, you must know whether you really need that or not. Once you are sure to have one the whole process gets easier. Here's a comprehensive explanation of the benefits you get from using a tool bag over any other product:
Straightforward Use
There's nothing that makes the work of an electrician as easy as the right tool positioning and the easy access that tool bags offer.
You won't have to waste time and effort trying to get your hand over the right tool. And you won't have to open hundreds of zippers before you reach the tool to use.
Tool bags often have loops, small but easily accessible pockets, plus ample and stress-free designs. You won't have to waste any time or effort using these tool bags. They allow maximum smoothness when on the job. And that will always help you – especially if you're always working against time.
Maximum Organization
Similarly to how easy they are to use, how fast they are to access, and how much time and effort they save you – tool bags are also super organized.
Most of these tool bags come with the perfect pocket and loops so you can place tools in the right place according to their size and type.
At the same time, this will save you tons of space and make tools even more readily available. You just place the tool in the exact pocket or loop you want it and then get to it directly without wasting a single second. Also, the tool bag will be a pleasure to work with – no annoying disorganization inside.
High Portability
Tired of feeling uncomfortable while traveling around with a standard electrician tool bag? Then you need an electrician's tool bag that makes it totally pleasant.
Not only are these bags light enough so you won't have to make much of an effort to carry them, but they also feel comfortable all around. From the straps to the handles and even the padded design, what these bags offer makes them super portable.
As an electrician, this is something you can't dismiss. The mere fact that you can go anywhere with the bag comfortably on your shoulder filled with all your tools – no other product can match that.
Extra Tool Protection
Last but not least, an electrician tool bag makes it possible to keep your tools safe at all times. It doesn't matter where you go or what type of work you're doing – with the right electrician tool bag you can prevent any damage.
As an electrician, you sometimes care more about your tools than your own health. And that's why a sturdy and protective tool bag can be such an excellent addition for your work gear. It keeps your tools protected before, during, and after use.
Buying Guide of the Best Electrician Tool Bag
Even though they seem like simple products, you still need to know exactly what you want from them before making your final choice. And for that, you'll have to know what to look for.
Here, we explain the most critical factors everyone should consider before buying an electrician bag. Take a look!
Materials and Construction
Want a tool bag that lasts? Then you'll want something made with the right materials and using the ideal construction methods. Otherwise, it may not withstand your work demands.
For the best results, we recommend electrician tool bags that are either made of polyester or nylon. These are the two most durable and resilient materials out there.
Other materials you may find include leather and canvas. These are not necessarily bags, but they don't hold as much weight or resist as much exposure to elements as the previous two.
Also, consider the specific type of material. For example, if the tool bag says simply polyester or nylon, it is probably less resistant than 1680D polyester or 1800PVC nylon.
Along with a quality set of materials, you also want resilient stitching. Go for over-stitched and reinforced constructions, so the tool bag lasts longer than you want without ripping or tearing apart.
Protection and Sturdiness
Every electrician loves his tools – that's how he can do his job effectively. Without them, it would be almost impossible to get the job done. So every time they break or corrode, buy a new one
Luckily, you can always make sure the tool bag you get keeps your tools safe. For that, we recommend padded interiors, moisture-wicking fabrics, and molded bottoms.
A set of quality zipper handles, and flaps can also help keep your tools safe. The thickness of the material will also help you realize how well the bag can protect your tools.
And for better protection, consider those with loops and pockets that prevent tools from hitting each other when the bag moves like the sturdy plumbing tool bags.
Overall, get a sturdy enough electrician tool bag that keeps every single tool safe no matter the situation.
Pockets and Organization
Once you have sturdiness and protection figured out, it's time to consider how many pockets and how well-organized the tool bag is.
There are many ways to go about it. While a number of pockets are a perfect example of how much space and convenience you get, we also recommend considering overall distribution.
For example, two high-end models offering 55 pockets may seem the same. But the only way to find out which ones are more practical is to look for the right distribution. Those with larger pockets are usually more convenient than those with small pockets or loops.
At the same time, you want small and large pockets alike. And you also want vertical and horizontal pockets for extra handiness.
In the end, it's all about picking a tool bag that offers every single possible pocket for the most convenient organization possible.
Comfort and Fit
As an electrician, you're probably moving around consistently. Sometimes on the job, or around the city, or back and forth from work and office or home – however, it is for you – you must get a comfortable tool bag.
For this, you should consider padded shoulder straps that don't harm your skin when wearing. Similarly, you want adjustable straps that you can fit perfectly to your body size and shape. Removable straps are also worth considering, especially if you intend to move around more freely.
Moreover, make sure it has comfortable padding on the handles as well as the part when your back goes (if it works as a tool bag). This will prevent any discomfort you may feel while bringing it around.
Portability and Size
Last but not least, you want the tool bag to be sufficiently portable while offering the ideal size you want.
Here, comfort makes a significant impact. But the true feature to think about would be the weight and the carrying options.
Some models depend entirely on shoulder straps. Without them, you won't be able to bring the tool bag around. Others come with handles and/or extra ways to move them around.
We recommend strap designs that you can use as a tool bag or as a pouch as necessary. Yet, you may also find those with wheels that you can transport without necessarily carrying them.
As for weight and size, we can't offer a specific measure to follow. But we can say that the lighter and smaller the bag, the easier it is to transport. So sure enough, if you don't have many tools to bring around – you may be better off with a small electrician tool bag than an unnecessarily bulky one.
Types of Electrician Tool Bags
It doesn't matter the quality of the design of the tool bag you're getting; you need to get the right type. What does that mean? Well – you need to learn about the different models available.
Here's how you can set them apart:
Standard Tool Bag
A typical tool bag is a highly reliable and convenient product you can use to bring your tools around. These are often made of canvas, nylon, or leather. And you can bring them around either by hand or by holding them on your shoulder.
Most tool bags offer between 20 and 50 pockets to enjoy. And they're usually large enough so you can organize them easily, store small and large tools, and still go anywhere without wasting any time or effort.
Typical tool bags can be heavy and bulky. While they are not necessarily uncomfortable or inconvenient, they're still somewhat tricky to transport. Most people who use standard tool bags like the HVAC types have other ways to move around long distances.
Tool Backpack
A backpack-styled tool bag is an excellent choice for those who prefer practicality and ease of use. They are just like any tool bag, but with the extra pockets and sturdiness that a tool bag demands.
The advantage, on top of that, is that they are often lighter and easier to bring around. You won't have to put them on your shoulder or struggle with moving them as a large tool bag would.
To make it even better, it comes with a highly resilient construction (usually polyester or nylon). So they're excellent options to withstand tons of use and work in a wide array of situations without problems.
And of course, most quality tool backpacks offer anywhere from 30 to 60 pockets. You can still store large and small tools as necessary, but they often have limited space inside.
Tote Bag
Tote bags are usually ideal for groceries and beach items. You wouldn't think a person can use them as tools. But yes, you can find tote bags that indeed help electricians and other tradesmen bring their tools around.
They look and work just like any tote bag. That means, they're like any bag you can get out there but without the fasteners or the zippers to close them. In short, they're an open bag of tools with a wide mouth on top.
This allows easy access and usually adds extra space for bigger tools than usual. But on the negative side, they leave tools exposed and often don't offer as much protection from the elements.
Tote bags are made of polyester, nylon, or sometimes leather. Their whole purpose is to provide ultra-practical access and tons of storage space.
Tool Pouch
If you don't find backpacks or tote bags useful, then you go for a tool pouch. These are usually smaller than the previous types, making them ideal for electricians who are not looking for space but portability.
Let's say you want to store just a few screwdrivers, some nails, and bolts, plus your pliers and electrical gloves – then you'll find a pouch more than ideal.
Sure enough, there are various tool pouch sizes to choose from. And they may come with anywhere from 10 to 30 pockets maximum.
Most tool pouches look more like tote bags than any other type of bag. However, some models are indeed zippered or fastened, so you can close them.
Care and Maintenance
Even though they're made to stand tons of use and withstand even the harshest of environments, you still need to take good care of them. Here, we explain some of the most important tips for that:
Clean the bag at least once a week if you use it consistently. Use a brush to get rid of dust or dirt, and a moist cloth to get rid of the extra filth.
Try to do one deep clean every month or two by getting all the tools out and washing the entire piece.
Don't overfill the bag. Try to stick to its maximum weight capacity so the fabric lasts longer, and the stitching doesn't tear apart.
Keep the bag from staying for too long in moist places, sunny environments, or places that are too hot. Store the bag in a dry and safe place.
Get all the tools out if you're hanging it to prevent any unnecessarily damaging stress.
Whenever the bag gets moist or stained, clean it right away. Don't let chemicals or staining liquids cause damage.
Only use the bag to transport the electrician's tools. Stay away from heavy and bulky electric machines that don't fit inside.
These are general and easy-to-follow guidelines you can put into work to keep it safe and working for a long.
 Frequently Asked Questions
We already went through some of the most critical factors and concepts to know about electrician tool bags. Yet, we haven't relieved all your doubts. Here, we will help you with that:
What are the best electrician tool bag brands?
The best brands offer excellent constructions, tons of pockets, a spacious and handy design, plus extra features that standard tool bags don't provide. That's why brands like CLC Custom Leathercraft, Klein Tools, DeWalt, and Veto Pro are the best you can go for.
Does every electrician need a tool bag?
Yes, in every way. The ability to transport things around and enjoy the comfort and convenience of a tool bag is something no electrician should dismiss.
How to use an electrician tool bag?
It all comes down to your needs, but we recommend using them as any other bag out there. But instead of storing groceries or general stuff, you will instead store your tools. So try to be as organized and mindful as possible.
Are electrician tool bags waterproof?
Most of them are, especially the ones made from plastic materials like nylon or polyester.
How many years does an electrician tool bag last?
They can last anywhere from 1 year up to 10 years or more. With proper care and maintenance plus safe use, they should last about 2 years for a typical hard-working electrician.
Final Words
By now, you should know enough about the electrician tools bag to pick the perfect model without wasting any time or effort.
Just remember to follow every single piece of advice and our best electrician tool bag review. Then, choosing the right model will be a piece of cake.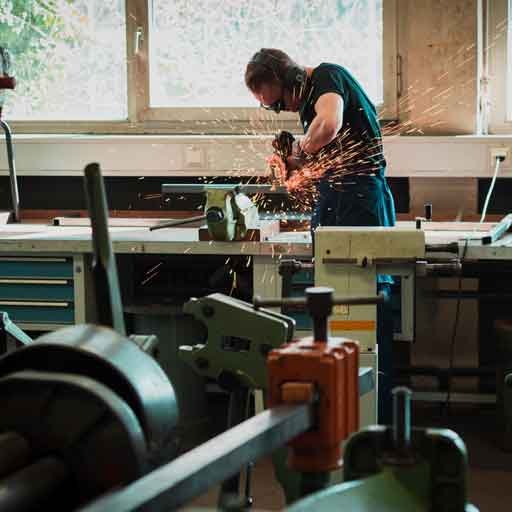 Adam is a tool geek who just loves making and breaking things. Doing the home improvements works and repairing things with his tools is his favorite past time. He loves to keep his tools arranged and sorted. On this blog, he shares his experience and knowledge.