Being a professional in the HVAC industry, tools to you are what bow & arrow to an archer. Keeping all your arms organized with you for any challenging deal calls for the best HVAC tool bag. Your expertise becomes worthless if you can't find the exact tool you need while solving a technical problem.
Check Today's Deals on Tools!
Many may opt for a regular backpack for this purpose, but that doesn't honestly help. You need a specially made HVAC tool bag that allows you to place, as well as organize the tools inside the carrier. That's why a well-designed HVAC carrier serves your purposes pretty precisely.
That's what this article today is all about. We have selected 7 of the most useful HVAC tool bags that will suit anyone in this industry. So if you are wandering around for one, fasten your seatbelts!
Product Comparison of Best HVAC Tool Bags
Table could not be displayed.
9 Best HVAC Tool Bags Reviews
Honestly, it was a hard nut to crack to filter out the best 7 products out of hundreds. Still, we eventually managed to sort things up. The following reviews are going to give you an in-depth idea about these tool bags. So, ready or not, here we go!
01. DEWALT DGL523 HVAC Tool Bag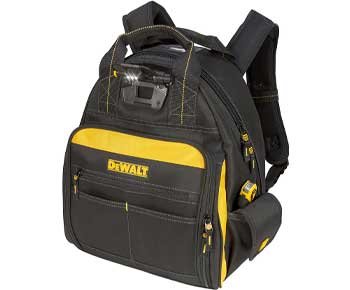 To kick off our reviews, we have one of the best brands on the market – Dewalt. The DGL523 is one of the most popular HVAC tool bags produced by Dewalt. There are several reasons behind that.
A Room For Every Tool
Dewalt seems to have taken special care to make room for different tools in this one, single bag. The first thing you notice in this carrier is the wide hollow space inside. It's literally possible to fit several items inside without even bothering about the pockets.
Talking about the pockets, this HVAC tool bag hosts a staggering 48 pockets and pouches inside. You get to place pliers, hammers, drills, screwdrivers, and many common tools in its ample number of pouches.
On the other hand, you have 9 other pockets placed outside the bag. These are here for keeping your most commonly used gear that can be snatched out in seconds.
Front-Zipper Pocket
In addition to the pouches inside the bag, this champ comes with a front zipper pocket, as well. It is more convenient to open up when you are too busy to unzip the main sack.
The main purpose of this front zipper pouch is to give you access to your most commonly used materials. It is easy to open and takes a little time to expose.
Full Zipper Opening
Interestingly, the HVAC tool bag is designed with a full-open zipper. What benefit you get from it is that you can crack open the whole bag. It will allow you to reach every nook and corner of the bag inside.
Padded Tool Bag
This carrier is a shoulder-carrier one. So there has to be some provision for the comfort of your shoulder. Fortunately, Dewalt did take this into account. The backside of the HVAC tool bag is fully padded so that you don't feel any fatigue or pressure on your upper body part.
Similarly, the carrying handle on the top and the shoulder strap behind, are also gel-padded for extra convenience and comfort.
LED Light Attached
This is quite interesting. You get an LED light attached to the tool pouch that emits light at a maximum of 39 lumens. This helps any technician like you a lot when you are working in a dark environment or if there's not enough light source around.
It will illuminate your working area, and you can easily carry on difficult tasks under its bright light. All you need is a piece of triple-A battery to support it.
Pros
A full hollow space inside the tool pouch
A total of 57 pockets and pouches for easy-keeping tools
LED light attached for illumination in the dark
My best pick HVAC tool bag
Gel-padded backside and shoulder strap for comfortable carrying
Full zipper opening for easy access inside the bag
Cons
The zipper of the front pocket is a bit weak
Verdict
With plenty of slots inside and outside, this rugged back is an ideal choice for most technicians. Having an LED light is a great addition that multiplies its convenience of it. Overall, it does look like the best tool backpack for HVAC.
[wpsm_button color="main" size="big" link="https://amzn.to/2XSdinQ" icon="none" class="" border_radius="50px" rel="nofollow"]Check on Amazon[/wpsm_button]
02. Veto Pro Pac TECH PAC HVAC Tool Bag
With a strong base on the bottom, the Veto Pro TECH PAC comes out as a strong contender in this category. Coupled with its 56 pockets, it's a blind bet for any professional in the HVAC industry.
Weatherproof Fabric
The build quality of the TECH PAC is something Veto boasts of. That's because the fabric used in it consists of 950 and 1250 PVC-impregnated denier nylon. For those of you who are wondering what this means, it echos one thing – sturdy.
Again, the weatherproof material on this bag makes it a perfect choice for hanging on your back and set out on a rainy day. Its waterproof x-factor is pretty useful in humid areas, as well.
Although there's a bit of doubt if the zipper portion withstands aquatic pressure or not, that's not something to worry about. Overall, it's a robust carrier.
Padded Tool Bag And Strap
When you are moving around with this on your back, all you need to ensure is comfort. That's why this carrier comes with a padded back and shoulder. The padded back is a clever addition that prevents the bag from slipping from your back.
Its shoulder straps are adjustable and padded. This means, you can adjust the strap according to your size, and the padded surface will provide a soft feeling on your shoulders.
Ergonomic Over-Molded Grip
Most of the time, this carrier will be carried less by your shoulder and more by your hand. To ease up this, Veto introduces an ergonomic over-molded grip on the top of the carrier.
The grip is quite rugged and allows great friction with your hands. Slipping from your hand is almost impossible if appropriately gripped.
Aluminum Hook
Tired of carrying it all along? A great option can be hanging it from a suspender. That's why the aluminum hook is there on the back of this pack. You can pull out the hook from a sliding position and hang it anywhere you need.
It's pretty helpful when you find a little space for keeping the bag beside you while you are working. Just hang it from a nail or anything around you, that's it!
Plastic Bottom
Keeping the carrier straight is an easy task. Thanks to its plastic bottom feature. The bottom is actually made from flat-surfaced plastic. This helps in two things. One, you can keep edgy and sharp tools inside the bag, and that won't penetrate through the bottom.
Two, you can keep the bag straight in a sitting position. It makes it easy to open the pack up and navigate inside.
Pros
Weatherproof 950 and 1250 PVC-impregnated denier nylon fabric
Over-molder ergonomic grip
Best quality HVAC tool bag
Adjustable padded strap for comfortable wear
Soft gel-padded back to ensure non-slipping comfort
Aluminum hook for hanging from anywhere
Cons
The pockets are quite deep for smaller tools to keep
Verdict
As far as build quality is concerned, Tech Pac does prove itself to be a standout product in the market. If any technician like you is not quite selective about the price, this one definitely should be on your 'To-Buy' list.
[wpsm_button color="main" size="big" link="https://amzn.to/3cBCp2y" icon="none" class="" border_radius="50px" rel="nofollow"]Check on Amazon[/wpsm_button]
03. Klein Tools 55421BP-14 Bag for HVAC Technician
With a whopping 160 years of experience in producing tools and gear, there's a lot to expect from Klein. Their 55421BP-14 carrier doesn't disappoint at all. Here's why.
Hard And Molded Front Pocket
One of the most innovative features of this carrier is its molded front side. It works as a full-fledged armor for fragile items. Take your glasses, for example. Or any soft-plastic-made measurement tools.
These will be well-protected inside the front pocket. If anyway the bag falls or anything puts a bit of pressure on it, these flimsy materials will stay safe and sound.
Durable Body
Using the 1680D ballistic polyester is a well-thought choice, we must say. Given the way the carrier will be used, such a durable and strong building material was much needed. The robust body made from ballistic weaving allows the bag to withstand a range of environments.
Also, this sturdy material makes it easy for the pack to store heavy tools inside like heavy-duty carpentry tool bags. When lifted, the bag doesn't give a feeling of a weak skeleton inside.
Well-Designed Interior
It's quite natural that you need to see everything inside the bag clearly. But very few producers have kept this in mind while designing their tool carriers. Fortunately, Klein stepped out to do something about it.
The bright orange-color fabric inside the hollow area of the bag lets every single tool visible to you. Even if you are struggling with lighting, you are not going to miss any tiny items in it.
Front Zippered Pocket
In addition to the mail pouch, you have a front zippered pocket, as well. It gets quite handy when you put all your regularly-used tools in it. You can skip the hassle of opening the central part of the carrier and get quick access to the essential items for service.
Taller and Deep Pockets
It gets really hard if you have longer tools, like some screwdrivers to keep in a carrier, but space isn't there. That's not the case for the 55421BP-14, as there are taller and deeper pockets dedicated to such longer gear.
Now keep everything you need as a technician, in one single pack for service.
Fully Molded Bottom
With such a wide variety of products inside, it's going to be pretty hard to keep the exterior safe. That's where the molded bottom of this bag comes into play. This fully-molded lower surface prevents the outer part of the carrier from leakage and damage.
Plus, you can keep the bag in a sitting position on the ground easily, as well.
Pros
It is made from durable 1680D ballistic polyester
Bright-colored interior for clear vision
Fully molded bottom for safety
Best budget HVAC tool bag
Taller and deeper pouches for long tools
Hard front pocket for safekeeping fragile items
For HVAC technician
Cons
The zippers are plastic made and not sturdy enough
Verdict
The ballistic polyester-made body of this carrier outplays most of the peer models on the market. Coupled with an intelligently designed interior, this should be a prime choice for many professionals in the HVAC industry.
[wpsm_button color="main" size="big" link="https://amzn.to/34UB8ku" icon="none" class="" border_radius="50px" rel="nofollow"]Check on Amazon[/wpsm_button]
04. CLC Best Custom LeatherCraft 1132 Tool Bag for HVAC Professionals
You must be wondering if it is possible to store as many tools as possible in a carrier. Well, you are pretty damn right. The CLC custom 1132 comes with a staggering 75 pockets!
Sturdy Buildup
Made from ballistic fabric, you have one thing to be sure about – this will last. This heavy-duty fabric allows the bag to withstand a challenging environment. Whether you are working under a scorching sun or heavy rain, your tools are safe inside.
Moreover, the fabric is scratch-proof, and it prevents abrasion. So don't worry if your bag is getting poked here and there. It's going to survive for service.
Multiple Compartments
Having 6 zippered compartments is more than just comfort. To be honest, these compartments are the only features that you can immediately notice on this carrier. All these slots are perfectly zipped.
Together these partitions hold a total of 75 pockets and pouches. The benefit of having such a huge number of pockets is that you get dedicated slots. That's why you can see there are multiple specialized slots for wrenches, screwdrivers, and other tools.
Fully-Opening Zipper
Having multiple compartments may sound a bit of a challenge if well-management is concerned. To resolve that, the CLC 1132 crafted all the slots with fully-opened zippers. That means you fully crack open all the slots to get access to every single item inside.
All these 6 compartments can be opened in a similar sense. These parts get completely separated when the zipper is opened to the fullest extent. It helps an HVAC technician like you.
Top Plastic Tray
Organizing smaller tools and items is a matter of concern for most users. That's why the CLC 1132 features a plastic tray inside. This 7 by 5.5 inches plastic tray lets you set up and organize the tiniest tools quite easily and conveniently.
Pros
Build with ballistic polyester fabric for top-class durability
It comes with 6 different slots for the highest organizing capacity
Fully opening zippers let you navigate inside the bag conveniently
Padded shoulder straps ensure comfort on your shoulder
For HVAC technician
A plastic tray is attached for the smart organizing of tiny tools
Cons
No provision for protecting the bottom of the bag
Verdict
This one is hands down one of the best options if you are looking for a huge number of pouches. With its 75 different pockets, you can fit in almost every tool you can name of. That's why when storage is concerned; this one is the best bet.
[wpsm_button color="main" size="big" link="https://amzn.to/2yprJFf" icon="none" class="" border_radius="50px" rel="nofollow"]Check on Amazon[/wpsm_button]
05. Fluke FlukePack30 Best HVAC Technician Tool Bags
In the fifth position, we have the FlukePack 30 from Fluke. This carrier comes with loads of features that prove to be handy for any HVAC professional.
High-Quality Material
When you are planning to keep sophisticated tools and gear in your backpack, it sure needs to be robust. That's what the FlukePack 30 is all about. It is made from top-quality polyester that provides long-lasting durability.
It works against scratches and abrasions. No matter how roughly you use this pack, it's still going to withstand it.
Rugged Bottom
Its molded rugged bottom just steals the show. This heavy-duty hard bottom supports the entire weight this HVAC tool backpack comes with. Again, it keeps all the sharp and edgy tools away from damaging the exterior of the pack.
Plus, you can use it to put the bag in a sitting position, as well. Its flat surface lets it keep firm on straight grounds, even on uneven ones.
Three Main Compartments
Homing more than 30 pockets, the pack has three main compartments. Each space can be opened separately and completely exposed. This makes it easy to get access inside the bag and navigate through the materials inside.
Plus, the front slot is there for faster and easier access like a bucket. You can keep all your necessary tools here so that no time is wasted when you are in a hurry for service.
EVA Covers
EVA covers to wrap the front and top sections of the bag. This way, you can keep your fragile materials safe and sound inside. Even if the bag is facing a blow from outside, stay calm. The EVA cover will protect the items with its rugged feature.
Tablet Holder
There's a noticeable provision in it for your tablet or small laptop. If your lappy comes with a size of 12 inches or smaller, you are in luck. You can put it inside a dedicated pocket in the bag.
Its protective layer and the polyester fabric protect the devices from any harm or damage.
Pros
The carrier is made from high-quality polyester
Molded rugged bottom panel for safety and well-placement
Dedicated pocket for laptop and tablet
Best for HVAC technician
EVA-covered front compartment for quick entry
Three different slots hold up to 30 pockets and pouches
Cons
It doesn't stand on its own when unzipped
Verdict
The FlukePack 30 is a complete package in an affordable range. It's a standard backpack that suits almost anybody working in electronics, ventilation, and heating equipment. Considering its rugged buildup with all the impressive features, it's an overall good choice.
[wpsm_button color="main" size="big" link="https://amzn.to/2RQAWNy" icon="none" class="" border_radius="50px" rel="nofollow"]Check on Amazon[/wpsm_button]
06. CLC Custom LeatherCraft 1539 HVAC Tool Bag Review
If you are tired of carrying those heavy toolbags on your back, say hello to CLC LeatherCrfat 1539. This robust handheld toolbag is just what an HVAC professional needs!
50-Pocket Organizer
This tool bag is one, a heck of an organizer with about 50 different pockets. Surprisingly, most of this pocket space is placed outside the bag. All these pouches are either at the side of the bag or inside the side compartments.
As for the middle and main slots, there's a surprise. The main compartment comes with a totally hollow space that can be used to keep nearly anything you need. You don't need to restrict it to keeping tools only.
Keep ropes, plates, heavy equipment, etc., as well. It opens up an array of opportunities to be used for multiple purposes in service.
Double-Pull Zippers
What matters the most when you keep your valuable items inside a bag, is security. With the CLC 1539 as your companion, that's something you can forget to worry about. Its double-pull heavy-duty zippers confirm that your tools are not spilling off from the pockets.
Plus, these durable and robust zippers are going to last for a long time without the need for replacements. Double the benefit with double-pull zippers!
Durable Padded Feet
As it's a one-shoulder carrying carrier, it won't be on your back all the time. You got to keep it firmly on something when you are not carrying it. That's why CLC has attached durable pads on the bottom of it.
These padded feet on four corners of the bag let it stay firm on any surface. Whether you keep it on the table, stairs, or even uneven ground, the carrier will stay put.
Padded Shoulder Strap for Convenience
Although it's a heavy-duty bag, there's a catch. You can't carry it in your bag as there's only one shoulder strap. But that doesn't matter as the strap comes with a comfortable pad inside.
The strap is also adjustable, so you can alter it according to your shoulder size. If you are not at all comfortable with carrying it on your shoulder, you've got a handle, as well. This textured and padded handle is also comfortable to use.
Pros
Made from poly fabric and ballistic polyester to ensure durability
It comes with durable padded feet for protecting the bottom
A total of 50 pockets for perfectly organizing your tools
The shoulder strap is padded and adjustable
For HVAC technician
Heavy-duty double-pull zippers keep everything safe inside
Cons
The shoulder strap gets in the way while trying to open the middle compartment
Verdict
There's nothing much to say about the brand image of the CLC tool bags. This sturdy one with a whopping 50 pockets echoes the exact brand quality we are talking about. Overall, it's a great choice if you require a huge number of pockets and a top-quality branded product at the same time.
[wpsm_button color="main" size="big" link="https://amzn.to/3cCJtvL" icon="none" class="" border_radius="50px" rel="nofollow"]Check on Amazon[/wpsm_button]
07. DEWALT DGL573 HVAC Tool Bag for Technicians
We wrap our reviews up with another Dewalt masterpiece–the DGL573. Although it doesn't come with a backpack design, its one-shoulder setup is equally effective.
Ample Pockets for HVAC Technician
When you are using the bag for tool carrying, you sure mean serious business. That calls for some pocket spaces to store all your regularly-used items. With its 42 different pockets and pouches, you can't possibly fall short of storage.
It has 6 small, 6 medium, 6 large, and a couple of mesh slots in it. Together, these slots come with a total of 42 holders inside and outside the bag.
Attached LED Light
When you are working in a dark environment, it gets tough to look for the exact tool you want from the inside of your bag. But with proper illumination, it's an easy task. Dewalt wants to save you from the hassle of holding a flashlight in one hand and finding gear in the other during service.
Its 39-lumen-powered LED light is here for the rescue. It is attached to the holder of the bag, and you can turn it on in dark areas. You get to set three levels of illumination according to the merit of the lack of light.
Web Carrying Handle
Okay, if the shoulder carrier is not from your league, you can consider transporting the carrier by the handle. To ease up your task, the handle is made with a web-type design that promotes a strong grip on it.
Plus, the entire grip is well-padded for a comfortable grip.
Heavy-Duty Bottom Service
Carrying the bag to different locations may need it to be rested on multiple types of surfaces. That's the reason behind Dewalt's classic sturdy bottom design. Four strong plastic pads on four corners of the base allow the carrier to be placed on nearly any surface.
Pros
Large hollow opening inside the bag for the maximum storage
Padded bottom for strong placement
Webbed and padded carrying grip
Adjustable one-shoulder strap
Functional LED light for easy vision in darkness
Cons
The batteries of the LED light drain quickly.
Verdict
Although you can't carry this bag on your back, its sturdy design of it can't be ignored at all. Considering its 42 different pockets, and a 3-level LED light, this one is a suitable tool bag for professionals like electricians carrying a large number of tools.
[wpsm_button color="main" size="big" link="https://amzn.to/2xN9Dx1″ icon="none" class="" border_radius="50px" rel="nofollow"]Check on Amazon[/wpsm_button]
08. Amazon Basics 51 Pockets Tool Bag Backpack
Our next HVAC tool bag is the Amazon Basics tool backpack. If you look for a comfortable tool-carrying system, this will be your ideal pick.
Large Capacity Bag
The tool backpack has 51 pockets in total with an adjustable front pouch to keep abundant HVAC tools where 42 pockets are inside and 9 are outside. So, these numerous pockets allow you to organize the hand and power tools. There are 2 zippered compartments with a large easy access top pocket. One compartment is used for tools and parts whereas the other one store the cordless drill with a battery.
Heavy-Duty Backpack
Amazon Basics is a full polyester construction of 600D that makes the bag very durable. There is also Polyester interior lining using 600D thus the bag provides great strength. The zippers and durable feet are also made from heavy-duty materials. Hand and shoulder straps are stitched well too.
Padded Back Support
In the backpack, there are padded shoulder straps and back supports that help you carry the bag for a longer period. Besides, the chest straps are adjustable and fit anyone.
Easy Tools Finding
Unlike other tool carriers, this HVAC tool backpack is colored orange. Thus you will find tools easily even in the dark.
Pros
Lots of tools carrying pockets
Orange interior for quick tools finding
Padded shoulder and back support
Adjustable chest straps
Cons
The price is a little high
Zippers should be improved
Verdict
Amazon Basics HVAC tool bag is durable as well as comes with plenty of tool-carrying capacity. Having this you will get a comfy touch.
[wpsm_button color="main" size="big" link="https://amzn.to/3rtfdwi" icon="none" class="" border_radius="50px" rel="nofollow"]Check on Amazon[/wpsm_button]
09. Pnochoo Waterproof Tool Tote Bag for Men and Women
Looking for a waterproof HVAC tool bag? Well, the 16-inch Pnochoo tool bag will be your ideal choice. Let's know its features.
Impressive Structural Durability
600D polyester makes the tool very strong and resilient to withstand the load of heavy tools. Bottom baffles provide additional support to prevent sagging. It can also keep water and rain out hence making the bag waterproof. Thus you don't worry about wetting the tools. Double zippers keep the tools secure as well as provide an easy opening of the bag.
Hooks, handles, straps, and other things are also durably made. The base is made sturdily to prevent tear and wear. Besides these, the excellent craftsmanship will attract HVAC technicians.
Versatile Tools Storage
The bag has 25 pockets in total having 16 side pockets and 9 outside pockets. They are dissimilar sizes that allow for keeping different tools like screwdrivers, electric drill pliers, scissors, and more. The wide main compartment is the full open mouth that allows easy tools access.
Customized Design
A right-fitting bag is necessary for comfortable carrying. The poncho bag comes with two carrying systems either by hand or back. The shoulder straps are adjustable for personalized fitting. If you feel hand fatigue or shoulder pressure just adjust the straps.
Pros
The waterproof bag keeps the tool dry
Double zippers for extra safety
Two-way carrying systems
Large opening top compartment
Adjustable and padded shoulder strap
Cons
No rubber feet on the bottom
Verdict
This tool bag is a great way to carry any type of HVAC tool. Other handymen like carpenters, electricians, mechanics, and plumbers can also use this to organize their tools.
[wpsm_button color="main" size="big" link="https://amzn.to/3IkMPmN" icon="none" class="" border_radius="50px" rel="nofollow"]Check on Amazon[/wpsm_button]
What is an HVAC Technician Tool Bag?
An HVAC tool bag or backpack is a tool carrier or organizer for any HVAC technician and professional. These are some vital pieces of equipment for any new and old HVAC workers or technicians.
All HVAC technicians and professionals need a variety of tools and equipment whenever they are working. Carrying the tools without any tool bag is impossible and difficult as there are different types of it. The number of tools is also huge when they are doing any critical HVAC work.
That is why an HVAC tool bag is a must for HVAC workers. They can carry their preferred and essential items in it and use them as they need. So, an HVAC tool bag or backpack is a tool carrier that makes the work of an HVAC technician easy and comfortable!
How Does an HVAC Tool Bag work?
An HVAC tool bag will carry your essential items in it where they are properly arranged in their respective places. So, whenever the technician needs an item, he can pick it up swiftly and do the work.
That is how it serves the HVAC workers by helping them do their chores properly. Also, it does save you precious time. Also, you can save energy by carrying these items in a bag with good-quality straps. Some HVAC tool bags have wheels too. So, you can roll them around your workplace and save more energy.
You can place all of your precious items in them and use them when you need them. That is how these portable HVAC tool bags help those HVAC workers.
Types of HVAC Tool Bags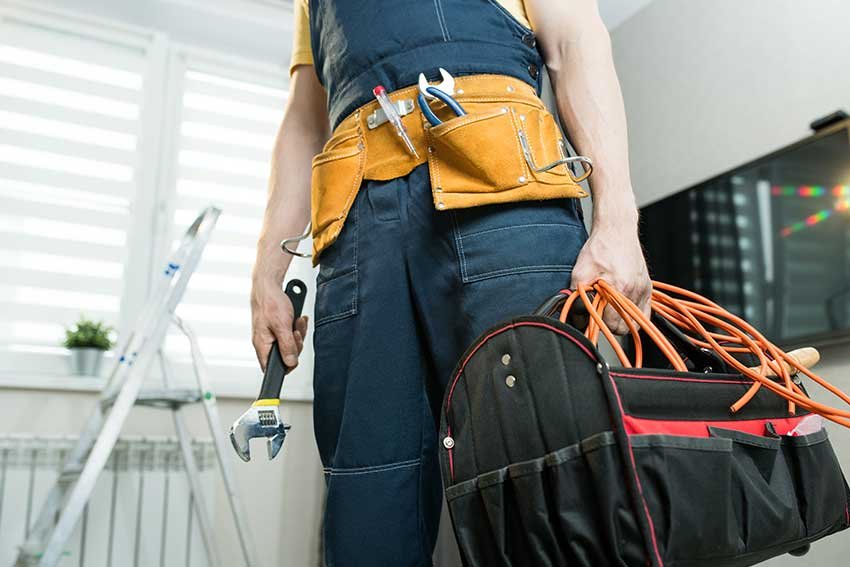 There are three main layout types for an HVAC tool bag that you may find. You can choose your bag type according to your preference and need.
Backpack Type HVAC Tool Bag
These are the most common type of HVAC tool bags. You can carry the bags on your back and move swiftly with them. These will allow you to keep your hands free all the time.
But the problem with this type is, that you can't carry a lot of tools in it and accessibility is a concern for it.
Pouch Type HVAC Tool Bag
A pouch-type tool bag is also very common for an HVAC tool bag. It has an open top for you to pick your tools as quickly as possible. That is very helpful as you can save time and have the tools readily available for you.
The problem with this pouch-type tool bag for HVAC is that you will need to carry them with your hand all the time. Also, the structure is very rigid.
Backpack and Pouch Combination
This type of tool bag has the benefits of both the backpack HVAC tool bag and pouch-type HVAC tool bag. You can carry the bag with handles or keep them on your shoulders if you want.
Why Does an HVAC Technician Need to Wear a Tool Bag?
It can carry all the important tools and equipment that you need
A tool bag saves your precious time by readily giving you the tools
The HVAC tool bag helps the technician to perform better with the support
Protects the technician from sharp and edgy tools by keeping them in the bag
Also, protects the tools from being damaged and broken
No dust or rust can form on the tools as they are kept in the bag
The productivity of the technician will improve a lot
As a whole, an HVAC tool bag helps the technician to do the job in a short time with efficiency
What Makes the Best HVAC Tool Bags Great?
So obviously, you must have gathered a lot of ideas by now on the best quality HVAC tool bags. But before you decide to move on with one, let's find out what you shouldn't miss.
Construction Material of Top HVAC Tool Bag
The whole purpose of the bag gets defeated if the proper material is not used. Low-quality and cheap materials can look a lot more sturdy, but the bag will be doomed in a few days of use.
You can bet on materials like ballistic polyester or heavy-duty poly fabric. These materials make up some of the strongest carriers in the market. Top-notch brands and producers put their trust in such materials, as well. Make sure you check the build quality before you look for other features.
Layout And Design
Generally, you get three options for a carrier's design – backpack type, hand-carried, and one-shoulder carrier. Before you look for trivial issues, make your mind up about the design type.
For many, a backpack type may suit the best, but for some another one-shouldered one may look promising. So you need to decide first, which one is your pack of the game, and then move on to related features.
Strap Quality of HVAC Tool Bag
The shoulder strap is a crucial part of a fully-functional tool carrier. You need to rely mostly on the straps while you carry the whole weight with you. That's why the strap should be well-designed to endure the pressure of the weight just like a good plumbing tool bag.
It should be made from tough and durable materials to keep supporting your carrier all day long. To go easy on your shoulders, it's a must for the strap to have pads on.
Plus, it should be able to withstand the constant load it is to carry. It shouldn't be of poor quality that can tear apart after a few rigorous uses.
Storage Capacity
Of course, you can't compromise with the storage. That's what a tool bag is all about, right? But you need to assess your usage before stepping out for a carrier. How many pockets, pouches, and holders do you need to hold the tools for your HVAC tool bag?
How many compartments are actually necessary for the work you do? If you can answer these questions yourself clearly, you are way ahead in deciding on the right product.
A lot of carriers come with an insane level of storage capacity. That may sound very convenient as more space equals more capacity, right? However, too much storage may also associate with heavier weight.
It would make it difficult for you to carry it around with you. So before getting impressed about the number of pockets, make sure you need it or not. If you do, there are plenty of products that are designed with a huge number of pouches and holders. Grab any you like!
The overall storage capacity is more than a quality HVAC tool belt.
Strong Bottom
It's surprisingly true that many top-class producers don't bat an eye on the bottom of a carrier. But it's a functional feature that almost everybody needs. Without a strong, flat, and solid base at the bottom, you can't place it anywhere.
It will tip off, or the tools will slip out of it. That's the reason you need to look for a solid surface attached to the lower side of the bag.
Extra Features of HVAC Tool Bags
Apart from all these functional features, you shouldn't forget to look for some of the additional features. You can find some cool add-ons in different tool bags. Here's what you can look out for.
LED light
An LED light will help you see clearly in dark areas. In most cases, you will find the light attached to the top of the handle. That's why when you open the top slot up, it lights up the entire inner space of the carrier.
These LED lights run on simple batteries that you can replace easily. It may be a simple addition, but definitely useful. So always try to avail of that option.
Device Holders
As an HVAC professional, you do need to carry a few HVAC devices with you. So if you have a laptop or tablet PC, you don't need to buy a separate pouch for it. A number of tool carriers do have a provision for such devices to be kept.
Keeping these devices in such pockets works as protection from damage. You get safety and portability both at the same time. Another cool feature is to have wheels for your tool bag.
HVAC Tool Bag Setup Tips
You can arrange your HVAC tool bag as you like. But, firstly you need to check your tool bag to get familiar with the pocket location and features. Some pockets are small, some are deeper. The number of pockets will help you to arrange your tools in a specific category.
You can keep small items like screws, drill bits, and valve cores in the outside pockets. Screwdrivers, voltmeters, multi-tools, and other big tools should be kept in the big pockets.
The biggest items like the manifold, and charging hoses should be kept in the middle part of the bag to have more balance.
Thus, you can set up your HVAC tool bag easily. It will help you to perform very well on the job.
Essential Tools List for HVAC Tool Bag
It is often a confusing matter to choose the right kinds of HVAC tools for your tool bag. So, we've picked up the most common items for you to choose from. The tools are:
Screws, manifolds, cleaning rags, charging hoses, safety glasses, pliers, measuring tape, gloves, valve cores, condenser unit screws, screwdriver, hammer, permanent marker, core removal tool, grease pencil, etc.
You can check our detailed guide on the HVAC tool list here. It will guide you to the kind of HVAC tools that you may need.
People Ask About HVAC Tool Bags (FAQs)
01. What are the brands popular for HVAC tool bags?
There are several brands on the market for HVAC tool bags nowadays. Some are new brands and some are old. Most of them offer good-quality HVAC tool bags with the ultimate features and benefits. You can check the reviews of the customers to know the brand's quality and service.
Among those promising brands that are gaining more and more reputation recently, these are some brands worth mentioning: DEWALT, Milwaukee, CLC, and VETO. They are famous brands for high-quality HVAC tool bags.
02. What are the best HVAC tool bags made of?
A quality HVAC tool bag is made of some fine and top-notch materials. Among those materials, the most common and quality-ensuring ones are leather, canvas, and nylon made. You need to build a strong compartment to hold the heavy and sophisticated HVAC tools in your bag.
You will also find some other padded compartments with your HVAC tool bags. Also, there are straps, pockets, a base, and zippers with the bag.
03. Are these HVAC tool bags waterproof?
You can choose the waterproof version of HVAC tool bags if you need them. There are some materials used to create a waterproof model. Pick those when you are checking your models. If the manufacturer uses plastic or other related materials for building the HVAC tool bag, normally those can resist water to some extent.
Waterproof ability will help you to use those HVAC tools without any hassle when there is rain. Besides, it will help to protect the tools from being damaged by rust. In short, ask the seller to show the waterproof version if you need them.
04. Does the HVAC tool bag hold a laptop?
Normally, these awesome HVAC tool bags have compartments for carrying any electronic devices like laptops, mobile, notepads, etc. these gadgets are really helpful for HVAC technicians. So, you will get to work comfortably when you can carry your gadgets in the HVAC tool bag.
05. How should I clean my HVAC tool bag?
If you want to use the tool bag for a long period to do your HVAC tasks, then try to maintain your HVAC tool bag with proper care. And, that is easy and simple because of the modern techniques.
First, make a solution of soap and water for washing your tool bag. Do this part with proper effort as that will ensure to enjoy your HVAC backpack for a long time.
If there are dirt and other grime still on the body of the bag, then try to scrub it with a brush that has soft bristles. For those made of leather, try to use a leather conditioner. This will make the material soft and help them to moisturize.
Those conditioners will help to prevent the material from being dry and brittle. It will also help to deter any cracks forming on the surface of the material.
When using any conditioner, try to use a proper amount. If you are putting an excessive amount of it, there will be more conditioner left on the surface that the material couldn't soak. As a result, more dirt and grimes will form on those.
So, use the amount that the tool bag material can absorb.
06. Where can I buy an HVAC tool bag?
There are many places where you can buy an HVAC tool bag. You can go to any physical store where you can pick and choose your tool bag personally. For more comfortable options, you can visit the online store of reputable brands too.
Also, you can check online platforms like Amazon to see the variety of products in one place. This will give you a range of products and customer reviews on HVAC tool bags that you won't find in many places.
07. What is the warranty period of any HVAC tool bag?
There are varying warranty periods for an HVAC tool bag or backpack. The normal warranty period is five years. Often, they also provide servicing of the tool bag if you need them.
Final Words on HVAC Tool Bags
So this is where we zip it up. We guess you can see a clear picture of how to locate the best HVAC tool bag in the market. You can easily cut your effort short and get one of our best 7 products.
If you are still not convinced, refer to our buying guide. Follow the points that we discussed and try to find out the best product accordingly. That sure will lead you to the best-suited tool carrier for you.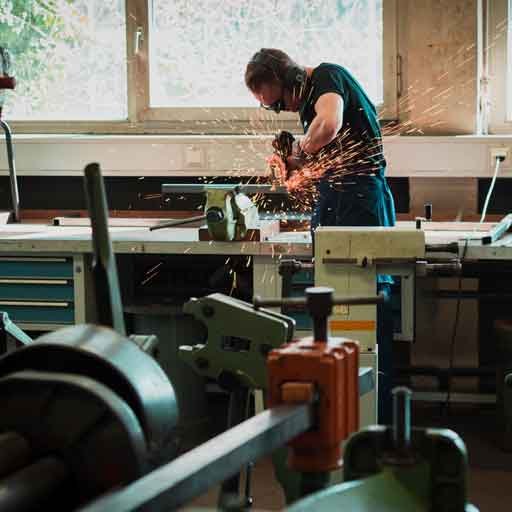 Adam is a tool geek who just loves making and breaking things. Doing the home improvements works and repairing things with his tools is his favorite past time. He loves to keep his tools arranged and sorted. On this blog, he shares his experience and knowledge.